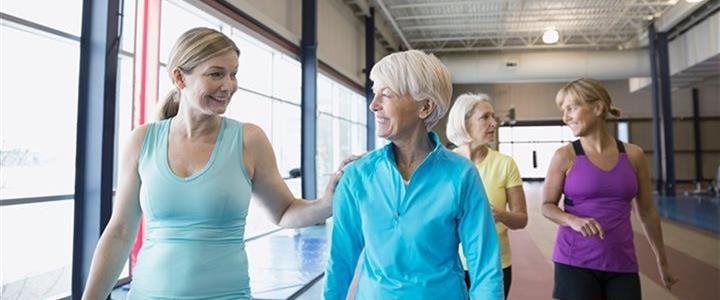 (BPT) – You're still just as active as you were in your thirties and forties, but as you continue to add those candles to your birthday cake each year, you can feel the effects of aging starting to take a toll on your body. As you age, your body needs a little extra care to maintain optimal health; that's why you go for your morning walk and eat a balanced diet. These things can help you support your overall well-being, but there are other factors to consider if you want to live a healthier, more active lifestyle as you grow older.
"Many people don't realize how much of an impact hormone, heart, and bone and joint health can have on their day-to-day lives," says Dr. Andrew Halpner, vice president of science and technical services at Douglas Laboratories. To maintain this ideal lifestyle, he offers his advice on ways you can support your health in each of these key areas.
Supporting your hormone health*
Properly balanced hormone levels are one of the most important factors when it comes to staying healthy as you age. Healthy hormone levels support healthy sexual function, body weight, sleep and glucose metabolism. When your hormones are imbalanced, you could experience fatigue, weakness and muscle loss, and may even find daily activities difficult to complete.
Establishing a healthy diet, ensuring sufficient sleep and making time for recreation are great first steps toward supporting your hormone health. It is also important to consult your healthcare provider to discuss regular blood work to monitor your hormone levels.
Finally, to help maintain healthy glucose metabolism and tissues, add a nutritional supplement, such as Wobenzym Plus, to your daily regimen.*
Paying special attention to your strongest muscle
Heart health is an important part of any healthy aging plan. You're already monitoring your lipid profile diligently, but what else can you do?
Lipid levels are important, but maintaining glucose homeostasis and cytokine balance is just as important to supporting proper heart health.
A healthy diet that focuses on fiber and regulates carbohydrate intake has been proven to support healthy glucose levels. Consider complementing your diet with regular exercise and nutritional supplements to further support good health.*
Healthy advice for the things that move you
Maintaining healthy bone and joint function is critical for both men and women. When bones are weak or joints are stiff, it can be difficult to keep up your desired level of activity.
Bone health is directly impacted by vitamin D levels. To support these function areas, boost vitamin D by spending brief periods of time in the sun — with sun protection, of course — or consult your healthcare provider about taking a supplement to achieve optimum vitamin D levels.* Additionally, adding a nutritional supplement such as Wobenzym Plus can help provide temporary relief from everyday aches and pains to ensure that when you want to be active, your bones and joints are ready to keep up with you.*
Take the first step to support your health today
A balanced diet and moderate exercise are the building blocks of any health regimen, but as the years pass, your body may need additional support. Remember your hormones, heart, bones and joints when tailoring your health plan and consult your healthcare provider before introducing any new products into your routine. For more information on how to live a healthier, more active lifestyle, visit douglaslabs.com/healthyaging.
*These statements have not been evaluated by the Food and Drug Administration. This product is not intended to diagnose, treat, cure or prevent any disease.