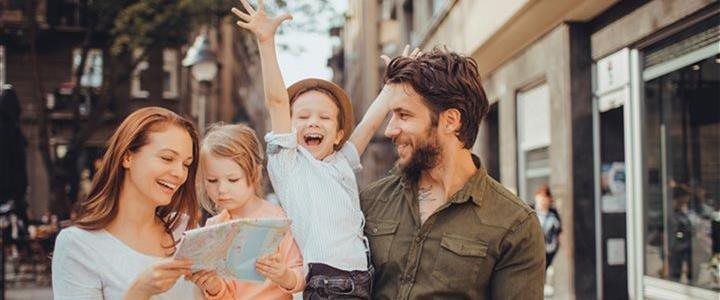 (BPT) – Highlights of summer travel include exploring new cities, theme parks, sightseeing and sampling local eats with loved ones. Yet too often, the logistics of planning a summer vacation can create stress that makes it difficult to appreciate the trip itself. By making smarter choices, the planning process will be easier and the journey more enjoyable.
For example, affordability is a top concern for families planning a vacation. According to a survey by the Family Travel Association, the majority of family travelers prefer to stay in hotels, and more than half spend between $1,000 and $5,000 on travel. Travelers looking to save money might find greater value in all-suites hotels that offer larger spaces and in-suite kitchens or kitchenettes to help reduce dining expenses.
An all-suites hotel means every room is an affordable suite, so there's room for more — travelers don't have to worry about packing light. No matter what type of baggage a traveler brings, literal and figurative, an all-suites hotel can make the experience that much better. Ahead of this year's summer travel season, here are four simple vacation planning tips to ensure families can focus on what really matters – enjoying the adventure while making new memories.
Consider staying local
The annual family summer vacation doesn't have to involve driving for days, or costly airfare. If you live within a half day's drive of a major city, consider researching what that location has to offer by way of attractions, historic sites, shopping and dining.
Once the decision to stay close to home is made, value-conscious travelers should consider a hotel that offers plenty of space and prime access to local attractions. For example, Home2 Suites by Hilton Atlanta Downtown is steps away from the Georgia Aquarium and Centennial Olympic Park, and other attractions such as the World of Coca-Cola. Plus, staying closer to home means you'll spend less time getting to your destination and more quality time with the family.
Travel together
Instead of just traveling with your nuclear family, consider making this the summer to get away with extended loved ones or another family with children close in age. All-suites accommodations provide ample space to comfortably fit larger groups. After all, a spacious suite means more room to both spread out and come together.
Sixty-five percent of all family reunions occur during the summer, making it the perfect time to get away. Selecting an all-suites hotel can be particularly helpful for families traveling with children for an extended period of time. For example, each suite contains a separate bedroom and living area, so parents can take a break from the kids (at least for a moment) to catch up with other family members during a reunion.
Don't overdo dinner
For families of all sizes, dining can be a significant summer travel expense, especially if you eat out for every meal. Of course, one or two special meals are a must when you're on vacation, but you can make your dollar go farther by choosing hotels that offer complimentary breakfast, in-suite kitchens, on-site convenience markets for grab-and-go items, for-guest-use outdoor grills and complimentary grocery shopping services.
For example, Homewood Suites by Hilton Dallas Downtown offers an on-site 24 hour Suite Shop(R) convenience store, fully equipped kitchens in every suite, hot full breakfast daily and complimentary refreshments at an evening social Monday through Thursday. After a full day of sightseeing, making dinner plans can feel like a hassle. Choosing a hotel with multiple meal options and amenities can make dinnertime the easiest part of the day.
Decompress in the evening
With so much to see and do, getting enough "R&R" can seem like the last thing you tend to when you're on vacation, especially when you're busy with the family. However, allowing yourself some downtime — and getting a good night's sleep — can help you avoid that burned-out feeling you can get at the end of a long, active vacation.
Comfortable sleeping accommodations are key, of course, but it's also important to choose a hotel that offers space and amenities for relaxation. Whether your version of winding down is a quick dip in the pool, a round of tennis or basketball, or an evening cocktail, that downtime can help you recharge for the next day's activities. For example, the Embassy Suites by Hilton Chicago Downtown Magnificent Mile offers drinks and snacks at its complimentary evening reception, and a heated indoor pool, sauna and fitness center to help you decompress.
Whether planning a week-long summer trip, weekend getaway with family or large family reunion, we all want our vacation to go off without a hitch. To find an all-suites hotel for your summer trip, visit HiltonBringIt.com.