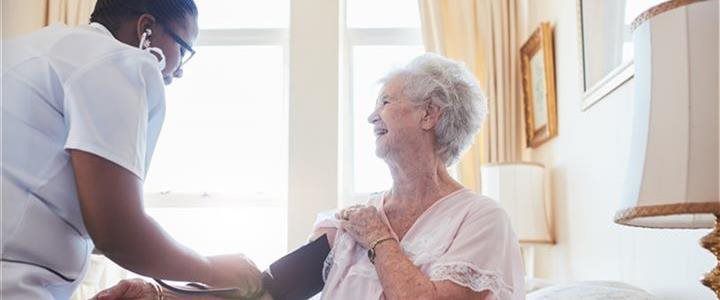 (BPT) – Staying healthy and out of the hospital is a top priority for the majority of seniors. However, as you age, you may need additional care to meet your medical needs after an illness, injury or exacerbation of a chronic health problem. Fortunately, this doesn't necessarily mean a long hospital or rehab stay, thanks to home health service options.
For Yoko and Kenneth Gilbert, both age 84, home health services provided important care when they needed it the most. After an injury caused by a fall Yoko needed nursing care for her wounds. She also needed physical therapy to regain her ability to get around. Her husband's help could only go so far, but he could not provide the professional care that she required, so at her doctor's advice, she decided to get home health services.
What is home health care?
According to Medicare.gov, "Home health care is a wide range of health care services that can be given in your home for an illness or injury. Home health care is usually less expensive, more convenient and just as effective as care you get in a hospital or skilled nursing facility (SNF)."
Every home health plan of care is individualized based on the person's unique medical needs and abilities. The goal is to treat the person's medical condition at home so that he or she can enjoy a high quality of life while receiving professional services designed to restore health, self-sufficiency and independence.
For Yoko, this gave her important peace of mind. She decided to work with Brookdale Home Health for her specific needs. "They came every week, changed my dressing and catheter," she says. "Everything was just great."
When are home health services used?
For seniors residing at home or in a senior living community, both medical and non-medical home care are options. The people most likely to need home health services are those recently diagnosed with a new illness, those who have been injured in a fall or other event, and those who have experienced a major change in health condition such as the worsening of a chronic disease process.
To provide these services, a health care professional will come to your place of residence. This may include a nurse, a physical therapist, an occupational therapist, a speech therapist, a home health aide or a medical social worker. Because these professionals come to you, you're able to remain in the comfort and security of your own home. Receiving care at home enhances your physical and mental well-being and promotes dignity and independence.
For Yoko, part of her home health care services were provided by a physical therapist named Barbara. "Barbara was wonderful," she says. "She took care of me, she pushed me and because of her I can move around better."
Yoko's husband, Kenneth, says the services were more than just health care. "Brookdale Home Health helped her a lot. Her therapists really lifted her spirits," he adds.
How can you get home health services?
Before Yoko could receive home health care, she got a referral from her doctor. A doctor is in charge of determining whether you are a candidate for home health services. If you think you are a candidate, it's important to have an honest conversation with your physician to see if home health is the right option for you.
If your doctor decides that home health is right for you, begin to research options in your area. With a doctor's prescription, the Brookdale Home Health team of experts can provide care based upon your unique medical needs in the privacy of your home. Learn more by visiting www.brookdale.com.
Is home health covered by insurance?
Home health services are often covered by health insurance, but you should verify the details with your particular plan provider. Many plans offer 100 percent coverage if certain conditions are met. For example, Brookdale Home Health services may be covered by 100 percent of your Medicare Part A benefit if your doctor determines that you are homebound and that home health services are medically necessary to treat your illness, injury or change in medical condition.
Yoko saw great improvements in her condition through home health services. However, she eventually experienced additional medical complications that require 24 hour care. Her husband could not keep up with the demands and sought respite care in a Brookdale community. After receiving respite services, they have decided to move in to a Brookdale Senior Living community full-time.
"My wife got sick and there was no way I could take care of her," says Kenneth. "We moved into a Brookdale community on Valentine's Day and we've been here ever since."
Today they are permanent residents of Patriot Heights in San Antonio, Texas, where they receive the full-time care they need, enjoy a full social calendar and have made many new friends.