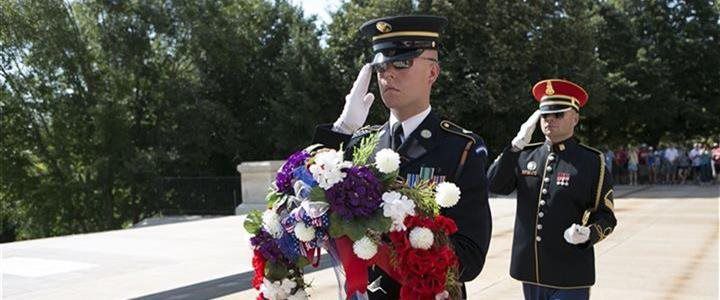 (BPT) – Even in the darkest of times, flowers still find their way to the surface to bloom. Poppy seeds can lay fallow for years, yet bloom brilliantly when the soil is disturbed or when the soil is freshly dug. After the battles were fought in World War I, the blood red poppy flourished in France and Belgium when battlefields became burial grounds. The red flowers suddenly bloomed among the newly dug gravesites of fallen service members, turning the new graveyards into fields of red.
Surviving soldiers came to see the poppy as more than a flower — it became a symbol of their sacrifice; a tribute to the price of freedom. Although all WWI veterans have since passed, 100 years later, the poppy has become a universal display of the sacrifices made by Americans and allied service members around the world.
Historically, Americans have worn poppies in observance of Memorial Day and Veterans Day. While other nations honor veterans in their own way, this year, Congress is poised to proclaim the Friday before Memorial Day as National Poppy Day in the United States. The inaugural National Poppy Day will be May 26, 2017.
National Poppy Day is a strong renewal of our nation's commitment to a powerful reminder of the cost of our freedom with 100 years of rich tradition. Millions of people worldwide wear the poppy as a call to honor living veterans and those who lost their lives. The custom can be traced back to 1918 when Moina Michael popularized the idea of wearing a poppy flower in memory of the lives lost in WWI. She drew inspiration from the poem In Flanders Fields, written by WWI Colonel John McCrae in his sorrow at looking at rows and rows of graves where his comrades had been recently buried. In the decades that followed, poppies have been worn, displayed and distributed for fundraising efforts for veterans service organizations around the world. To observe National Poppy Day, all citizens are encouraged to wear the poppy to honor those who sacrificed their lives to provide them their freedom from WWI a century ago, to today's global war on terror.
"As an Operation Enduring Freedom veteran, it is heartening to see people wearing the red poppies throughout the year as a tribute to those who have served in our military, especially those who fought and died for our freedom. The poppy was significant to my great grandfather who fought in World War One. It still holds the same meaning today that it did nearly 100 years ago. It's such a simple thing Americans can do to honor the sacrifices that people in the military make to protect our country," says active-duty veteran Matthew Geczy.
The American Legion Family, the chief advocate of the effort to establish an official Poppy Day, has had a connection to the poppy flower since the early 1920s when it was adopted as their official memorial flower to pay homage to the battlefields of WWI. Since then, they have made it their mission to support the military community by promoting the significance of the flower and the meaning behind it. Each year, members and volunteers connected to the American Legion Auxiliary (ALA), one of the nation's most prominent supporters of veterans' rights, leverage the poppy in service to the veteran community through Poppy Day distributions and outreach. ALA volunteers hand out red paper or silk paper poppies in exchange for donations that go directly to support veterans. Many of those poppies are made by hospitalized and disabled veterans as a form of rehabilitation and a source of income through this ALA program. In 2016, ALA members throughout the U.S. distributed over 16 million red paper poppies and raised $6 million in donations that went directly to help the veterans who made them.
Donning a poppy this National Poppy Day is one simple way to show gratitude for a community that has given their lives to protect ours, but your support does not have to stop there. The ALA values any and all contributions to support our nation's heroes, and you are also encouraged to wear the poppy year round.
On May 26, the inaugural National Poppy Day, watch for volunteers of The American Legion Auxiliary distributing poppies and collecting donations to support our veterans and current service members. Wear a poppy and show them that you respect and honor their sacrifices. Visit www.ALAforVeterans.org to learn more.