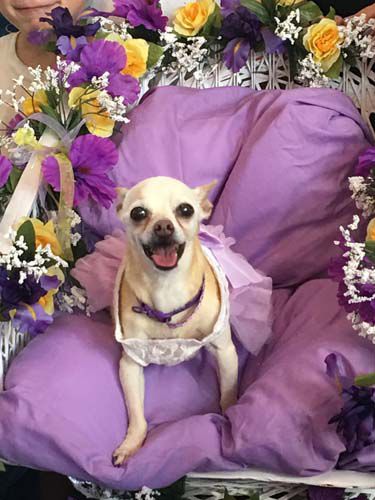 This week was a first for me, and Honest-to-Snoopy, it was somethin' I never thought I'd be doin'. I attended a bridal shower!
I KNOW. I mean, ME a happy bachelor, a dog-o'-the-world. But it was akshully fun. I met a buncha really nice humans and had some good yaps.
So, here's the Woof: The shower was for Miss Sadie Princess (she's a Chihuahua) and her fiance, Jackie Roo (a Mix). It was gonna be at Marsh Landing, which is a rest-runt in Fellsmere. Instead of regular presents like matching water bowls, or fluffy blankets or his-and-hers collars, we were asked to bring foodstuffs for The Love of Paws Senior Pet Sanctuary & Paws Pet Food Pantry, which I thought was Totally Cool Dog Biscuits.
So I got in touch with a coupla pooch lady friends because, first, I knew pretty much zero about bridal showers, and I wanted to bone up on 'em (Get it? Bone up?) so I wouldn't look like a total doof, and, second, to learn more about the sanctuary and food pantry.
I figured Miss Sadie could give me some good intel on the shower. She's this delicate little poocheroo, prettiest gold-and-cream colored coat, big sailboat ears and bright, boogly eyes.
"It's so sweet of you to call, Mr. B.," she said. "You are aware that me and my dear Jackie have been (she batted her eyes) shall I say, companions for 15 years, our whole lives, really. We were adopted together, and we're absolutely devoted to each other. Jackie's just the dearest pooch a girl could wish for. I can't wait to become Mrs. Roo. Plus, our humans all said, 'YOU'VE BEEN LIVING TOGETHER FOR SO LONG, IT'S ABOUT TIME!'"
"I'm happy for you both, Miss Sadie," I said. "Now, kindly give me some pointers about your shower. What should I write about? It's way outta my comfort zone."
She laughed. "Oh, silly. It'll be fun! Just write about the cake. It's one-of-a-kind. And the decorations. I picked my own colors. And the flowers. And the family and guests. And, of COURSE, ME. I had my ensemble made special!"
Next I rang up my friend Libby Pankiewicz, a super sweet senior citizen yellow Lab who, even though she's totally blind, does a fabulous job as For the Love of Paws' Official Ambassador and Mascot. I already knew her human Mom, Cookie, and Dad, Ted Sr. He's the Founder. He usta be in law enforcement, partnered with a K-9 officer.
"Oh, Bonz," said Libby, "it's so exciting. For the Love of Paws is a sanctuary for pets who hafta be separated from their Senior Citizen owners when they're temporarily unable to take care of 'em, cuz they hadda go to the hospital, or nursing home. Or, if their human went to Heaven, we find 'em a Forever Family. It all started when my human brother, Ted Jr., and his wife, Jessica, and my nephews Hunter and Ryder, were rescuing lotsa dogs (cats, too). Jessica always dreamed of starting For the Love of Paws. But, in 2013, before her dream could come true (Libby stopped and wiped her eyes), Jessica got a terrible disease and went to Heaven. She was just 32 in people years. We didn't think we'd ever feel happy again. But we all stuck together and started For the Love of Paws in her memory. Now it's a 5-acre country farm sanctuary here in Fellsmere.
"We get lotsa dog and cat food donations for our pantry and deliver stuff to food banks so Those In Need can get help for them AND their pets. In only two years," she said proudly, "we've been deliverin' 4,000 pounds of food every month to 15 food banks."
"Woof!" I exclaimed. "That's PAWsome!"
Armed with lotsa good background info, I wasn't too nervous when I walked into the party. It was decorated in Sadie's colors, yellow and purple. Purple tablecloths, purple and yellow ribbons, shiny purple balloons, and a table with lotsa people snacks and this PAWsome cake with icing that was shaped just like Sadie, even a pink hair ribbon and an icing bone (which I really, really wanted to slurp but didn't).
There was a buncha people, too. Sadie's and Jackie's Mom, Fawn Wittenrich, and Dad, Ted Jr., and Libby's nephews, Hunter and Ryder; and Ted Sr. and Cookie, and their longtime friends Joe and Rosemary Flescher. Joe says the bridal shower reminded him of people wedding vows, the part about for better or worse, richer or poorer, in sickness and health, which he says is sorta like what For the Love of Paws does when it helps Senior Citizen humans and their pets get through difficult times together.
Some of the other humans were: volunteers Cheryl Diedolf and Robin Ware; Nancy Johnson; Wendi and Dave Tabor; Brandy Hector and grandson Jared Gomez (he's 11); food deliverers Alice and Boyd Arrington; and a bunch more. Behind her paw, Sadie whispered that Jackie Roo was with his dog buddies, having his bachelor party.
The star of the shower was definitely Sadie Princess (soon to be) Roo. She was bee-oo-ti-ful, wearin' a purple tutu tied around her little tummy with white lace and purple ribbon. She even had purple toenails! At the head table was Sadie and Jackie's framed engagement portrait, and a special "throne" just for Sadie. It was white wicker with purple pillows, lotsa yellow and purple flowers plus these cute little white flowers Cookie said were called Baby's Breath (for some reason). And Sadie was sitting right in the middle, big smile, looking like a real princess, with everyone gathered around her.
Heading home, I was thinking how much us dogs (and cats) mean to Senior Citizens, who lotsa times wud be all alone if they didn't have us to love 'em. And – no Woof! – I was akshully hopin' I'd get an invite to the wedding.
Till next time,
The Bonz