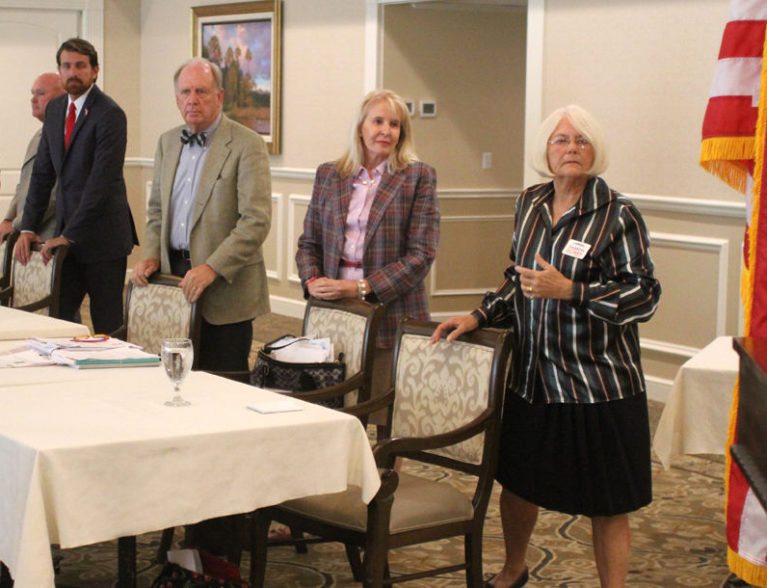 VERO BEACH — Nearly 100 people gathered at the Vero Beach Country Club Wednesday afternoon to get better acquainted with the six people running for Vero Beach City Council at the Taxpayers' Association of Indian River annual city council candidate form.
The group's president John Kistler moderated the meeting, asking questions for more than an hour to ferret out positions on topics ranging from the looming controversies surrounding Vero electric, to property taxes and the All-Aboard Florida fast train project.
Councilman Randy Old, the only incumbent running for one of three seats, predictably defended the current city council's actions and city operations in general. He also emphasized the need for better long-range planning. With regard to the electric utility, he addressed the complexity of being in the power business – a task which takes up a good part of the council's time – and said "People like me should not be running this thing . . . but I don't see a way out of it."
Political newcomers Sharon Gorry and Tony Young echoed this support of the status quo. Both their platforms center around preserving Vero's unique character, community and amenities. Young, a retired Army officer, offered up his leadership experience and sound judgement to serve city residents and cited preserving "the character of the community" as his most important issue.
Gorry referred to the recovery from Hurricane Matthew to express her wholehearted support for the way the city is managed. "I couldn't have been more proud of our employees than I was this weekend. This is our city and we need to take care of it."
Beachside Realtor, artist and environmental activist Lange Sykes clearly laid out his two main issues – getting Vero Beach out of the electric business, and protecting the Indian River Lagoon. In all these fights, he said, "We need a united front . . . I'm concerned with the future of our community" and said getting Vero out of the "stranglehold" of the Florida Municipal Power Agency co-op will take a concerted effort of city and county officials working with legislators and state officials.
Laura Moss, who chairs the city's Utilities Commission and just missed getting voted on the council last November, focused on the city "doing the will of the people" by divesting itself of all or part the electric utility. She also insisted that Vero should do a better job of communicating with its residents and utility customers.
Retired Indian River County Battalion Chief Norman Wells emphasized public safety and reiterated the need for "cooperation" among and between the city and county for better outcomes and solutions.
When asked about the rejected offer by Florida Power & Light to purchase the Indian River Shores electric customers, he said he did not want to let that $30 million cash go away, cash that could be used to greatly improve Vero's debt situation. "The last time I checked, it's never a bad thing to put $30 million in the bank," Wells said.
Vero Council members serve two-year terms and are not term limited. Incumbent Councilwoman Pilar Turner and Mayor Jay Kramer opted not to run for re-election, leaving two seats wide open.