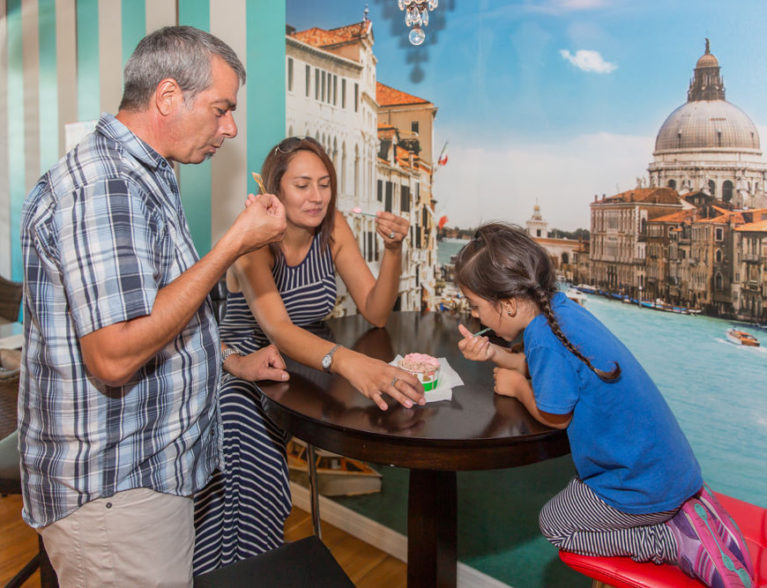 VERO BEACH — What began as a simple Facebook page designed to help small independent Vero Beach businesses stay afloat in the typically slow month of September has grown into Vero's unofficial review and reference guide, becoming so popular that similar Facebook pages have popped up in Sebastian and Fort Pierce.
Gelato shop owner Livia Sorger recently checked the SeptemberInVero page on Facebook for mentions of her Sweet Kiss gelato shop along Miracle Mile and noticed there were 50 references to her store in the past year. She figures that translated into at least five new customers a month thanks to the innovative online page, which was created by downtown Vero tea shop owner Maria Sparsis.
And that meant extra revenue for a young store known for its more than 70 gelato flavors that harken back to the tasty treats of her of three gelato shops owned by Sorger's family in her native city of Budapest in Hungary.
"The reviews are very important," said Sorger, who launched the gelato store at 2101 Indian River Boulevard in April 2015.
SeptemberInVero is a kind of an informal local Yelp or TripAdvisor resource that helps locals find everything from good meals to dog groomers to furniture restoration specialists.
Sparsis said she launched the Facebook page to promote local Vero Beach businesses. She urges area residents to just spend $10 each week on a local business instead of a big box operation, arguing that it would add $2 million a year into the local economy.
She named the page "SeptemberInVero" because September is such a tough month for local businesses in the lull between summer tourist hordes and snowbirds who don't return until October, November or later. With kids back in school, local families aren't out and about as much.
She is pleasantly surprised that the page with 3,789 members as of Sept. 15 has also turned into a resource for locals to find services or a specific type of restaurant.
"It was never intended to be a guide," said Sparsis, who owns the Tea and Chi store at 2044 14th Ave. in downtown Vero.
But it has become one.
For example, page member Deborah Wright asked for a reference for "best deep cleansing facial" in Vero. Linda Pelz Vilt was looking for a place to board her puppy. Laura Gaffney needed a gutter installer. Valerie Risher was hunting for someone who can do antique furniture restoration.
When people ask for recommendations, other members weigh in with suggested independent Vero businesses.
Local businesses that are mentioned on the Facebook page appreciate the publicity.
Brian Holton, a co-owner at the Snipz N Clipz dog grooming business, said he has drawn extra business because new customers see his store mentioned on the SeptemberInVero page.
"Our biggest reception was Facebook and Google. We spent $3,000 for a radio station and did ads on the radio and never received one phone call," Holton said.
Kirk Schnabel, a shift supervisor at the Taco Dive restaurant in downtown Vero Beach, said at least 10 customers in the first seven weeks of the new eatery told him that they came after reading about Taco Dive on the SeptemberInVero page.
"It's social networking doing its job," Schnabel said. "People report about us on SeptemberInVero and it drives us more business."
The concept has proven so successful that similar Facebook pages have popped up in Sebastian and Fort Pierce – SeptemberInSebastian and SeptemberInFortPierce.
One thing to note – if all the reviews on these pages seem like they're positive, it's that by design. Sparsis allows "only positive" comments on the page while also disallowing advertising or self-promotional messages.
So, there are never any negative reviews.
Sparsis said there are other web sites where locals "can get a more rounded view of any business."
"We quickly learned that what is expensive for one person is not for others and that information didn't contribute to the page's cause. All we want is to give folks local alternatives for what they already buy and keep more of each dollar circulating in the community."