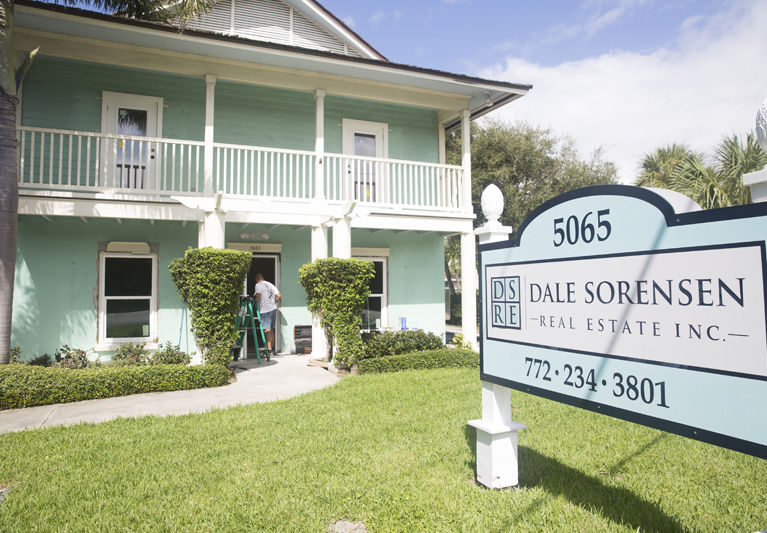 VERO BEACH — In August, Matilde Sorensen, co-owner/broker of Dale Sorensen Real Estate, got the idea to have a little painting done to spruce up the company's office at 5065 North A1A. Before she knew it, a full cosmetic remodel was underway, with new flooring, furniture, windows, doors, bathrooms and landscaping going in at the building where company co-founder Dale Sorensen Sr. and 20 agents have their offices.
"One thing led to another," she says with a slightly rueful smile.
"They blame it on me," says Sally Woods, one of the company's top producers, who has had her headquarters at the A1A office for years. "When Matilde said they were going to paint, I said they might as well replace the window, too, and then . . . you can see what happened."
Sorensen hired Indian River Project management to remodel the 3,000-square-foot building, which they own and have occupied since 2004. "The building has great bones," says Indian River Project Management owner Steve Kovaleski. "We didn't have to do anything from an engineering standpoint. It is a purely cosmetic upgrade but will definitely make a big difference and be much nicer when we are done."
The latest storm-resistant windows and doors are the single biggest improvement, but the office is also getting a complete new look inside and out, with fresh flooring, different paint colors, new artwork and fancy new tilework and fixtures in the bathrooms. Telephone and internet infrastructure is being upgraded as well.
"We hired a professional office furniture design person for the furniture," says Matilde Sorensen. "There will be a much lighter, brighter look with white furniture in place of the old wooden desks. We want it to be pretty and kind of beachy."
"I am very excited about the changes," says Woods. "Matilde is not cutting any corners. She is doing a wonderful job and it will be a big benefit to me and my clients."
Woods typically brings clients into her office to look at a range of properties on a 60-inch video screen to get a sense of what houses they like and narrow down choices before driving around to look at properties. She says having a bright, updated office will bolster her sales efforts with new clients and also be appreciated by existing clients who stop in to see her.
"It is also a great opportunity to get rid of clutter that has built up over the years," Woods says. "I am not taking all the junk back in there that we took out."
The job started at the beginning of September and will be complete in October.
"We fast-tracked it for Matilde," says Kovaleski, who has had six- to eight-man crews on the job everyday this month.
During construction, Woods and other agents have moved operations to the Sorensen's downtown office on 14th Avenue.
The remodel is just one example of a constant push for improvement and growth that has powered the extraordinary expansion of Sorensen Real Estate in recent years.
Revenue has grown from $121 million in 2009 to more than $600 million last year, as the company has steadily increased both income and market share on the barrier island and mainland Vero, and expanded into Brevard County in a big way, opening offices in Indialantic and Viera.
Dale Sorensen Jr., who is leading the expansion, just provided sales figures for the first eight months of 2016 that show the company on track to do more than $700 million in business this year.
"Dale Junior is constantly providing marvelous opportunities with new technology and training for us to advance and grow," says Woods.