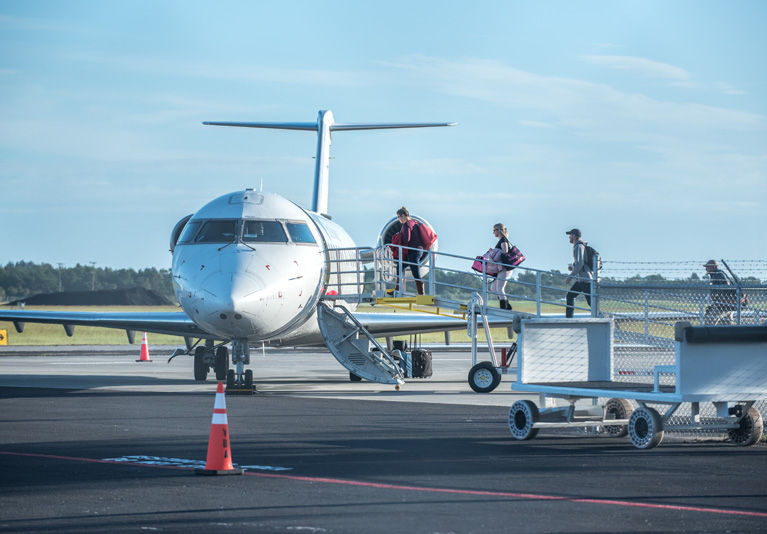 VERO BEACH — Elite Airways has increased nonstop jet service between Vero Beach Regional Airport and Newark Liberty International Airport from three times a week to four — on Thursdays, Fridays, Sundays and Mondays — starting in November.
Additional daily nonstop flights have been added during the week of Thanksgiving and the last two weeks of December to accommodate holiday travel. Tickets are now available for purchase at 877-393-2510 and EliteAirways.com.
The announcement underscores Elite Airways' continued growth, as it recently added new nonstop jet service between Sarasota-Bradenton and Portland, Maine, and expanded nonstop service between Orlando-Melbourne and Portland, Maine.
Founded in 2006, Elite Airways operates a fleet of Bombardier CRJ-200 and CRJ-700 jet airliners known for comfort and efficiency, and maintains an impeccable safety record. Passengers receive free onboard snacks and beverages, first checked bag up to 50 pounds, and no ticketing change fees. Elite Airways is also pet friendly.
"Elite Airways has received outstanding support at Vero Beach Regional Airport, and we are pleased to expand our schedule with more nonstop flights back and forth to Newark," said John Pearsall, president of Elite Airways. "The success of our northeast-to-Florida routes has been a significant factor our growth and success, with Vero Beach being an important destination for us — and we thank airport and community leaders for their continued support."
"Our successful partnership with Elite Airways continues to thrive," said Eric Menger, executive director at Vero Beach Regional Airport. "We enjoy seeing smiles on thousands of happy passengers' faces and will continue to support Elite with their growth plans for the future."
"We are thrilled Elite Airways will be adding more nonstop flights during the busy holiday travel season and in the coming year," said Allison McNeal, director of tourism for the Indian River County Chamber of Commerce. "Elite Airways has been instrumental in increasing Indian River County's visitor share of the New York and New Jersey markets since the start of the service last fall. Direct air service to our destination enables visitors to spend much less time traveling, allowing them to stay longer and enjoy more of what Indian River County has to offer."
The Vero Beach Regional Airport offers free parking near the terminal, which is then a short walk through security to the gate — with no long lines, or inter-airport transport trains. The airport also offers Avis and Hertz rental car facilities on airport property. The Airport Terminal Building is located at 3400 Cherokee Drive in Vero Beach. For more information, please visit www.verobeachairport.org.