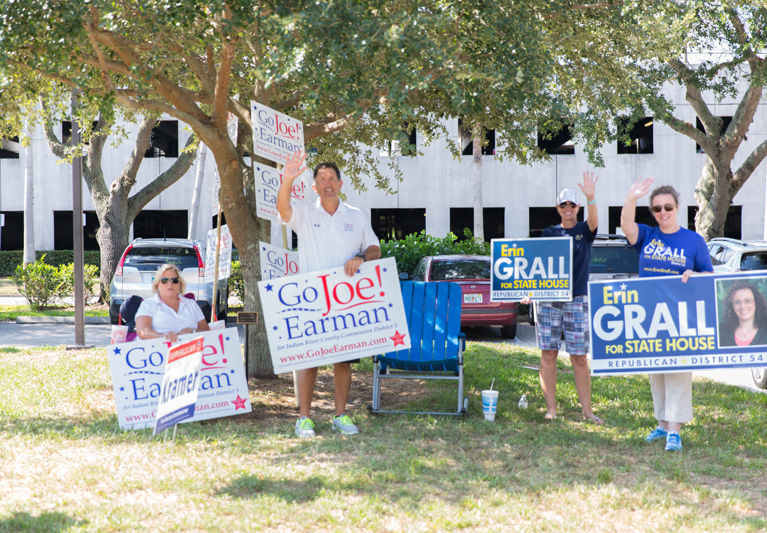 INDIAN RIVER COUNTY — In her second attempt at a Florida House seat, Vero Beach attorney Erin Grall has defeated her closest opponent Lange Sykes by an 18-point margin in Indian River County.
Former law enforcement officer and criminal defense attorney Robert "Bob" Meadows received the most Indian River County votes for circuit judge.
Debbie Mayfield's hometown constituents supported her to be promoted to Florida Senate, but Brevard County results will determine the outcome of that race.
Marco Rubio and Patrick Murphy won Indian River County voters' nods for their parties in the U.S. Senate race.
U.S. Senator – Rep.
Carlos Beruff – 2,833
Ernie Rivera – 854
Marco Rubio – 14,703
Dwight Mark Anthony Young – 1,785
U.S. Senator – Dem.
Roque "Rocky" De La Fuente – 241
Alan Mark Grayson – 884
Pam Keith – 843
Reginald Luster – 99
Patrick Murphy – 5,596
U.S. Senator – LPF
Augustus Invictus – 11
Paul Stanton -24
Public Defender 19th Judicial Circuit
Thomas F. Burns (R) – 10,922
Diamound R. Litty (R) – 16,423
State Senator Dist. 17
Debbie Mayfield (R) – 11,373
Mike Thomas (R) – 4,199
Ritch Workman (R) – 4,447
State Representative Dist. 54
Dale Glading (R) – 2,649
Erin Grall (R) – 8,551
Greg MacKay (R) – 4,216
Lange Sykes (R) -4,888
Republican State Committeeman
Joseph Coakley (R) – 9,217
Joseph "Joe" Semprevivo (R) – 8,014
Circuit Judge 19th Judicial Circuit, Group 1
Beth Elaine Allen (NP) – 10,739
James W. "Jim" McCann (NP) – 16,129
Circuit Judge 19th Judicial Circuit, Group 6
Michael J. McNicholas (NP) – 5,662
Robert "Bob" Meadows (NP) – 11,042
Kiernan Patrick Moylan (NP) – 7,080
Leonard Silvio Villafranco (NP) – 2,659