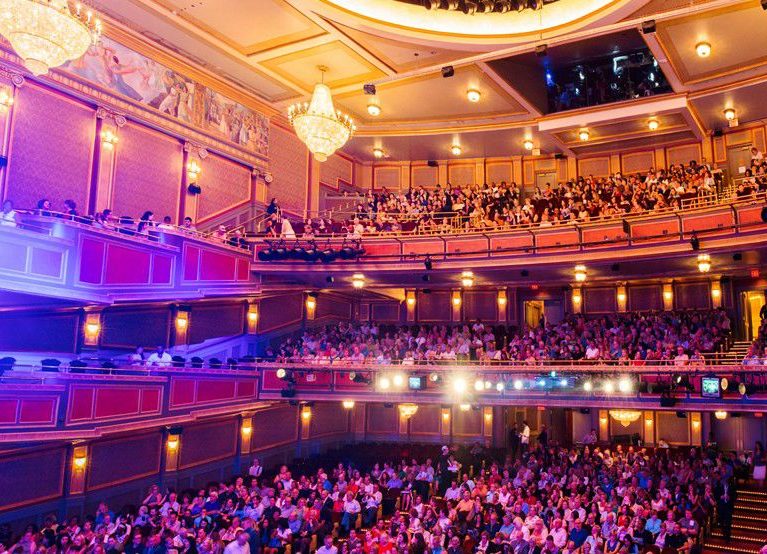 In a major coup for the Lyric Theatre, Artistic Director John Loesser has booked opera star Renée Fleming, known as "the people's diva," for a January concert in the intimate, 500-seat Stuart venue.
The coup comes at a momentous time in the career of the famed soprano, who has announced that 2016 will be her last singing mainstream opera at the Met.
"These are some of the proudest moments of my life when I get to do artists of this stature," says Loesser, who has been trying to lure Fleming to the Lyric for years. "She's one of my favorites."
And Fleming is not the only major star coming to the theater: Her January performance will be followed by legendary comedian Lily Tomlin in February and violinist Itzhak Perlman in March, another first for the Lyric.
It took four years to make the connections that got Loesser the Renée Fleming concert. That's when he started to work with the agent who handles her, booking other acts, and finally got his chance to "subtly suggest that I would just adore it if we could get Renée."
The possibility arose 18 months ago, says Loesser, a resident of Vero's barrier island and son of the great Broadway composer and lyricist Frank Loesser. Loesser was the Lyric's executive director for 16 years until last year, when he became artistic director. He remains in charge of artist programming, among other things.
"Our preliminary calendar had 17 dates with her name on it," he says with a laugh. "We were at one point holding three weeks open because we didn't know the date she'd be free. I couldn't commit to the other shows until hers was locked in."
Finally, in April, Fleming was able to commit. Then Loesser had to find the financing. "For an artist of that stature, you have to find underwriters, and we did," says Loesser. "It was extremely easy."
The Jan. 30 concert is a certain sell-out, Loesser says, even with tickets at $100-$150. Now on sale to members of the Lyric (a $35 annual fee), tickets become available to the public Sept. 6.
Even beyond Fleming's quasi-retirement (she says she would still consider doing new operas), the Stuart concert is a big deal because she gives so few concerts.
At 57, Fleming has said she wants to quit singing big stage roles to avoid the inevitable comparisons to her younger voice. Her concerts, meanwhile, continue to draw great reviews, including her May performance with the Met Orchestra in Carnegie Hall.
Not that her music is limited to opera. Fleming, who has just taken on the role of Lyric Opera of Chicago's first creative consultant, loves jazz and indie rock.
And pop is not outside of her range either: Two weeks ago she sang in a videotaped celebrity a cappella rendition of "Fight Song" at the Democratic National Convention.
In 2014, she became the first opera singer in history to sing the National Anthem at the Super Bowl, and in 2013 President Obama presented her with the National Medal of Arts. That same year, her album of French songs, "Poèmes," won her a Grammy Award for Best Classical Artist Solo.
Meanwhile, the Lyric itself is getting a little work done to ward off the effects of aging. The former silent movie house turns 90 this year. Two summers ago, supporters gave close to $1.5 million for a major renovation that did everything from adding cupholders to the seats (to go along with the new bar) to fixing crumbling support columns, originally made from wet sand dredged from the nearby St. Lucie River.
As for Loesser, he isn't nervous about his first date with the diva; after growing up in a house filled with famous people and managing multiple theaters before the Lyric, he's accustomed to special requests.
"Dressing rooms, transportation – it can get pretty interesting. 'I want a white limo not a black limo,'" he says.
He remembers having to arrange for Cary Grant to be picked up at the airport. "I had to go to New York to get a pastrami sandwich to have in the car when he got there."