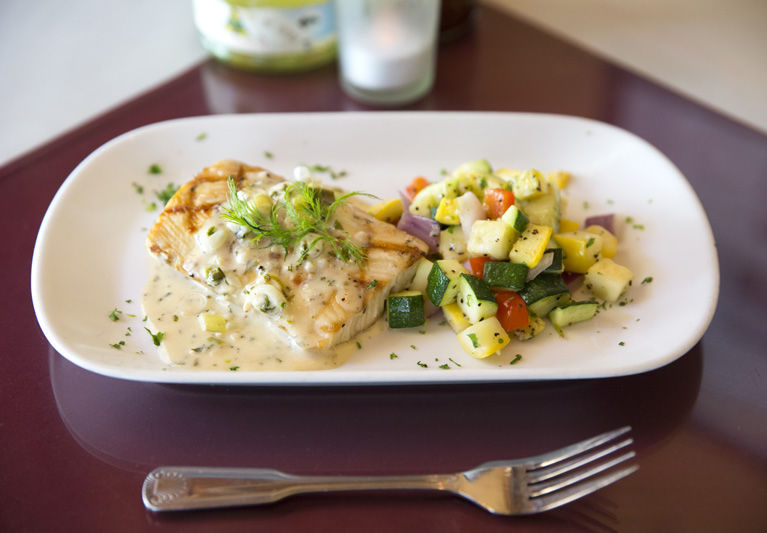 Driving past the Pomodoro Grill, I sometimes imagine I can detect the scent of the garlic knots baking inside.
While it seems unlikely this addictive aroma wafts all the way to the street, the call of these olive oil-basted beauties draws me back time after time to this unpretentious Tuscan trattoria at the southern end of Cardinal Drive.
Based on a couple of July visits, I would have to say the garlic knots (and the many appetizers and entrées that accompany them) are as finger- and dish-licking good as ever.
For starters one recent evening, I ordered the Pepperoni Abbracciati alla Italiana ($11.95), my husband had the Calamari Fra Diavolo ($10.95), and our companion had a cup of the soup of the day, a tomato-based clam chowder ($3.50).
The roasted tri-color bell peppers – marinated with extra virgin olive oil, capers, calamata olives and fresh herbs – are one of my favorite cold appetizers, an excellent blend of tastes and a great way to start the meal. Our companion's clam chowder was just chock full of clams.
My husband's calamari sautéed with garlic, white wine and basil were served at his request in a bianco (white) sauce that was to die for. When the calamari were finished, our entire party was dipping into the remaining sauce.
We then had house salads, which come with either tomato basil or creamy onion dressing. You can't go wrong either way.
For entrees, I ordered the zuppa di pesce ($26.95), my husband had the veal chop ($36) and our companion had the cannelloni ($17.95).
The zuppa di pesce has long been one of Pomodoro's signature dishes – shrimp, clams, mussels, scallops and calamari sautéed with garlic, white wine and basil, served with either a fra diavolo or bianco broth aloft a bed of linguine. I chose the spicy fra diavolo, which was wonderful.
My husband's very well-seasoned, 14-ounce bone-in veal chop was prepared perfectly medium rare, and was served with asparagus and grilled vegetables. Our companion's meat cannelloni also was a fine rendition of this dish.
On previous visits, we have enjoyed the gamberoni ala "Pappa Peppy," shrimp tossed with penne pasta in a yummy sun-dried tomato and goat cheese pesto cream sauce; the veal scaloppini piccata, slices of tender veal sautéed in a very tasty lemon butter chardonnay sauce; and the linguini vongole, linguine pasta topped with sauteed clams, garlic, white wine and basil, which is served in either a Fra Diavolo or bianco sauce
We would be remiss if we did not also point out that Pomodoro offers a variety of 12-inch personal brick oven pizzas. In addition, Pomodoro has an excellent summer menu available all evening – a tempting assortment of dishes together with salad, and most important the garlic knots, for only $16.
By the time we finished our entrées on this latest visit, we had enjoyed too many of the garlic knots to consider dessert. Dinner for two, accompanied by a modest bottle of wine, typically comes to about $100 before taxes and tip.
In a few months, as the weather (hopefully) starts to cool, one also will able to enjoy the outside garden while dining al fresco (or enjoying a cappuccino after dinner).
With Pomodoro now in its third decade of serving island diners, it remains at the top of its game – a local favorite that is hard to beat.
I welcome your comments, and encourage you to send feedback to me at tina@verobeach32963.com.
The reviewer dines anonymously at restaurants at the expense of Vero Beach 32963.