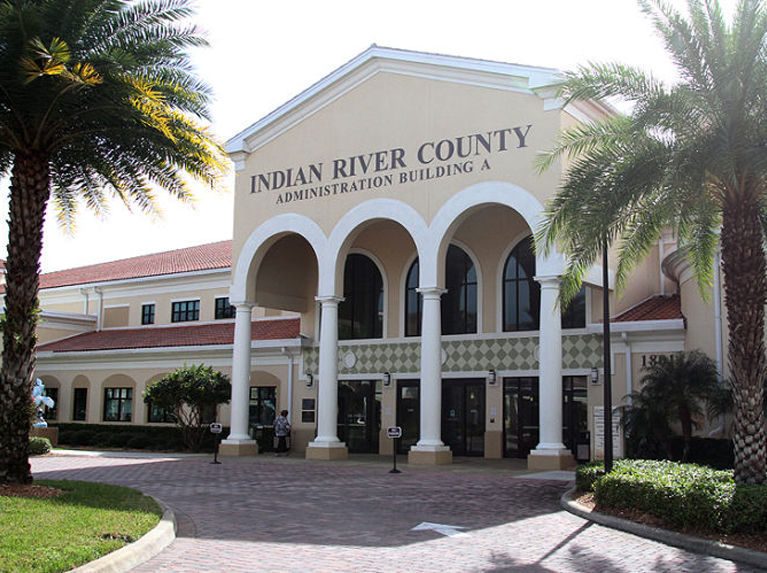 INDIAN RIVER COUNTY — After conducting county business for nine years with buckets on the floors to catch drips, the County Administration complex will finally be getting a new roof.
In an emergency addition to the July 12 Commission agenda, County Attorney Dylan Reingold announced Indian River County will receive $1.2 million in a mediation settlement, the successful resolution of an almost 9-year effort to recover damages from faulty roofs on Administration Buildings A and B at the county government center.
The leaks were discovered as soon as employees moved into the palatial $54-million complex in August 2007, and the county never signed off on or accepted the work.
General Contractor Turner Construction Company tried repeatedly to repair the leaking roofs but was not successful.
In October 2011, the County hired A/R/C, an architectural firm specializing in roof issues, to inspect and assess the problem. The company concluded the only remedy was a new roof, and county staff concurred.
In November 2011, the county filed suit to recover its losses.
The suit named multiple defendants, including Turner Construction, a New York company; Vero Beach architects Donadio and Associates, Architects, P.A; Sun Sky Roofing, a now-dissolved Florida limited liability company; and three insurance companies.
After filing, the county agreed to abate the suit while the parties explored settlement options.
Eleven months later, in October 2012, with no agreement reached, the county made a formal demand that the defendants correct all deficiencies. Should they refuse, the county would proceed with the roof work, the abatement would end and the litigation would proceed to trial.
Despite that seemingly decisive action, the matter dragged on into 2016, when the county finally issued a work order for engineering firm REI to oversee design, bidding and evaluation of new roofs for the two buildings.
Shortly afterward, on July 7, 2016, nearly a decade after the faulty work was completed, the defendants reached an agreement with the county, thus averting a trial.
The $1.2 million will be paid collectively, within 30 days of the date of the agreement, by: Sun Sky Roofing – $330,000; Soprema Inc. – $330,000; Donadio – $290,000; Turner Construction – $250,000.
County Administer Jason Brown calls the settlement "a good result for the county."
REI is expected to have a cost estimate for design-related work within the next several weeks and Brown says the work of removing the roof structure to determine the extent of the damage could begin by year's end.
Final project costs cannot be known until that task is completed.