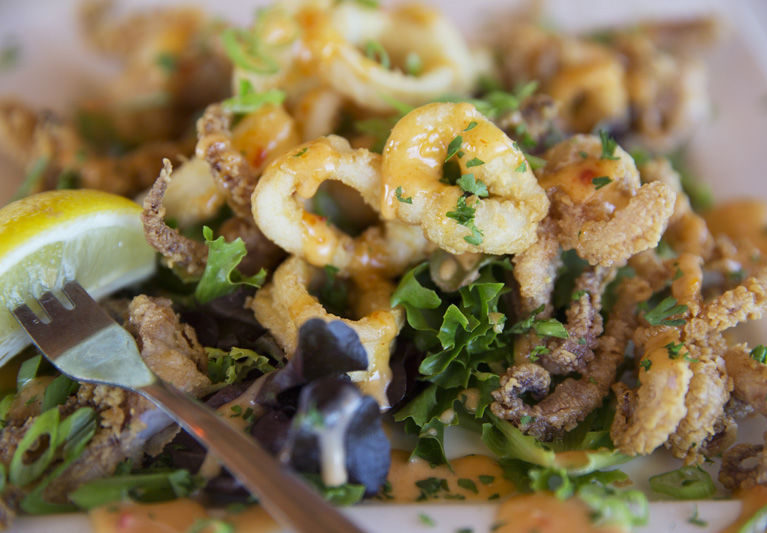 While most any day is a good day to visit the Ocean Grill, there are three times of year that are truly special.
One is the Christmas season, when the Grill is as integral a part of the Vero Beach holiday experience as the Ocean Drive Christmas parade.
Two is the latter half of October, when the Grill engages in its annual spook-tacular transformation for Halloween.
And three is your birthday (more details on that later).
Our companion, who accompanies us on many of our review excursions, has a birthday in early July. So last week, we decided to make a mid-summer visit to the Ocean Grill.
When we arrived a few minutes before 8, imagining we'd probably get right in (no reservations for parties of fewer than five), we found the lobby packed with waiting diners. So much for those who claim Vero empties out in the summer. Maybe once upon a time, but no longer.
When our name was finally called, we were shown to a table right by the window in the main dining area, and our server quickly brought us an interesting bottle of chardonnay.
For starters on this evening, I had a cup of Mediterranean seafood chowder ($5), our companion opted for the "blushing" seafood chowder ($5), and my husband went with the bay scallops Rockefeller ($12.95).
My seafood chowder was a very tasty mix of fish and clams in a spicy red broth. The "blushing" chowder turned out to be a combo of the Mediterranean and the Grill's New England clam chowder – a melding of tastes that our companion said worked very nicely.
My husband's sweet bay scallops were perfectly prepared, and topped with the Grill's delicious creamed spinach. An excellent start.
For entrees, I ordered the North Atlantic sea scallops ($26.95), my husband picked one of the evening's specials, blackened grouper prepared Cajun style ($33.95), and our companion chose the vegetarian style pesto primavera ($21.95).
Not only were the broiled sea scallops as fresh as you can imagine, but they were served with the Grill's wonderful mustard sauce – one of my all-time favorite preparations.
The blackened black grouper was also cooked just right, and was accompanied by a side of steamed asparagus (an up charge of $4). The pesto primavera – sautéed spinach, onion, asparagus, broccoli, mushrooms and diced tomatoes served over gluten-free pasta – would have benefited from a bit more pesto.
Then came dessert time, and that's why you want to come here for your birthday. Any birthday. When you arrive, immediately tell the server your party is going to want one of the Ocean Grill's birthday cakes, which have been a favorite of the frosting addicts in our family for as long as I can remember.
Brought to the table by our server and a group of her co-workers signing "Happy Birthday," the only thing missing was the Polaroid portrait that the Grill always took to commemorate the occasion in the old days. Somehow, an iPhone selfie is just not the same.
Dinner for two with a modest bottle of wine is likely to run you about $100 before tax and tip.
So there you have it. Halloween, Christmas and birthdays. Oh, and let's not forget snow crab season. That's four. And five, anytime you have out-of-town visitors.
There is just no shortage of good reasons to visit Vero's iconic Ocean Grill.
I welcome your comments, and encourage you to send feedback to me at tina@verobeach32963.com.
The reviewer dines anonymously at restaurants at the expense of Vero Beach 32963.