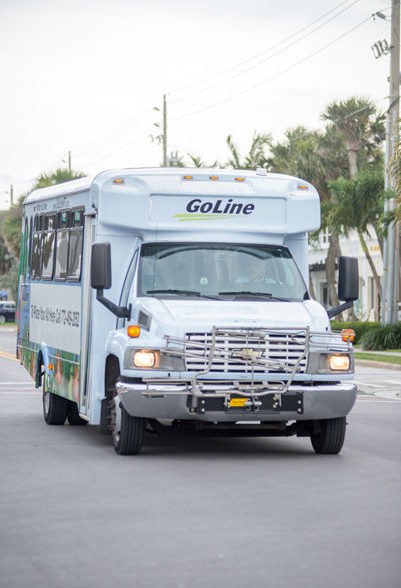 INDIAN RIVER COUNTY — With increasing ridership and enthusiastic County Commission support, the 1235 16th St. Go-Line Bus Transfer Hub Facility project still sits at the starting gate.
Design and permit work is completed and two construction bids have been received. With budgeted funds of $1,183,000 and an accepted low bid of $1,780,074 from Barth Construction Inc., of Vero Beach, the County is now seeking a 50 percent match grant from the federal DOT for the $597,073 shortfall. Although the wheels of the fed can sometimes grind slowly, the County hopes to get the project going ASAP, without endangering the grant.
The project consists of a 1,732-square-foot structure with bathrooms and open-air waiting areas; 3,410 square feet of pre-manufactured aluminum structures providing covered walkways and shelters for riders; and 1.6 acres of site improvements including parking, lighting, landscaping, stormwater treatment and space to accommodate eight bus routes. The site also allows for expansion as needed.