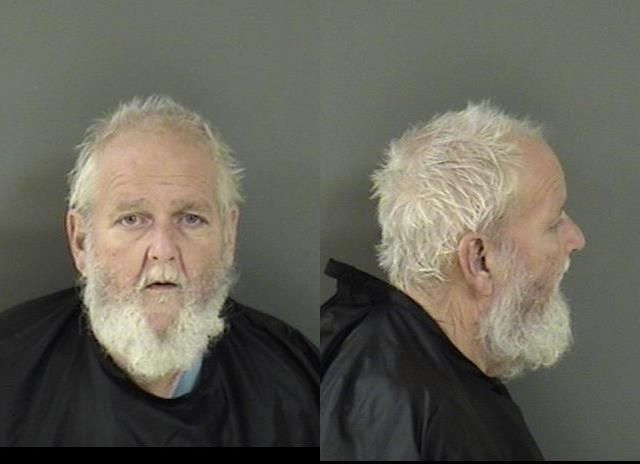 FELLSMERE — A 59-year-old Fellsmere man is accused of beating his wife repeatedly with a metal baseball bat and making threats against law enforcement.
Following a 911 call, Fellsmere Police arrested Randall Feacher after authorities arrived on scene and found his wife with swelling to her head and injuries to her arm, according to the arrest report. She told investigators that she and Feacher had gotten into an argument about his medical condition. That argument then escalated into a physical altercation.
Feacher was found sitting on the porch of his home in the 200 block of S. Magnolia St. around 7 p.m. with a baseball bat propped on a leg and a steak knife in his hand, according to police. Feacher eventually complied with commands to drop both items – the bat was thrown into the yard and the knife was dropped to the ground.
Officers responded to the address and established a perimeter while Fire and EMS were staged nearby until the scene was secure, according to authorities. Residents in the area believed to be in danger were directed to go inside their homes for protection.
Feacher was given numerous commands to stand up and elevate his hands to insure he did not re-arm himself. Due to his alleged non-compliance, an IRCSO deputy managed to get close enough to deploy his Taser, according to police. He was then taken in to custody.
Feacher faces charges of felony aggravated battery and unlawful imprisonment, along with misdemeanor resisting arrest, according to his booking report. According to the victim, she and Feacher argued about his medical condition and he became enraged and struck her several times with the bat on her head and arm. When she attempted to leave, Feacher hit her with the bat again and told her she "was not going anywhere" and blocked the doorway with his body so she could not leave. The victim's injuries corroborated her account of the incident.
The victim was terrified and believed that Feacher would kill her once he was released from jail, according to the report. Feacher declined to be interviewed, then changed his mind and said he hit the victim because she hit him with a stick first. He said he hit her two times, once in the head and once in the arm. Feacher said he did not want to live anymore because of his medical condition and stated several times that he couldn't wait until he gets all of his firearms "back from storage" so that he could shoot law enforcement officers. He said he had several rifles.
Feacher is being held at the Indian River County Jail in lieu $55,000 bond.