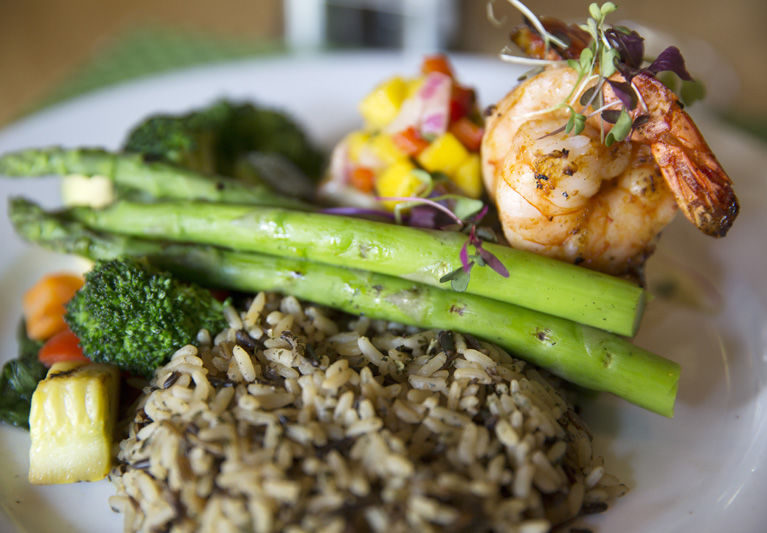 After two years, the word I would use to best describe the Citron Bistro in Indian River Shores is comfortable.
This clubby restaurant, owned by Jay McLaughlin and wife Joan who have done a spectacular job of transforming the Village Shops, now feels like it has been there forever.
As its name suggests, it is a bistro – not a white-tablecloth restaurant – but the food is as consistently good as any served in fancy dining establishments.
On a visit one evening last week, even though there was a breeze rustling through the trees and several groups of people dining al fresco in the courtyard, we decided to eat inside.
Shown to a nice table by the window, our server quickly brought a basket of warm bread and took our drink order (chardonnay for two of us; a glass of a craft hard cider, Woodchuck, for our companion).
For starters, I decided to have a small kale salad ($8), my husband ordered a small beet and goat cheese salad ($7.25), and our companion opted for a cup of the soup of the day, a chicken, rice and vegetable in a clear broth ($5).
The soup was delicious, but the salads really hit the mark.
My salad consisted of shaved kale, wheat berries, queso fresco, dried cherries, fresh mango, blueberries, strawberries and sunflower seeds, with a sherry shallot vinaigrette. My husband's beet salad was a thing of beauty – a nice mix of red and golden beets atop a bed of greens, with slices of orange, and topped with goat cheese. Both very refreshing.
Then for entrées, I decided to have the fish of the day, on this evening mahi ($25); my husband ordered the salmon special ($32); and our companion went for the shrimp and grits ($25).
The mahi, prepared with a tarragon spice, had a nice kick to it. My husband's Scottish salmon was perfectly cooked, topped with a chardonnay dill sauce, and served with asparagus and sweet potato mash. Our companion's jumbo shrimp, sautéed with mushrooms and spinach, were served over scrumptious creamy cheese grits.
While our entrées were excellent, as we dined I watched a couple of the Citron's roasted chicken dinners go by en route to other tables. As comfort food goes, I will take a good roasted chicken every time. The Citron's is crispy on the outside, juicy on the inside, just the way you'd want it.
On previous visits, we have enjoyed the crab cakes – pan seared, served with a mango salsa and cilantro-avocado emulsion, with rice pilaf; and the 12-ounce boneless ribeye, marinated and grilled, topped with crispy onions and gorgonzola herb butter.
On this visit, we concluded dinner with one of Citron's house-made temptations – a blueberry bread pudding with crème anglaise ($6.50). Delicious.
The Citron Bistro offers a small but adequate selection of beers and wines. The only thing missing here is a liquor license that would allow diners to enjoy a pre-dinner cocktail. With an appetizer, entrée and a modest bottle of wine, a party of two should be able to dine at the Citron Bistro for about $100.
For those who have not yet discovered it, a final reminder to come on the early side. While we were dining last week, a couple came in at 8:20, and were incredulous to find that no diners can be seated after 8.
But the restaurant's agreement with Indian River Shores is that everyone will be out and on their way home by 9:30. It seems a bit early to us as well, but I reckon it is a small price to pay to have a great neighborhood bistro in the Shores.
I welcome your comments, and encourage you to send feedback to me at tina@verobeach32963.com.
The reviewer dines anonymously at restaurants at the expense of Vero Beach 32963.