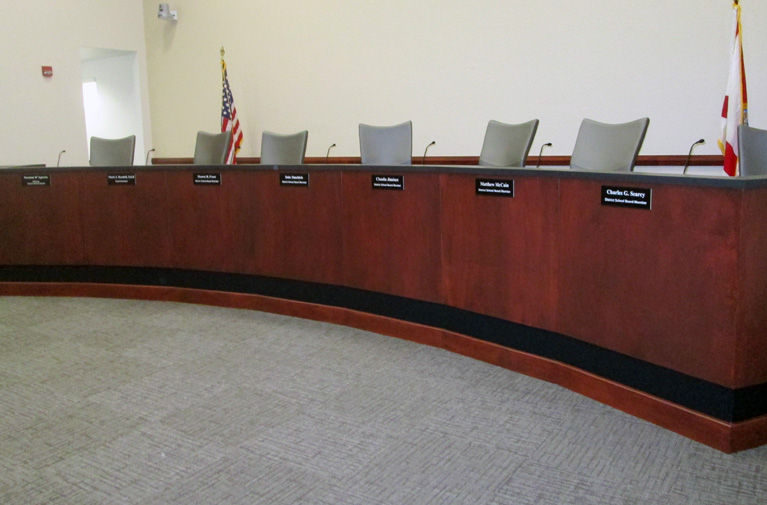 INDIAN RIVER COUNTY — The future of public funding for Indian River County charter schools may well be decided by the battle for two open School Board seats now underway.
At present, the charters have only one reliable ally on the five-member School Board, Sean Frost, and a second sometimes ally in Charles Searcy. But two of the three board members who have consistently voted against the charters on money issues – Claudia Jimenez and Matthew McCain – are not seeking re-election.
With these two seats open, a charter school-friendly majority could emerge depending on who is elected. That likely would mean millions more in public funds for the charters, which contend they have long been shortchanged.
Differences among the candidates were showcased at a forum last week sponsored by the Taxpayers' Association of Indian River County.
After eight years on the board, Jimenez is not running again in District 5, which includes much of the barrier island.
Tiffany Justice and John Kim are running for the District 5 seat.
McCain, also on the board for eight years, is not running again in District 3, which includes south county and most of the mainland portion of the city of Vero Beach. Laura Zorc, Stephen Sczurek and Douglas Wight are competing to replace him. Wight didn't attend the forum because of a long-standing prior engagement.
The candidates not unexpectedly were asked about the court case brought by the charter schools over unequal distribution of local property tax revenue.
The charters contend the school board promised them an equal per-student share of revenue from a school property tax levy passed in 2012. As it has turned out, the charters have received only 5 percent of the money from the 2012 tax, even though they educate 13 percent of the student population.
The tax approved in 2012 will raise about $9.25 million this year. It expires next summer and a replacement tax intended to raise a similar amount for another four years will be on the Aug. 30 ballot.
Zorc and Kim made it clear they would split revenue from the current tax and the replacement tax equally among charters and other district schools, each student getting a pro-rata share.
And they would go even farther. The School Board gives charters nothing from a separate, ongoing tax for capital outlay projects, which generated $23 million this year.
If elected, Zorc and Kim said they would support sharing all local tax revenue equally, including the capital outlay revenue.
While claiming "I totally support charter schools," Justice said she would "support giving charters a pro-rata share" going forward if the replacement tax is approved in August, but didn't address the court case over unequal distribution of existing property tax revenue. Justice also didn't take a position on whether she would favor sharing capital outlay revenue with charter schools.
Sczurek offered even more general statements. "It's good to have charter schools, but not to the detriment of public schools," he said, possibly not understanding that charter schools are public schools.
From the comments, it would appear that the election of Zorc and Kim offers charters the greatest hope of a pro-charter majority.
The School Board election in August is nonpartisan. If a candidate polls more than 50 percent of the vote, he or she will not need to run again in November. If no candidate gets over 50 percent, the two top finishers in each race will be on the fall ballot.