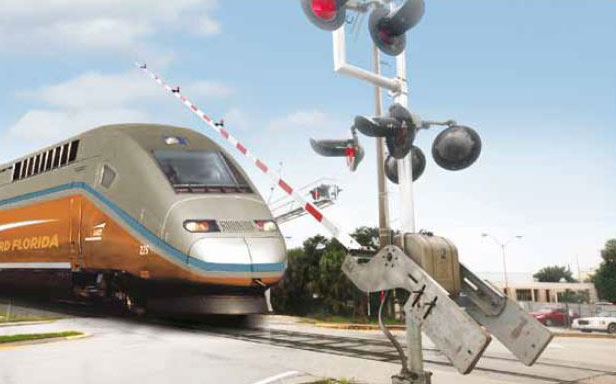 INDIAN RIVER COUNTY — All Aboard Florida has finally delivered design plans for Indian River County's 32 railroad crossings. They were promised by the first of the year.
The hold-up was the Federal Railroad Administration's rejection of All Aboard Florida's earlier designs. The FRA has permitting and enforcement authority over railroads and is conducting the "environmental impact statement" process. It laid down requirements for crossings in its Final Environmental Impact Statement, which All Aboard Florida's earlier crossing designs failed to meet.
"The Federal Railroad Administration has completed its review of All Aboard Florida's grade crossing design plans submitted to FRA on March 9 and 17, 2016, for the Florida counties of Palm Beach, Martin, St. Lucie, Indian River and Brevard (Counties). These plans comply with the grade crossing mitigation requirements in FRA's Final Environmental Impact Statement (FEIS)," Deputy Associate Administrator for Safety Compliance and Program Implementation Patrick Warren wrote May 3 to All Aboard Florida.
Warren instructs All Aboard Florida to deliver the plans to the counties and Florida Department of Transportation for their review. The Federal Railway Administration will then meet with the counties and All Aboard Florida "to assist with a definitive crossing layout for AAF's final 100 percent design consistent with the FEIS," Warren said.
In All Aboard Florida's subsequent press release, it does not divulge there are further reviews and revisions ahead, but states, "The agency has now completed its review of our plans .. and affirmed that we are in full compliance with applicable requirements."
Indian River County Assistant Attorney Kate Cotner confirmed they received the plans on Thursday, but deferred making further comment until they have been reviewed.