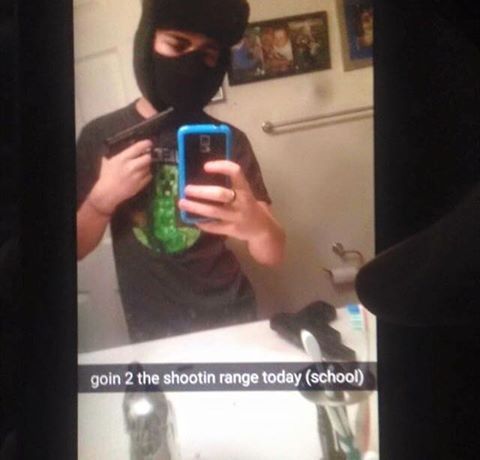 It's troubling enough that an eighth-grade boy in our community would get any kind of thrill from posting on a social-media site a selfie of him wearing a black mask and holding a handgun – with another handgun in the photograph – above the caption: "goin 2 the shootin range today (school)."
But the botched way Imagine South Vero Charter School administrators responded to what, at the time, appeared to be a threat to students' safety was as inexcusable as it is alarming.
For three reasons:
1. Parents learned of the student's disturbing Snapchat photo only after the mother of another student re-posted it on Facebook – six days after Imagine administrators notified the Sheriff's Office on March 2 – which forced school officials to publicly acknowledge the incident.
2. The student was suspended for his actions, which Imagine officials said violated school policies prohibiting threats and intimidation, but he was back on campus March 8.
3. At a time when the community most needs to hear from him, principal Chris Rock has either chosen to duck media inquiries or has been ordered to do so by his wrongheaded bosses at Imagine's headquarters in Arlington, Va.
"This whole thing has been handled horribly," said one Imagine South Vero parent who requested anonymity. "They knew about this photograph for almost a week. How could they not tell us?
"How can they tell the kids, 'If you see something, say something,' then do something like this?" the parent added. "If it weren't for Facebook, we still wouldn't know."
It was Natalie Castillo's Facebook post on March 8, in fact, that sparked outrage from parents who were aghast to learn the boy in the photo had returned to classes that morning.
"Would you feel comfortable with this kid being allowed to still attend your child's school after posting this on social media?" Castillo wrote. "He's back in class at Imagine South Vero Charter School! What do you think?"
She then asked others on the popular social-media site to share her news-breaking post, and they have – more than 1,800 times.
In addition, a Facebook page titled "Imagine Families Against Gun Threats" was created hours after Castillo's post and more than 460 people had liked the page as of Sunday night.
The most telling parental response, however, came on the morning of March 9: Nearly 200 students didn't show up for school.
Parents were scared, and their impromptu boycott prompted same-day emails from Rock, Imagine regional director Jennifer Fornes and Imagine South Vero Governing Board chairman Megan Knowles.
In those correspondences, parents were assured that the incident was being taken seriously by both school officials and law-enforcement authorities, stronger policies and procedures for dealing with such matters would be discussed, and student safety would always be the "highest priority."
Parents also were informed that the student who posted the photo was no longer enrolled at the school, but, citing federal protections granted under the Family Educational Rights and Privacy Act (FERPA), Imagine officials refused to say whether his departure was voluntary.
And just to make sure everyone felt better, Rock wrote that the school had taken "appropriate disciplinary action" against the student and, following investigations by both Imagine officials and the Sheriff's Office, echoed law-enforcement claims that the boy's actions did not pose a "credible threat."
No one, though, addressed the boy's return to classes last week, albeit for only one day. Instead, school officials again hid behind FERPA, with Imagine spokesperson Rhonda Cagle saying they were legally prohibited from discussing the student's records.
"I'd still like to know how that happened," said another parent who also requested she not be identified. "How did they know he wasn't a threat?"
They didn't, it now seems – and still don't.
Three days after saying law-enforcement's investigation of the incident was closed, Sheriff's Office spokesman Lt. Eric Flowers said Monday the State Attorney's Office decided late last week to "re-review the case."
"It's still under investigation," Assistant State Attorney Chris Taylor said, adding that prosecutors haven't yet determined "whether a crime was committed."
According to Flowers, Sheriff's detectives responded immediately when notified by school officials on March 2, meeting with the boy and his parents, who allowed them to search their home. There, detectives discovered the guns in the photo were actually BB guns and were told by the boy that he had "no intention of taking them to school" – that his Snapchat post was nothing more than a "stupid prank."
Flowers said detectives turned over their findings to the State Attorney's Office, which initially decided the student wasn't a threat and that "no criminal charges" would be filed. The boy had been suspended from school and punished by his parents, who were "very upset" by their son's actions.
"This is not something we would make a probable-cause arrest on," Flowers said Friday. "In cases like this, we investigate, present our findings to the State Attorney and they decide whether to file charges. But this is all relatively new – people using social media to post what could be interpreted as their intent to commit a crime.
"We closed our investigation," he added, "but if the state changes its mind, we'll certainly do our part."
Apparently, the state did change its mind, but no reason was given, leaving us to wonder if the State Attorney's Office uncovered new information or, perhaps, felt pressure after news broke March 9 that the investigation was closed.
Taylor declined to comment further on what be called an "open case," but he called Flowers late Friday afternoon to make sure there was no further confusion.
The investigation is ongoing.
If so, that's cause for concern, because it means authorities hadn't yet fully cleared the boy – he was in his first year at the South Vero school, which opened in 2008 – when Imagine officials trusted the information they were given and allowed him to return to classes.
We're fortunate that nothing bad happened.
"Parents, I want to reassure you that proper actions were taken and no students were injured," Rock wrote in the March 9 email in which he urged them to remind their children that "actions have consequences."
But what about non-actions?
What are the consequences Imagine officials face for not being proactive and failing to immediately notify parents of a potential threat to their children's safety?
Without question, Imagine officials reacted responsibly to the incident – alerting parents and offering to meet with them, bringing in crisis counselors, beefing up security measures and requesting a temporary law-enforcement presence on campus.
Problem is, they did so only after Castillo's frightening Facebook post went viral.
What would Imagine officials have done if social media hadn't forced their hand? Would we know that one of the teens in our community had posted such a creepy photograph? Would the boy still be in school there?
Would the kids at the Imagine South Vero Charter School, which serves roughly 880 students from kindergarten through the eighth grade, be in danger?
We need answers to these questions and more, and we need to hear them from Rock.