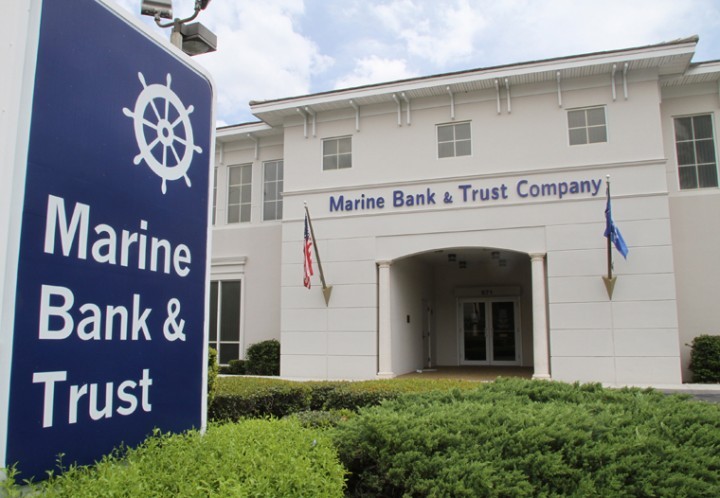 VERO BEACH — The way Bill Penney sees it, there's no longer any reason to dredge up his courageous and successful crusade to save the only locally headquartered bank in Indian River County.
"That's way, way back in the rear-view mirror," Marine Bank & Trust's president and CEO said of his 2011 challenge to the Federal Deposit Insurance Corp.'s charges of unsafe and unsound banking practices. "The bank is doing very well."
And has been.
Since emerging from the fierce, two-year legal battle, Marine Bank has steadily risen from the recession, continuing a positive three-year earnings trend with record after-tax earnings of $1.15 million in 2015, up from $934,000 in 2014. Profit was up, year-over-year, in every quarter, with the strongest increase in the fourth quarter when the bank made $311,000, compared to $240,000 in the fourth quarter of 2014.
The bank, which was chartered in 1997 and has two full-service branches in Vero Beach as well as a loan office in Sebastian, experienced asset growth of 18 percent – from $163 million in total assets at the end of 2014 to $193 million at the end of 2015.
Marine also saw a 15-percent increase in core deposits during that span, which Penney attributed to the bank's efforts to expand its customer base.
According to Penney, Marine's current capital ratios exceed federal regulatory requirements, and the bank continues to be "Well Capitalized" under the regulatory guidelines. The Tier 1 capital ratio as of Dec. 31, 2015, was 9.27 percent and total risk-based capital ratio was 14.73 percent.
"We're seeing a little bit of everything here," Penney replied when asked why the bank is enjoying such success. "As our community comes out of the recession, home purchases and even home building are up, and people are moving here again. So residential lending is up, which gets us closer to our goal of being Vero's leading mortgage provider.
"Also, as the local economy continues to improve, we're seeing businesses expand, which has resulted in a higher demand for commercial loans," he added. "We like to see more business lending because those businesses put people to work, and that's good for all of us."
Penney, Marine's chief executive since February 2010, also credited his staff with providing "local knowledge" and "concierge-type, personal service" that has attracted new customers to the bank.
"I'm very, very proud of what this team has accomplished," Penney said. "We know that customer relationships are dependent upon quality people, and that's exactly what we have – exceptional employees serving coveted customers.
"We will continue this trend," he added, "and we expect to see even greater growth in 2016."