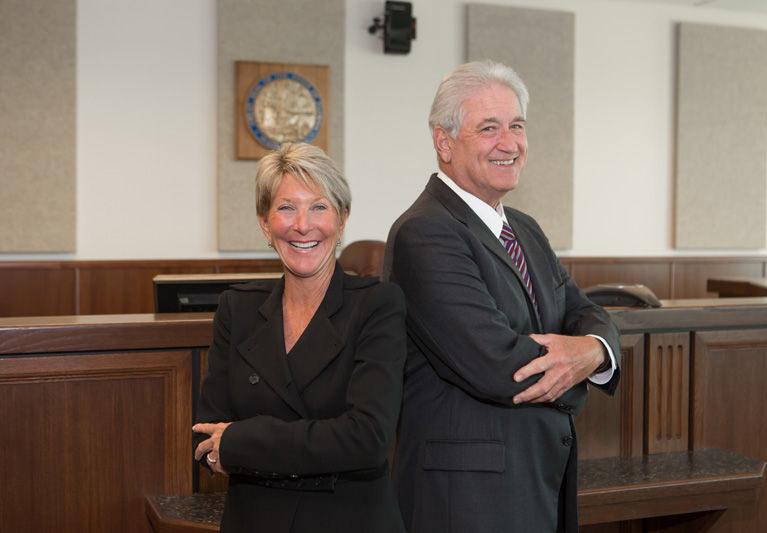 At first blush, it seems strange. Almost like Wile E. Coyote and the Road Runner being pals. Or Eliot Ness and Al Capone being best buds.
But Bruce Colton, the region's chief prosecutor, and Diamond Litty, the region's public defender, have been friends since they worked together nearly 35 years ago.
"I hired them both" for the State Attorney's office, longtime Vero Beach attorney and one-time 19th Judicial Circuit State Attorney Bob Stone said. "I brought Bruce over from the Public Defender's Office in 1974, and I hired Diamond right out of law school in late '81 or early '82.
"They didn't work together long, because Diamond left after about five years to go into private practice, but they always seemed to get along well."
They get along even better now.
Not only has their friendship remained intact, but it also continued to deepen through the years, even as Colton replaced Stone as our State Attorney in 1985 and Litty was elected Public Defender in 1992.
Both still hold those offices. Both have announced they're seeking re-election. And despite being on opposite sides of the courtroom for the past 23 years, both say their friendship has enhanced – not compromised – the legal process, and allowed for greater cooperation throughout the local criminal justice system.
"From an administrative perspective and what we've been able to accomplish through our cooperation, it's definitely had a very positive impact," Colton said. "But it doesn't spill over into the courtroom, to the lawyers in the trenches.
"I don't think any of my attorneys would tell you they feel any pressure to do something they wouldn't normally do because of my friendship with the Public Defender," he continued. "A lot of the younger people probably don't even know we're friends. And, believe me, we've had some pitched battles between the lawyers in our offices.
"To me, though, it's a good thing, even if you don't have a social relationship, for the State Attorney and Public Defender to get along," he added. "Our relationship is on a different level, and it's enabled us to work together to help the system."
The spirit of cooperation between their offices has, in fact, made possible the implementation of local diversion programs, such as Drug Court, Mental Health Court and Veterans Court, as well as the innovative Re-Entry Program established by Litty's office in 2003.
Working in collaboration with law enforcement agencies throughout the circuit's four counties – Indian River, St. Lucie, Martin and Okeechobee – Litty's office created the Re-Entry Program to assist eligible inmates in the county jails to develop some of the basic skills needed to effectively re-integrate as productive, law-abiding members of the community.
Colton said he supports the program, which has been so successful that Public Defender's offices in other circuits have begun to adopt it.
Indian River County Sheriff Deryl Loar also endorsed the program, which he said "reduces recidivism" and helps "prevent the perpetuation of the cycle" of criminal behavior.
"But if you don't have both sides buying in," he added, "it's not going to happen."
Loar, among others, sees no problem with Colton and Litty being friends beyond the office. He said he has worked with them for more than 20 years, enjoys a good relationship with both and can't recall a situation where their personal friendship caused a professional conflict of interest.
"They may be friends," Loar said, "but their professionalism and focus on the job supercedes that."
Past political challengers have tried to make an issue of Litty's friendship with Colton and targeted what they termed her "cozy" relationships with sheriffs. The accusations, though, didn't stick and she is likely to be elected to her seventh term in November.
Litty acknowledged there has been "criticism," but she said she shrugs it off knowing her personal relationships – especially her friendship with Colton – have "greatly enhanced" the local judicial system.
"It's important to know that, despite the friendship between us and the cooperation we've enjoyed between our offices, my clients' rights have never been compromised," Litty said. "Our attorneys oppose each other fiercely in the courtroom. He prosecutes to the fullest extent of the law. I defend to the fullest extent of the law.
"That doesn't mean we have to be enemies and hate each other."
Several members of the local criminal justice system backed her claim, echoing Loar's remarks and saying Litty and Colton possess too much integrity to allow their friendship to compromise their ethical and statutory responsibilities.
"Diamond has done her job and Bruce has done his," Stone said. "When it comes to cases handled by their offices, the fact that they're longtime friends has no impact at all. They both represent their clients, and they do so vigorously and ethically."
Actually, neither Litty nor Colton spends much time in the courtroom these days. They're too busy being administrators while the lawyers who work for them handle most, if not all, of the cases – few of which go to trial.
Litty said more than 90 percent of cases involving the Public Defender's Office are resolved through plea negotiations, "so you better get along with the person across the table."
It is there, if anywhere, that the friendship between the State Attorney and Public Defender might contribute to both sides arriving at what Litty called a "better, fairer deal."
"It probably does help that I'm not constantly bad-mouthing the Public Defender," Colton said. "But, honestly, even if we didn't have a social relationship, we'd have gotten along."
So just how close are Colton, who lives in Vero, and Litty, a resident of Port St. Lucie? How often do they socialize? How did they become more than professional colleagues?
They're friends – good friends who like each other, respect each other and care about each other. It was their spouses, however, who brought them closer.
It was while working together in the State Attorney's Office that Litty met her now-husband, Tom Walsh, who went on to serve as a St. Lucie County judge for more than 25 years before retiring in May.
Walsh joined the State Attorney's Office in 1980 and he soon became friends with Colton.
"I was closer to Tom and, back then, really didn't have a lot of contact with Diamond, especially after she left the office to go into private practice," Colton said. "After Tom and Diamond started dating and got married, I introduced her to my wife and they became good friends."
Litty said Colton's wife, Becky, was "one of my very best friends," and that they spent a lot of time together.
"We started running together and ended up running nine marathons," Litty said. "We'd train eight months of the year, running 15 to 18 miles at a clip, so you can imagine the friendship you forge spending that much time together."
In addition to traveling to marathons around the country – New York, Chicago and Washington, D.C., were among the stops – the couples would occasionally get together for dinners, cookouts and other social gatherings. They also took trips to the Bahamas.
Then, six years ago, Colton's wife was diagnosed with breast cancer. A year later, she was gone.
Colton still occasionally gets together socially with Litty and Walsh, but they don't see each other nearly as much as they did before his wife died.
"We'll always be great friends," Litty said.
And as long as they're serving as our Public Defender and State Attorney, Litty and Colton will continue to work together – when they can – to improve the local criminal justice system.
They'll also continue to work with local law enforcement, the judiciary and the counties they serve.
"I've been an attorney here for 52 years and, right now, the overall climate between law enforcement, prosecutors, defense attorneys and the judiciary is better than it's ever been," Stone said. "The reason is that we have ethical people who take their roles seriously, people of good character who are more concerned with doing a good job than making a name for themselves.
"Bruce and Diamond are a big part of that," he added. "They've set the tone."
Both Colton and Litty said they see the difference when they attend meetings with their peers around the state, where, in some circuits, the State Attorney and Public Defender despise each other.
"Nowhere in the state is there more cooperation – not just between Bruce and I, but among all the players," Litty said. "We've had disagreements, but that's the exception, not the rule.
"The spirit of cooperation here is unusual, extraordinary and, really, quite unique," she added. "And it starts at the top."
Between friends.