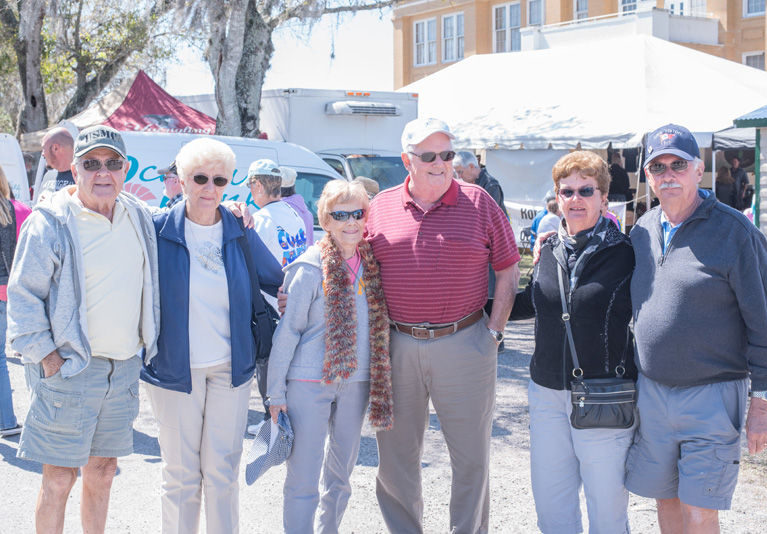 FELLSMERE — The brand new, first-ever Shrimpfest shot out of the gate Saturday and immediately established itself as a smashing success, the youngest member of what is now a triumvirate of wildly popular food festivals that call North County home: first frogs, then clams and now – shrimp – bringing a happy, hungry crowd to Fellsmere's historic old school grounds this weekend.
One attendee commented, with a laugh, "Epcot had less people than this."
The weather on the first day was Chamber-of-Commerce perfection. Dozens of tents house vendors, non-profits, churches, businesses, service clubs, offering info, freebees, and all sorts of alluringly displayed items for sale. Home Depot has a special area just for kids and Keep Indian River Beautiful is providing recycling containers.
From the big stage over in the ball field, early Saturday afternoon, hundreds stood toe-tapping, (some were dancing) to the kick-butt country sounds of The Cheyenne Band, and other popular groups kept the music rolling all weekend.
The stars of the weekend, of course, are the shrimp, all of which were born and raised out at Florida Organic Aquaculture.
Shrimpfest committee member Sandy Gehrke explained that Pat Rivizzio, a behind-the-scenes kind of guy, had not only designed the user-friendly event layout, but had also come up with the brilliant idea of how best to showcase the sought-after crustaceans.
Six top area restaurants are participating in a competition to see which shrimp dish was tops with the crowd. Samples are $1 each, and festival-goers receive a ticket to vote for their favorite. The lines were long all day Saturday, but no one was complaining.
All six restaurants brought their A Game Saturday: Osceola Bistro's Shrimp and Grits; Marsh Landing's Shrimp Creole; Old Fish House's Fried Shrimp Cocktail; the Tiki Bar and Grill's Garlic Shrimp; Capt. Hiram's Shrimp and Grit Arepas and Shrimp Cakes; and Squid Lips' Fried Shrimp with Seasoned Batter.
To wash it all down in style, there is plenty of craft beer and wine.
The 2-day celebration of America's most beloved seafood, which is expected to become an annual event, was organized through a partnership between the Rotary Club of Sebastian, the Exchange Club of Fellsmere and Florida Organic Aquaculture's Florida Aquaculture Foundation, and how it all came about was purely serendipitous.
Shrimpfest committee member Sandy Gehrke explained that the Sebastian Rotary Club and the Fellsmere Exchange Club had, coincidentally, scheduled visits to the Florida Organic Aquaculture facility on the same day. During the tour, said Gehrke, both groups, simultaneously, had an "AHA!" moment.
"Hey, we should do a Shrimp Festival!" Of course, the community-spirited FOA chief, Cliff Morris, immediately got on board and, faster than you can say "Pass the cocktail sauce," the project was off and running.
The comment most frequently voiced by delighted event organizers: "This is beyond our wildest expectations!"
Shrimpfest is raising funds for North County youth sports organizations. This year's recipients are: Boys and Girls Clubs of Sebastian and Fellsmere; Sebastian Soccer League; Sebastian River Crew; Treasure Coast Pirates Rugby Club; Sebastian Sharks Youth Football and Cheerleading Association; and Boys' and Girls' Lacrosse.