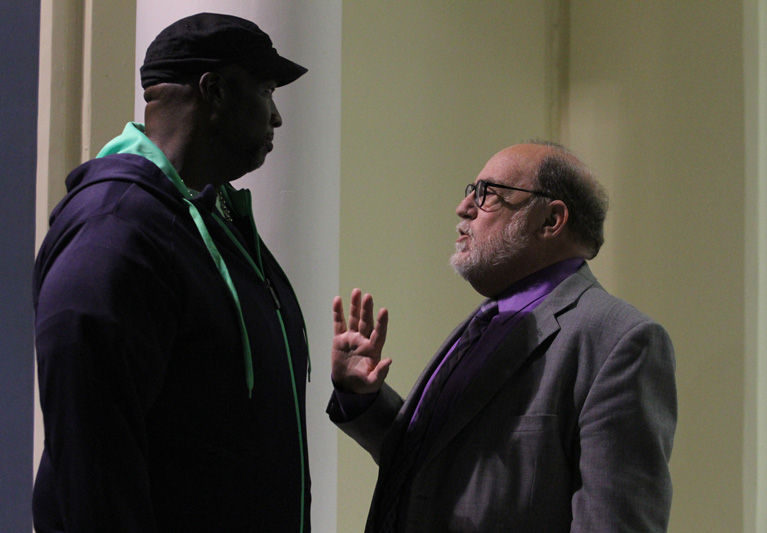 If you spend most of your adult life doing what I do for a living, you can't help but develop a sixth sense that tells you when something doesn't smell right.
This is one of those times.
There's something wrong about what's happening to Sebastian River High School criminal justice teacher and former assistant football coach Joe Nathaniel in the aftermath of a videotaped incident in which he scuffled with an unruly student.
The harsh manner in which this situation is being handled and the shabby way this man is being treated stinks, so much so that many of those familiar with the Nov. 17 incident are sickened by the stench of secrecy, hypocrisy, cowardice – and possibly even vengeance – that has engulfed the proceedings.
And that foul odor is emanating from the Indian River County School District's administration building, where Superintendent Mark Rendell wants to impose the professional equivalent of the death penalty for a misdemeanor, an over-the-top decision made more outlandish by the fact that Nathaniel is a first-time offender.
Worse, though, was the air of arrogance and distrust that filled the School Board chamber on Jan. 12, when it became obvious to everyone that at least two board members already had made up their minds about how or whether to discipline Nathaniel – based solely on what they had seen on videos that don't tell the entire story – rendering meaningless the outpouring of genuine affection and support shown for Nathaniel by students, parents and colleagues.
On more than one occasion, in fact, board members had the audacity to scold and threaten the removal of those in the pro-Nathaniel audience who dared interrupt the emotion-packed meeting with applause, cheers, boos or groans.
In so doing, however, the school board only created greater acrimony, giving Nathaniel's supporters more ammunition with which to question its motives.
So what really happened between Nathaniel and Isiah Speights, the 18-year-old student who was eventually arrested in connection with the incident and charged with misdemeanor counts of criminal mischief and disruption of a school function?
What ignited the late-morning altercation that prompted Nathaniel to shove Speights in a classroom and use physical force to subdue him – a reaction that now threatens an otherwise exceptional teaching career?
Was Nathaniel wrong? Did he go too far? Should this incident cost him his job?
According to Sheriff's Office reports, which include witness statements, the altercation began in the hallway, where Nathaniel was herding students to their classes. Seeing Speights lingering, Nathaniel asked him where he was supposed to be.
Nathaniel told investigators that Speights responded with an obscenity, so he escorted the teenager to his classroom, where Nathaniel advised the teacher, Cathy Bradshaw, that Speights was goofing off in the hallway and should not be given a hall pass.
Speights, who was hanging and swinging on the doorway frame, then approached Nathaniel with clenched fists and a flexed body – a seemingly aggressive move that Nathaniel saw as threatening – and asked, "Why are you following me?"
The report said Nathaniel repeatedly told Speights to give the pass back to the teacher and sit down, but the teen ignored his instructions.
There, the accounts given by Nathaniel and Speights differ. Nathaniel said Speights struck him first and he responded by pushing the teen away. Speights said Nathaniel initiated the physical contact.
For the record: Bradshaw told investigators that "Isiah and Joe were face to face when Isiah pushed Joe," and, "It appeared Joe was trying to calm Isiah down."
Another witness, teacher's assistant and girls basketball coach Christopher Jefferson, said, "When Isiah relaxed himself, Joe immediately let him up," though the teen "stayed in a state of rage."
After the scuffle, Speights allegedly punched lockers and kicked a water fountain off the wall as he walked from the classroom to the principal's office, providing the grounds for the criminal mischief charge.
The Sheriff's Office reports support Nathaniel's version of the incident and no criminal charges were filed against him.
As for the videos …
Recorded by a student using a smart phone, the classroom video starts with Nathaniel standing face to face with Speights and asking loudly, "You going to do something with your hands?"
After Nathaniel tells Speights, "I suggest you give the lady her pass and sit your behind down," Speights appears to raise his hands toward Nathaniel, but it's not clear that he struck him.
Something, though, provoked Nathaniel to step toward Speights and bellow, "Don't you ever put your hands on me. Do you understand that? Don't you ever, EVER, put your hands on me." Speights then tosses aside a desk and engages Nathaniel, who shoves the teen and eventually wrestles him to the floor.
Minutes later, a second incident occurred in the principal's office, where Nathaniel saw Speights attempting to make a phone call and pulled the phone away from him. That, too, was caught on video.
In his charging document, Rendell accused Nathaniel, who has worked for the district since 2003, of escalating the incident by taunting the student, continuing to move toward the teen in an aggressive manner, and physically abusing and yelling at him.
Rendell also alleged that Nathaniel violated School Board policies requiring teachers to protect students from harmful conditions and prohibiting teachers from intentionally embarrassing students.
The punishment, Rendell deemed, should be termination of Nathaniel's employment with the district.
"This was an extremely tough decision," Rendell told the board, though he chose to ignore Nathaniel's unblemished record and impose the stiffest possible penalty, rather than show even a hint of wisdom or compassion and resolve a difficult situation with a reasonable suspension and stiff warning.
Nathaniel, who has retained West Palm Beach attorney Mark Wilensky to represent him in contesting Rendell's ridiculous recommendation, was advised to decline comment.
At the School Board meeting, however, Wilensky challenged Rendell's charging document and the legitimacy of the district's investigation, alleging that a decision to terminate Nathaniel was made "long before" the teacher was offered an opportunity to respond to the allegations.
In addition, Wilensky told the board that witnesses employed by the district were "warned not to speak to us" and told "their jobs would be in jeopardy" if they did.
"They said they couldn't provide any information," he said, "though they would like to."
The board, to no one's surprise, never addressed Wilensky's remarks, which was curious: Why not allow the witnesses tell their story? What is the district hiding? Is there a cover-up?
Or was this a set-up?
Charles Searcy, the only board member who publicly rejected Rendell's recommendation, raised such a possibility, saying, "I don't condone the actions of (Nathaniel), but I don't have any idea what the student did to provoke that … It almost sounds like a set-up to me when, mysteriously, they had videos of that end of the altercation, where they've just got Coach Joe."
Searcy seemed to defend Nathaniel when he said, "Our kids are out of control," and added, "If we don't put a stop to this kind of activity from our students, we might as well not be up here."
He also pressed Rendell into admitting "there are various levels of progressive discipline" and that School Board rules and the district's contract with its teachers don't mandate termination for the violations allegedly committed by Nathaniel.
Suspension was an option.
Indeed, several current and former teachers who addressed the board on Nathaniel's behalf said firing Nathaniel would send the wrong message – that teachers would be putting their jobs at risk if they stepped in and physically restrained out-of-control teens, regardless of the dangers those teens might pose to other students and the teachers themselves.
Apparently, though, administrators get to play by a different set of rules.
This past December, a high school principal in this county chased down, tackled and placed in a headlock a student who was engaged in a fistfight on school property, and the administrator suffered no professional consequences.
It was in late November that Sebastian River principal Todd Racine made the YouTube circuit with a video that showed him breaking up a fight by tackling a student and restraining him in a headlock. The incident, which had occurred earlier in the school year, was reviewed by district officials who found no wrongdoing and had the video removed from YouTube.
Despite using similar degree physical force, Nathaniel has been targeted for termination and the video of his incident was given to the news media.
"It seems like a double standard that you're recommending Joe for termination, but you stood behind Todd Racine and he's still working," Keith Cooper, a parent in the Sebastian River community, told the board at the Jan. 12 meeting. "He chased down a kid, tackled him and put him in a choke hold. … How can you keep him and terminate Joe?"
Searcy, too, was puzzled.
"The principal at that high school put his hands on a student," Searcy said, "and he was trying to do … the same thing that Coach Joe was trying to do."
So why were the incidents viewed and treated so differently by the district administration?
Was it because Racine is their guy and Nathaniel isn't? Or because Racine, who is white and smaller, doesn't appear as menacing as a 6-foot-4, 300-pound black man? Or could it be because Rendell and the board fear "Coach Joe" is so popular at the school and in the community that they can't control him?
Remember: Nathaniel was among the assistant coaches who publicly questioned Racine's ill-timed and yet-unexplained decision to fire former Sebastian River football coach Randy Bethel in December 2012, shortly after the Sharks won their first district championship.
Then, in September 2013, Nathaniel went to the School Board with a stinging complaint alleging he and other former Sebastian River assistant football coaches – those who worked for Bethel but, in a show of loyalty, opted to not join the staff of his successor, Kevin Pettis – were derisively being referred to as the "BBC."
Big Black Coaches.
The complaint, corroborated by three other former assistants, embarrassed both Sebastian River's administration and the School Board, but not nearly as much as the laughable results of a half-hearted district investigation that found the "BBC" moniker had "circulated the school" but was meant as a "term of endearment."
No action was taken against anyone.
Until now.
Multiple sources close to Nathaniel and knowledgeable of the situation at Sebastian River said it's not unreasonable to wonder if the district administration might be using the Speights incident to get rid of someone it believes isn't a team-first player.
One source, who requested anonymity, said he wouldn't "rule out retaliation" as a motive because Nathaniel brought the "BBC" issue to the news media and has been a "thorn in Racine's side," questioning several of the principal's decisions and actions, "going all the way back to Randy's firing."
Certainly, Rendell could've given more weight to Nathaniel's success and standing. He could've opted to save a valuable member of the school's faculty and still send a strong message by recommending a suspension and issuing a stern warning.
Not that Nathaniel needs one: According to former assistant football coach and local NAACP leader Tony Brown, Nathaniel and his wife already have met with Speights and his mother, Olaundra Pryor, and the two families are working together to "heal."
Brown called the meeting between the families an "awesome moment" and urged the board to "do what's right" and not get rid of a teacher who means so much to his students. He said neither Pryor nor Speights wants Nathaniel to be fired.
"Are you going to destroy this man for a mistake?" Brown asked, conceding that Nathaniel probably could've better handled the situation. "He's been through enough. Mrs. Pryor and Isiah have been through enough. Let's stop this."
Rendell was unmoved. He continues to stand by his recommendation, which is anchored by the videos, and has no interest in subjecting himself to further questions.
Believe me, I tried.
I submitted three questions – in writing, via email, through district spokesman Flynn Fidgeon – asking for Rendell's reaction to the outpouring of sentiment on behalf of Nathaniel at the board meeting; for an explanation as to why he treated the incidents involving Racine and Nathaniel differently; and for the reasoning behind his decision to recommend termination instead of suspension.
Rendell's response? No comment – which wasn't surprising, given that Nathaniel, if fired, almost certainly will sue the district.
The good news is that the board rejected Rendell's recommendation that Nathaniel be suspended without pay and voted 3-2 to continue paying the teacher until his appeal is heard.
The bad news is that Searcy was unable to convince his fellow board members to muster the courage to hear Nathaniel's appeal here. Instead, the board voted 4-1 to punt the case to the state's Division of Administrative Hearings.
Though board members who voted to ship the case to Tallahassee tried to sell the move by arguing Nathaniel's appeal would get a fair and impartial hearing by an trained and experienced administrative law judge – with no local political influence – it was a shamelessly transparent decision made to avoid taking ownership of a tough call in front of a potentially hostile crowd.
It was also gutless.
Searcy was the lone vote against sending the case to the DOAH, saying those who voted to do so were "just trying to get it off our plates." He said it's wrong for board members to take their salaries and duck difficult, possibly unpopular decisions.
"We've got to face all these people, no matter how it happens," Searcy said. "So I'm not going to support a motion to have somebody from Tallahassee come in and tell us what to do. We're the ones that are responsible. We're the elected School Board and we need to make that decision here."
Truth is, Nathaniel's appeal might have a better chance with the DOAH. At least two board members – Board chairman Dale Simchick and Claudia Jimenez – appeared to be leaning hard toward termination.
Simchick said watching the videos of the classroom and office incidents made her "sick" and "frightened," adding that Speights "was not the aggressor." She blamed Nathaniel for putting himself in this situation.
Jimenez said that even students who are disrespectful and misbehave have "inherent worth and dignity," and that board must send a message to students and teachers by holding Nathaniel accountable for his actions.
But what about the School Board's actions?
The school district has a policy prohibiting students from taking photographs or recording videos of anyone on campus to post on the internet or send to other people without a teacher's permission. Yet the district shared the Nathaniel videos, including the one shot without permission by a student, with news media outlets that requested them.
Again, I've been doing this job long enough to know when what I'm seeing and hearing doesn't smell right. And there's plenty about this story that stinks.
What's most offensive, though, is what Rendell and the School Board are doing to a good man, an inspiring mentor and valued educator who deserves a second chance he might not get.