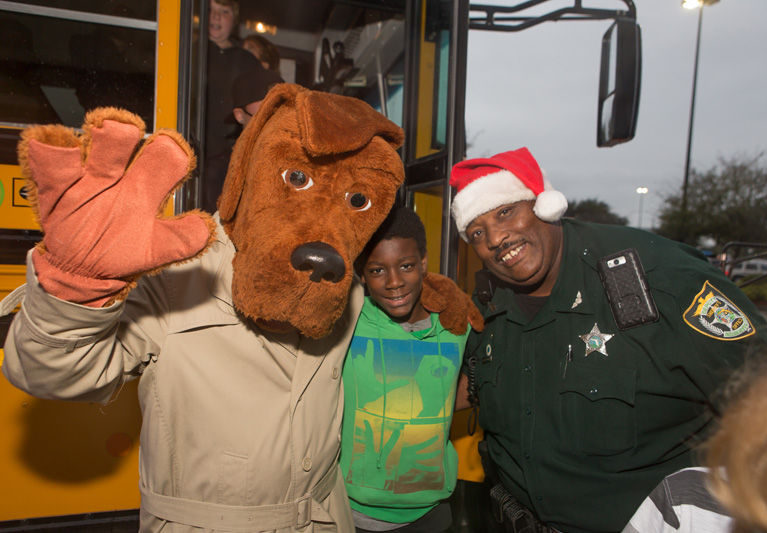 SEBASTIAN — Of all the warm and fuzzy, feel-good events crowding this month's calendar, one of the most heartwarming is the annual Shop With a Cop, which takes place at the Sebastian Walmart.
Anyone driving by on Friday evening, Dec. 18, who didn't know Shop with a Cop was taking place, would be forgiven for thinking some major bust was going down. Parked along the curb for the length of the building were a couple dozen cop cars, red and blue lights flashing, and dozens of uniformed law enforcement officers milling about in front.
But a closer inspection revealed Santa Claus happily greeting customers and Sebastian's own Mr. Christmas, Bruce Zingman, sporting his traditional Big Red Hat, ringing the Salvation Army Bell.
Everyone was awaiting the arrival of a bus load of excited kids, who'd soon be paired off with a Cop (or two) and headed inside for a Christmas shopping spree.
Shop With a Cop took place in two rounds, one for North County kids and one for South County kids, all chosen through the schools or through applications. Officers from the Sebastian Police Department, Fellsmere Police Department, Vero Beach Police Department, Indian River County Sheriff's Office, Florida Highway Patrol, and Florida Fish and Wildlife volunteer every year.
Deputy Tommy Harrington laughed as sisters Jessia, Cassidy and Layla diligently filled their cart, making sure each family member was accounted for. Large carrot-nosed Olaf (the loveably goofy snowman from "Frozen") was the go-to toy for sure, popping up in several carts en route to the check-out.
Sheriff's Deputy Mark Buffington pushed the cart as sisters Summer, Desiree and Krissa discussed their list which, they decided, wouldn't include "the baby" this year since she was still "in Mommy's tummy."
"The kids get to see us in a different light, and we see them in a different light as well," Dep. Buffington said. He's been volunteering with Shop with a Cop for several years.
Sebastian Det. Pete Miller, TJ Irwin and Tim Wood were having fun, following their young charges up and down the toy department aisles.
"This is so much fun every year, just to see those smiles," said Miller.
Highway Patrol Troopers Shawn Crabtree and Ronald Weber, were watching the organized confusion, eyeing where they could step in.
"This is our first year. It's great. There were so many volunteers," Crabtree laughed. "They ran out of kids!" Several officers had joined forces to more efficiently keep track of the energetic kids.
Heading for the check-out with a filled-to-the-top cart, Buffington declared with a grin, "Let's go break the bank."