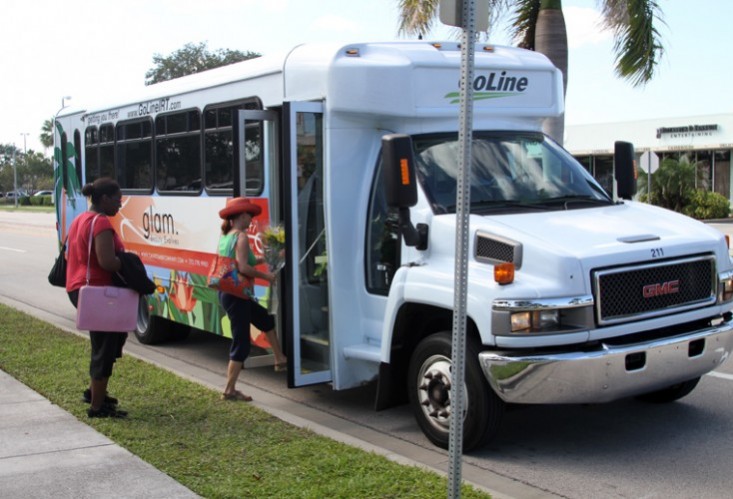 INDIAN RIVER COUNTY — The Board of County Commissioners next Tuesday will consider contracts for engineering and project management services for a permanent Go-Line bus transit hub near Downtown Vero Beach.
The structure, which is expected to span between 2,200 and 2,800 square feet and include restrooms and storage space, is set to be built at 1235 16th St. on a parcel of City of Vero Beach owned land for which Indian River County has negotiated a 40-year lease.
The entire project is slated to cost more than $1.2 million, which would be fully funded by a $1,150,000 Federal Transit Administration grant plus a$68,000 grant from the Florida Department of Transportation. A staff report states that no county funds would be required to match the grants.
In response to complaints from residents of the Original Town neighborhood, the hub was relocated from that area to the County Administration Complex temporarily, and then moved to a site at the Vero Beach Municipal Airport until the permanent location can be completed.
County staff is recommending that local firm Schulke Bittle and Stoddard be awarded a contract of about $159,000 for architectural and engineering services.
Only two bids were received for the task of project manager. Staff is recommending the top-ranked firm of Ft. Pierce firm CivilSurv Design Corp be paid roughly $30,000 to oversee the funding and procurement process, to review and evaluate construction bids, to manage the grant monies and to respond to questions and complaints from the public about the project.
These items are scheduled to be considered during the Board's regular meeting at 9 a.m. Tuesday in Commission Chambers at the Indian River County Administration Complex, Building A.