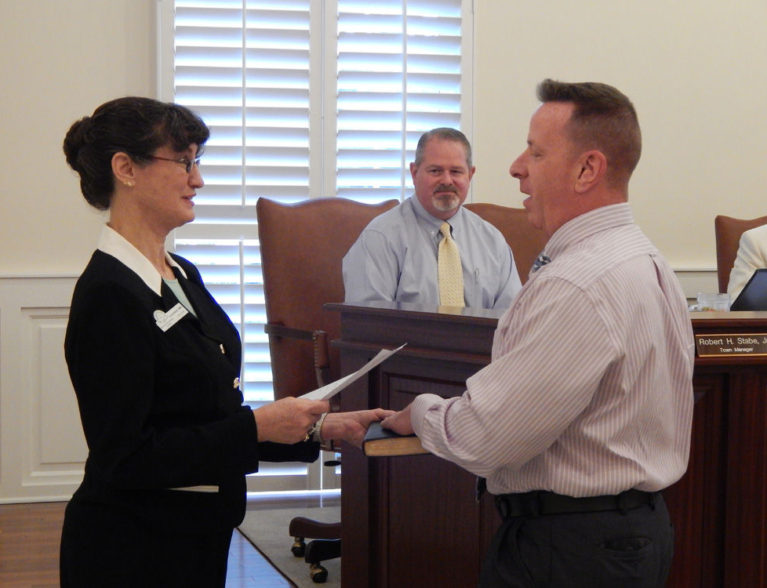 INDIAN RIVER SHORES — The Indian River Shores Town Council Thursday welcomed its new Public Safety Director Rich Rosell and welcomed back two incumbent council members by swearing them all into office.
Councilman Dick Haverland and Councilman Michael Ochsner were the two top vote-getters in the March 10 election, returning them to their seats. They defeated challenger Linda Bolton.
After the Town's Canvassing Board certified the election results and Ochsner and Haverland were sworn in, the Town Council chose Mayor Brian Barefoot to continue on as mayor and Vice Mayor Jerry Weick to continue in his role as well.
Weick said, "We'll continue with the same team and get the job done."
"We've had a good run; we've got some challenges," Barefoot said upon the unanimous vote for him to retain the gavel. "I look forward to working together the next two years."
Shores council members serve four-year terms, with the next election being scheduled for March 2017 when three seats will be up. Over the next two years, the council will need to find a resolution to questions about where Shores residents will get electricity from when the Town's franchise with Vero Beach expires in November 2016.
The Town has filed a circuit court lawsuit against the city arguing that it has home rule rights to opt for a different supplier.
Near the conclusion of the Town Council meeting, Town Clerk Laura Aldrich administered the oath of office to Rosell, who moved from Point Pleasant, N.J., to take the job overseeing the Shores' police, fire and paramedic operations that make up the Public Safety Department.
Rosell, who started work last Friday, brings three decades of public safety and emergency management experience to the Shores.