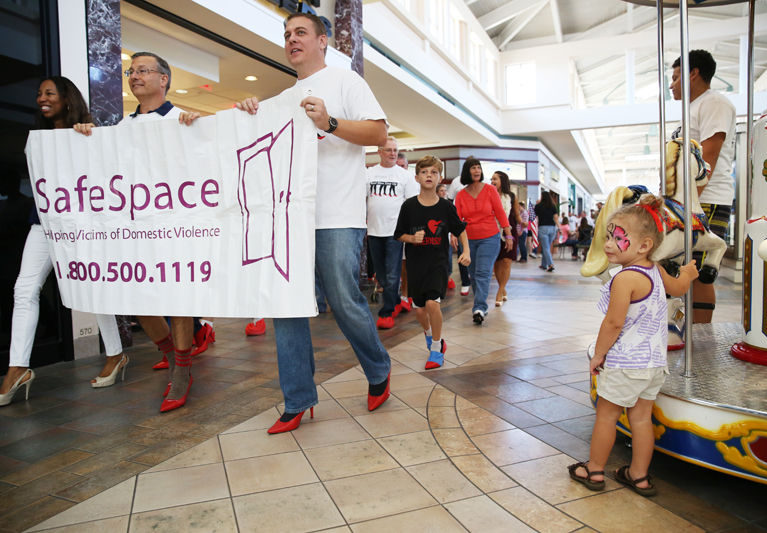 INDIAN RIVER COUNTY — Two statistics stand out when it comes to domestic violence – that one in three women will experience domestic abuse in their lifetime and that 50 percent of children raised in domestic violence households will either become abusers or will live in an abusive relationship.
In addition to its support and education programs, SafeSpace offers the only local shelters on the Treasure Coast to specifically harbor victims of domestic violence and their children. They opened their doors in 1979, founded by volunteers who wanted to empower and protect women by giving them a safe haven.
Five years ago SafeSpace joined the nationwide Walk a Mile in Her Shoes fundraising effort. Asking men to don red high heeled pumps and walk in them for a mile has brought a little humor to a serious subject.
More than a 150 walkers, including many predominant men in the community, signed up to strut along the inside perimeter of the Indian River Mall this year – although teetering and limping may be a more accurate description.
The walk began with bagpiper Michael Hyde leading the way as the Sebastian Cheerleading Squad kept spirits high and Geoff Moore of 93.7 The Breeze spiritedly high-fived participants. But by the half-way point grins turned into grimaces on many of their faces.
"I have walked 17 miles for Lauren's Way; shaved my head for Saint Baldrick's and participated in Tour de Vero, but this by far was the toughest thing I have done," said firefighter John O'Connor. "I knew I was in trouble in the first 30 steps!"
Event co-chairs Lewana Dupree and Eric Flowers believe the foot pain serves its purpose.
"The hardest part about the walk is getting other men to recognize that while this may seem silly or embarrassing to them, it takes a real man to stand up against domestic violence," said Flowers, adding that the walk comes at an especially important time.
Three Treasure Coast women lost their lives to domestic violence within a 48-hour span in the last few months. Diana Duve and Bridget Feacher of Indian River County and Grace Ann Assenza of St. Lucie County were all killed by men with whom they shared a romantic relationship at one time.
"Domestic violence in Indian River County is so prevalent that we respond to at least two domestic calls every day," said Indian River County Sheriff Deryl Loar. "More significant are the unreported cases. Sadly there are dozens each month which happen that don't get called in."
Dupree considered the event a great success, and not just because of the funds and awareness it raised.
"Having the next generation involved is extremely important," said Dupree. "Seeing all the young people who showed up today in record numbers has been overwhelming. Teaching them about domestic violence is absolutely the best way to stop the cycle of abuse."
For more information visit www.safespacefl.org or call (772) 223-2399.