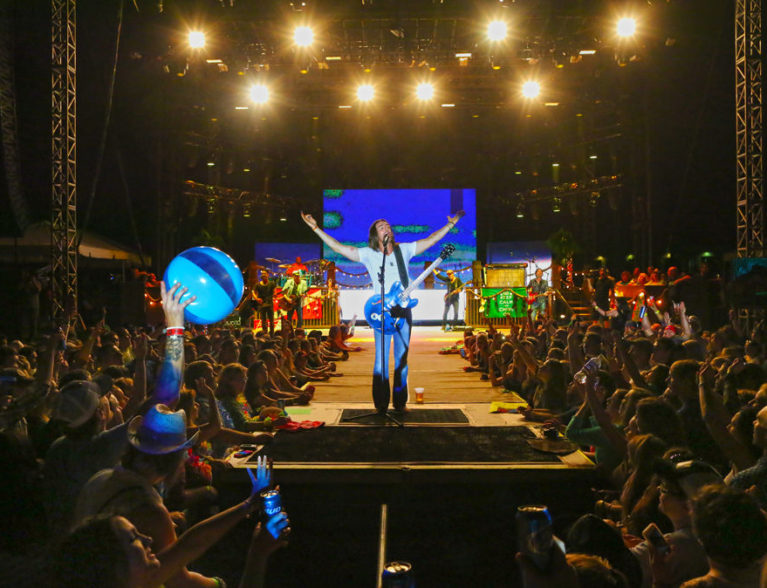 VERO BEACH — The stars were aligned Saturday night; twinkling above and blazing on stage as Vero's own super-nova played to more than 7,000 screaming fans at Historic Dodgertown's Holman Stadium at the eighth annual Jake Owen Foundation Benefit Concert.
It was the stuff of dreams on Vero's field of dreams – no wonder award-winning Country Music star Jake Owen wants to keep coming home.
"It is such an adrenaline rush anytime you're up on stage, but to look out in the crowd and see so many familiar faces and have all of my friends and family there is incredibly surreal. I can feel all of the hometown pride coming through!" said Owen, of the final stop on his 75-city Days of Gold Tour.
The 33-year old Owen draws huge crowds everywhere, but there's a special pride of ownership for locals who remember his early days playing at Riverside Café.
The feeling is mutual, which makes it even more special.
Owen proposed to his wife at a concert here and enjoys sharing Vero's vibe with Lacey and young daughter Pearl.
"I love being out on the road. But, honestly the hardest part is being away from my family. I'm lucky enough to be able to have my beautiful wife and daughter out with me. But, I don't get to come back home to Vero as much as I would like," said Owen.
"I love taking Lacey and Pearl out on the water. Growing up in Vero, I was always out boating with my family and friends. I'm excited to share this part of my childhood and pass it on to Pearl."
Country newcomer Josh Dorr, and The Cadillac Three, a Nashville band billed as "a Country group with a rockin' edge" warmed up the boisterous crowd, but it was Owen they came to see and hear.
The amiable performer 'had them at hello,' touching hands, posing for selfies and even dashing down from the stage to greet fans in the bleachers – a barefooted pied piper trailing a passel of pixies in Daisy Dukes and cowboy boots.
The crowd loved every Yee Haw minute of it – from his chart-topping Beachin', with beach balls bouncing in the crowd, to the expressive What We Ain't Got.
"For me, there is a lot in my life that I have, and more that I really want, and sometimes that's good and sometimes that's not so good," said Owen of that ballad.
"People relate to that on many levels, whether it's in their marriage or in their business. This song can be a mirror to people's lives. Seeing the fans overwhelming emotional reaction when we play it every night on the road gets me every time."
The money raised benefits the Jake Owen Foundation, which supports the St. Jude Children's Research Hospital and local youth organizations, including Autism Speaks, the Mardy Fish Children's Foundation, Hibiscus Children's Center and Boys & Girls Club of Indian River County.
"The people in Vero have been really supportive of him," said Jake's father Steve Owen at the VIP party.
"I really can't believe how much money we've been able to raise. We're going to raise more than $180,000 this year. He wants to help as many charities as he can; it's very important to him."
Now that the seven month tour is over, Jake Owen said he is looking forward to spending the holidays with family and getting back to writing and recording in Nashville.
"Come 2015 we'll be back out on the road and hitting it hard again!"