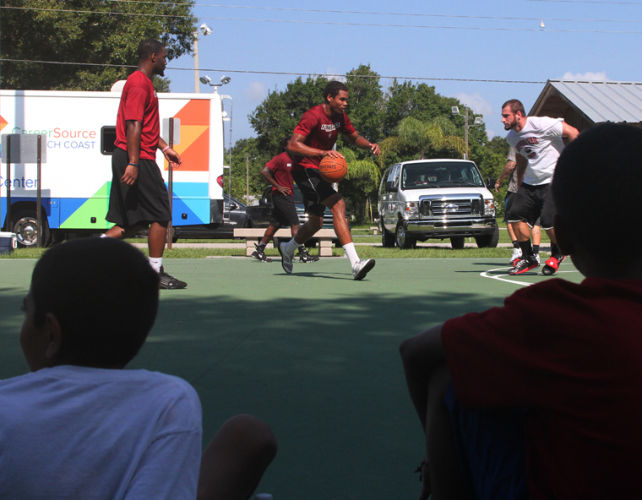 FELLSMERE — In neighborhoods tarnished with a history of drugs, crime, and prostitution, the hope of a better future is about to show up in the form of a dedicated college football team.
At a City of Fellsmere sponsored Community Services Outreach event held in the heart of the struggling Grant Park neighborhoods on Friday, Assistant Athletic Director of Florida Institute of Technology Ryan Jones mingled with residents around a basketball court where Florida Tech football players played pick-up games with neighborhood kids.
"This event is to bring the services we have in the community together to let the community know what is going on and what resources are available to them at low or no cost," said Fellsmere Chief of Police Keith Touchberry.
But as individuals and families were packing up boxes of healthy food distributed by the Treasure Coast Food Bank and took advantage of the free career services in the CareerSource Research Coast mobile computer lab, the collegiate football players were getting a feel for the community they will soon be dedicating hours of service to.
Every Monday, two or three football players who suit up with the Panthers will travel from Melbourne to Fellsmere in partnership with the Fellsmere Boys and Girls Club to mentor and build relationships with young students.
"Our coach is dedicated to being here for an extended period of time," Jones said. "He doesn't want to come for a few weeks and then leave, this is going to be a continued relationship moving forward."
The idea for the football-players-turned-mentors was born out of a personal conversation between Chief Touchberry and the University's football coach, Steve Englehart, Jones said. The long-term vision is to expand the program to include other Florida Tech athletic teams, likely starting with the Women's basketball team and the soccer team.
Prior to the Monday mentor-ships that will begin with the fall semester, the football team will be putting on a youth football camp on July 28.
In addition to the Treasure Coast Food Bank and CareerSource Research Coast, representatives from the Humane Society, Boys and Girls Club, State of Florida Health Department, Visiting Nurse Association, and the Community Prayer and Worship Center were all on hand providing education and resources for those who attended.
According to Touchberry, it was leaders in the community who first reached out to law enforcement for assistance in reversing the negative trends that have infiltrated their neighborhood.
"These people are looking for a hand up, not a hand out," Touchberry said.
In the words of Rhonda Blakey, Director of Corporate Partnerships at the Treasure Coast Food Bank, Friday's event was "an opportunity to provide some health and wellness, and the hope of a brighter future to people who really need it."
As a result of Friday's success, Chief Touchberry said the City is already discussing making the Community Outreach Event in Grant Park an annual occurrence.