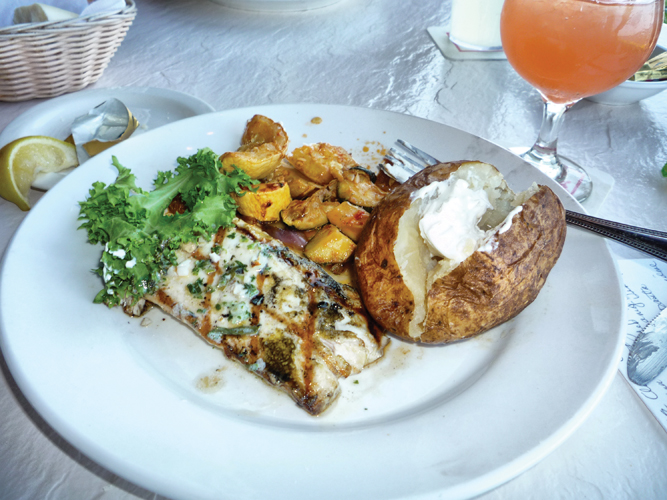 The Shack Seafood Restaurant in Palm Bay may not be the most famous seafood eatery on the lagoon, but the food is just fine, the service is friendly and efficient and the view is incomparable as it overlooks one of the widest parts of the Indian River Lagoon.
One a recent evening, Christine and I enjoyed that view just as much as we enjoyed the restaurant's Early Bird Special, which it offers every evening from 4 p.m. to 6 p.m. That's maybe a little too early even for some Florida seniors, but the timing suited us fine as we had a 7 p.m. bridge game to make – everyone knows you can't play bridge on an empty stomach.
When we were seated at a table in a screened area which gave us a lovely view of the lagoon, our waitress promptly greeted us and told us about the beverage specialties. Christine chose the Caribbean Sunset – a fruity tropical drink of Myers Rum, fresh pineapple juice and grenadine, while I stuck to lemonade (at least one of our brains had to be clear for bridge).
For starters, I chose the Louisiana Seafood Gumbo with rice, for $3.75, a cupful of crabmeat, Andouille sausage, okra and other veggies in a nicely spiced broth. My partner enjoyed her New England clam chowder, also $3.75, which was thick and creamy, but not overly starchy.
We both chose meals from the Early Bird menu, which included either a salad or cole slaw. Warm rolls were served with the salads, which consisted of romaine lettuce, tomatoes, slices of cucumbers and shredded carrots. The house dressing was creamy garlic parmesan, a nice fresh-tasting mix.
I ordered the Sautéed Seafood Skillet and accepted the waitress' recommendation of having it served over pasta. The mix of shrimp, scallops, a mild white fish and mushrooms in a garlicky broth turned out to be a very generous portion served over angel hair pasta.
Christine had the mahi-mahi, a nice-sized piece of fish, grilled with a light sauce and fresh lemon. It was served with ratatouille, a flavorful mix of eggplant, mushrooms, onion, tomatoes and garlic. She selected the baked potato as a side dish. Other available choices were rice, steak fries, or pasta marinara.
The Seafood Skillet was priced at $13.95, while the Mahi-Mahi was $14.95. The items on the Early Bird menu were definitely full-sized portions, not smaller amounts to make up for the smaller price tag, a practice common at other area restaurants trying to lure extra customers with early-bird specials.
In fact, we were so full from the full-size portions, that we had no room to try any of the offerings on the tempting dessert menu, despite the promise from our waitress that she had some special recommendations for us.
Total cost of the dinner for two, not including tip, was only $50. That included Christine's drink, my lemonade, our soups, the entrees from the early bird menu and tax – a real bargain for the quality and the quantity of the food we enjoyed at the incomparably peaceful setting overlooking our beautiful lagoon.
There may be swankier waterfront restaurants in our area, and some chefs may come up with fancier names for seafood concoctions, but The Shack, as its name indicates, aims a little lower. Nevertheless, you'll never have a better view while dining anywhere – and your meal probably won't be that much better, either.
The Shack has a way of making its diners feel very much at ease. It must be the calming influence of the tiny ripples in that beautiful lagoon. Oh, and by the way, we did win that bridge game also!