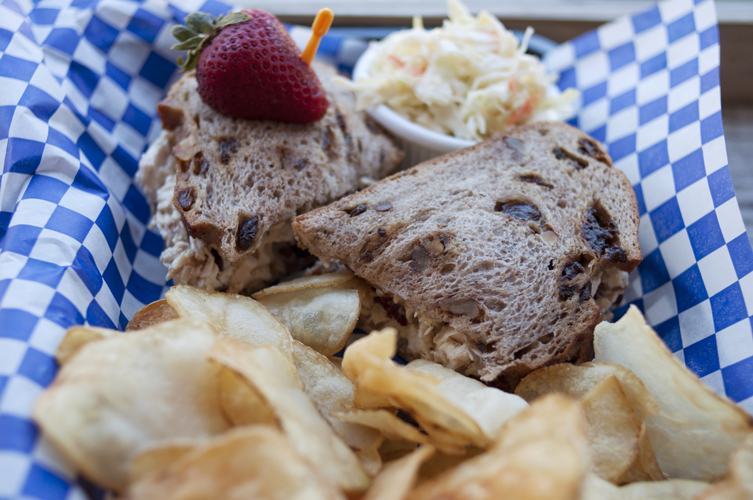 Juggling assignments throughout the day, journalists often don't stop to eat lunch at Noon and that's the kind of day photographer Leah DuBois and I were having when we slid into The Beach House around 2:30 p.m. last Thursday, famished and in need of a meal that could carry us through the evening.
The lunch crowd had cleared out and we nearly had the place to ourselves. The Beach House is a laid-back, welcoming spot just off the busy U.S. 1 corridor in Sebastian's Village Square enclave of merchants, sandwich shops, offices and beauty salons.
The architecture is classic Key West, with pastel-painted siding and gingerbread house accents from eave to balcony of these cottage-style buildings. The atmosphere inside The Beach House is less touristy than other local watering holes, but still maintains the appropriate nautical feel and casual atmosphere to match Sebastian's earthy and colorful fishing heritage.
Asked by a friendly server to please seat ourselves, we poked around, through a door to the back of the restaurant. It being a nice day and slightly past the hottest part of the afternoon, we chose a high-top table on the shady patio. Our table overlooked a lake with a footbridge and we enjoyed the break and the piped-in music from the satellite radio feed that can be heard throughout the Village Square complex.
Shorts and flip-flops are perfect attire for lunch or dinner here, but a dress shirt and tie would not be out of place for a business lunch or a stop in at happy hour for a cold one on the way home from work.
A "cold one" at The Beach House could be any one of the dozen rotating beers on tap, or a bottle of one of a great selection of import and craft beers. This eatery also stocks a basic assortment of red and white wines ranging in taste from cabernet to a sweet riesling. I settled on an old favorite and ordered a pint of Guinness stout on draught, which arrived in a sculpted Guinness glass. While we looked at our menus and I waited for the black stuff to warm up to room temperature, our server offered us a taste of another selection, the Belhaven Scottish Ale, which was excellent brew with a smooth, nutty flavor.
There were so many tempting choices on the menu, it was tough to decide. Having tried the fish and chips on a previous visit, I knew that was good, but Leah and I were both in the mood for lighter fare for our main dish, as we wanted to sample a couple of The Beach House's appetizers.
For starters, we ordered the quesadilla ($7.95) and a basket of eight hot wings ($7.95) with celery and bleu cheese. Our selections arrived hot and the quesadillas were tasty, but instead of the advertised mango salsa, which we were looking forward to trying, a regular tomato salsa arrived. We agreed that the wings were the better choice of the two – crispy, perfectly cooked and not greasy, they were a hit. Next time, though, we would probably ask for extra hot sauce to make them perfect as they were not drenched with sauce.
In the mood for some salads, we ordered the Tropical Chicken Salad with grilled chicken ($9.95) and the Yellow Fin Tuna Steak Salad ($9.95). The first thing that struck us about the salads on their large, square plates was that everything appeared incredibly fresh. As we dove in, we confirmed this, discovering crispy greens, ripe tomatoes and avocado slices, tangy fruits and delicious dressings layered with different sweet and savory flavors.
The thick, sushi-grade tuna steak was cooked to order at medium rare, perfectly pink in the middle and seared slightly crisp on the outside, with a delicate ginger glaze that was the perfect counter to the fish. As grilled chicken goes, the chicken on the tropical salad was moist, tender and not overcooked.
After that great salad experience, I look forward to trying one of the other salad selections next time, as the Chipotle Black Bean Salad, a vegetarian choice, looked tempting, as did the Beach House Salad, which can be ordered with chicken, mahi or grilled shrimp as an add-on. After tasting how fresh and homemade everything we ordered was, we wished we'd ordered a cup of the black bean taco soup ($3.95) to try, but we had no room in our tummies and two small take-home boxes as it was.
Somehow, though, we managed to force down the dark chocolate, mini-cupcakes our server brought on a plate along with the check. They were just the bit of sweet we needed to finish the meal.
For the heartier appetites, The Beach House offers eight sandwich and platter dishes like the yellow fin tuna sandwich or the all-natural turkey burger, plus sliders, burgers and fries or the homemade house chips (which I enjoyed with my fish and chips on a previous visit). Burgers come with an interesting variety of accompaniments, from fried egg and bacon, to grilled onions and peppers, or avocado.
Last, but definitely not least is the Pub Fare menu, which includes Philly cheesesteak, fish and chips, all-beef Black Angus hot dog, homemade shepherd's pie and a grilled cheese and corn sandwich. Oh, and I almost forgot, there is the homemade macaroni and cheese with garlic bread, which is at the very top of my to-try list for next time, as we'll definitely be heading back to The Beach House soon.
Dinner for two with entrees, appetizers and a beverage at The Beach House runs about $45-$50 including tip, but less expensive options like burgers, hearty soups and sandwiches could bring a quick lunch down to $25 to $30 per couple with tip. A Guppies menu for kids has four choices for a very affordable $4.95 each.