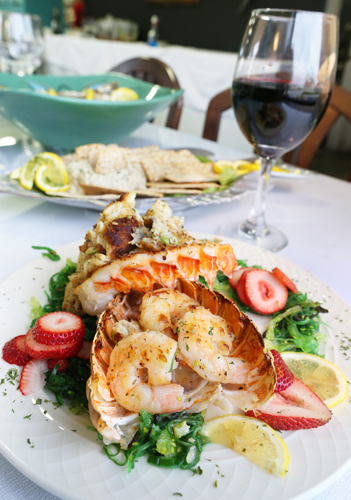 A few weeks ago, we were talking about food (what else) with a couple of long-time island friends, and one of them emphatically declared: "The best restaurant in Vero for seafood is Joey's Seafood Shack."
Really?
We'd been in the nondescript building on U.S.1, in the block between the old Albertson's and the IHOP, a couple of times during the day looking to buy fresh fish to take home for dinner, and were vaguely aware the fish market had a few dine-in tables for people looking to have some lunch.
But "best restaurant in Vero for seafood?"
So last Friday, we presented ourselves at 7:30 – having fortunately made reservations – and found a room full of diners.
The couple of tables we remembered had morphed into a dozen. Many now had white tablecloths, though we were seated at one where the table cloth was topped with a sheet of glass.
Still, despite the paper napkins, Joey's had a nice vibe – certainly more that of a restaurant than a retail fish market.
We quickly ordered a bottle of wine from a surprisingly creative and reasonably priced artisanal wine list, and a basket of garlic bread made it to the table even before the wine.
For appetizers, I ordered the Manhattan clam chowder ($6) and my husband decided to try a half dozen oysters on the half shell ($10.95).
Our server asked, however, if we would mind if they served the Greek salad that comes with all entrées first, so we started with that.
It was a good salad and included strawberries, which the Greeks may be surprised to hear go quite well with feta cheese.
Then came the Manhattan clam chowder – a freshly made rendition of this chowder in a very light tomato broth. Nice.
And my husband's oysters – medium sized beauties from Louisiana – were as salty and succulent as one could have hoped to find anywhere along the Cajun coast.
For entrées, I chose the Scottish salmon in a brandy cream sauce ($25) and my husband opted for the blackened swordfish ($21.95).
The salmon was a beautiful piece of fish, perfectly prepared, served with sundried tomatoes, mushrooms and artichokes, along with wild rice and seaweed.
The artichokes and seaweed played perfectly off the brandy cream sauce – a very successful dish.
My husband said the swordfish was the best he has had in a long time, again perfectly cooked (though the next time he says he will have it just broiled and not blackened), and it was accompanied by a side of pasta in a garlic and oil sauce.
For dessert, we shared a piece of Key Lime pie ($8.95).
Interestingly, this restaurant is only open for dinner on Friday and Saturday nights.
That seems driven by the family responsibilities of partners Joey Fenyak and Kim Coveny.
And is this actually "the best restaurant in Vero for seafood?"
Well on Fridays and Saturdays, if not the best, it certainly ranks right up there.
Our dishes were excellent. And while service tends to be a smidgen slow, it is precisely because Joey and Kim are so hands on – and so determined to make every diner happy.
They are certainly off to a great start with their two-nights-a-week-for-dinner restaurant, and we expect to hear a lot more from them in the years ahead.
I welcome your comments, and encourage you to send feedback to me at tina@verobeach32963.com.
The reviewer is a beachside resident who dines anonymously at restaurants at the expense of Vero Beach 32963.