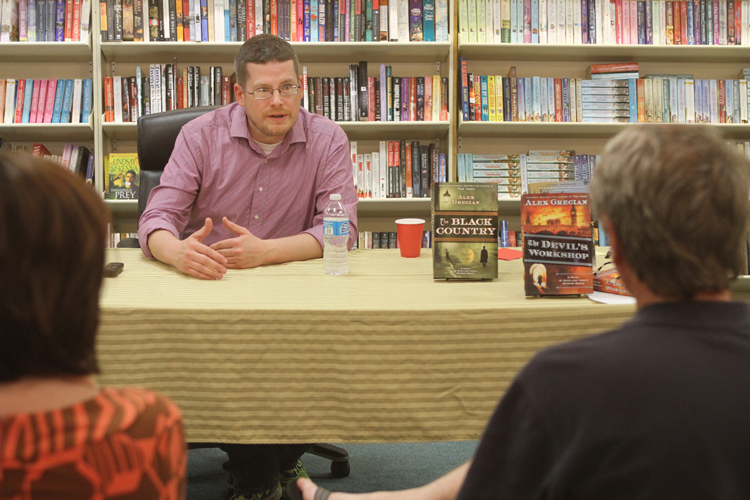 If you ever wondered what happened to Jack the Ripper, Alex Grecian can tell you.
The bestselling Kansas City-area author visited the Vero Beach Book Center last Wednesday night as part of the book tour for "The Devil's Workshop," published May 20 by Putnam.
The novel is the third installment in a series of historical mysteries based on the activities of Scotland Yard's murder squad in the late 19th century.
In Grecian's novel, "Saucy Jack" was caught – but not by official forces. Instead, he has been apprehended by a secret society called the Karstphanomen, which believes in a literal form of "an eye for an eye" punishment.
The Karstphanomen's illustrious members keep Jack secretly confined so that they can inflict on him the same wounds he visited on his victims. At the novel's opening, a prison break frees several convicted murderers, one of whom discovers Jack and releases him from captivity.
The fact that the real Jack the Ripper stopped killing for unknown reasons gave Grecian fictional license. "I was able to divorce what he did on the record from what he does in this book. I changed his agenda so that I can get into his head a little bit."
"I didn't want to write about sexual crimes. There are other reasons to kill people. In this book Jack the Ripper is motivated by revenge. And because of who he is, he becomes the equivalent of a cult leader for other murderers."
Grecian's series depicts not just an iconic criminal but a transformative moment in the history of police work.
"This period saw the advent of forensic pathology and the kind of criminal investigation that we think of today. They began doing things like preserving crime scenes, keeping fingerprints, and making chalk outlines – things that we take for granted today but were cutting edge at that time." He notes that even the idea of dedicating a squad entirely to murder investigations was an innovation.
Several of Grecian's lead characters were inspired by historical figures. His detective Walter Day is a nod to the real Walter Dew, most famous for catching the notorious British murderer Dr. Crippen. The Dr. Kingsbury of the novels was inspired by Dr. Bernard Spilsbury, often called the first true forensic pathologist. "Spilsbury was a fascinating man – very dark, very lonely. I changed the names and fudged history a bit to make the characters my own," the author explained.
Though the series consistently wins praise for its accurate evocation of its period and locations, Grecian had never been to London when he wrote the first book in the series, 2012's "The Yard."
"I failed history in school," he joked to the Book Center audience. "It was completely dry. Then I started reading diaries, memoirs, and scrapbooks by people who actually lived at that time. I also read a lot of fiction from the period, because that talks about daily life as well. Just to know how different it was to brush your teeth or take a bath back then is fascinating."
Asked why an American writes about British history at all, the author pointed to his childhood. "I grew up reading Sherlock Holmes books and "The Wind in the Willows." If you think about it the classics that you read when you were younger, so many of them were set in Victorian England. I soaked all of that up. Without even knowing it, I was an Anglophile from a very early age."
Grecian had a successful career in advertising before becoming a professional writer, working on client accounts including Harley Davidson and The Great American Smokeout, among others. After writing two novels that didn't find publication, he turned to graphic novels, a smaller field and therefore, the author says, somewhat easier to break into.
The graphic novel series Grecian co-created, "Proof," was named by National Public Radio as one of 2009's best books of the year.
A historical story line in "Proof" inspired his foray into the 19th century. In addition to helping him find his fictional world, Grecian said writing comics was great training.
"Every issue of a monthly comic book series is somebody's first issue. You have to catch them up and you have to make sure you don't lose them. That's how I approach these books as well."
The greater flexibility of novel writing is an advantage, he added. "With a comic book, you have 20 pages a month. You have to fit everything in, and you have to know in advance what's going to happen. If your artist starts drawing your story and then you realize you should have changed something back at the beginning, you're out of luck."
"I don't outline," he continued. "When I get up each morning and go to the computer I don't know what's going to happen. If I'm interested in what's going to happen next, then hopefully you will be too."
Grecian is currently working on the series' fourth book, titled "The Harvest Man." This next novel begins with the cliffhangers that end "The Devil's Workshop" and follows the continuing journey of Jack the Ripper as well as the book's titular character.
"I never meant for Jack the Ripper to be a character in these books," Grecian told the group at the Book Center. "But one day I was talking about what made him stop killing. We don't know what happened: whether he was caught and executed for something else, whether he died. I said to my editor, 'What if he was caught and nobody told us? What if he was caught by somebody who wanted that to stay a secret?' My editor said, 'Well, there's your third book.'"
Asked about future storylines for his members of the Murder Squad, the author promises plenty of developments for the "good guys" as well as the villains.
"There are a lot of series that remain the same from book to book. Things reset and just start over. I like that in some cases, but in my own writing I like things to progress – to change as things do in life. We're not the same people we were 10 years ago or 20 years ago. I like to reflect that in my books."