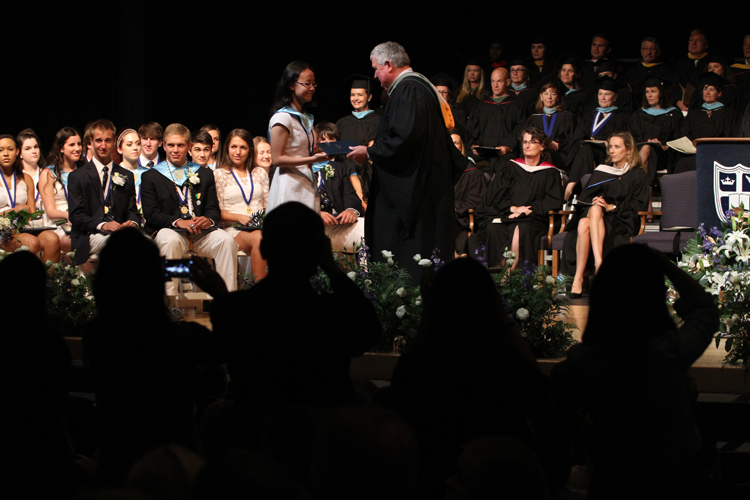 VERO BEACH — Crisp, new diplomas may be the most tangible thing the 58 graduates of Saint Edward's School received during their commencement ceremony on Saturday morning, but more importantly, each of them received a charge to continue spreading greatness to all the corners of the globe into which they will soon be venturing.
Walking down the aisle at a High School graduation ceremony is a rite of passage taken very seriously, and Saint Edward's is no exception to that rule.
Since 1965, the school has been dedicated to preparing the students it has been entrusted with for success in higher education and beyond.
The Class of 2014 is proof positive that the school's mission of promoting "life-long learning by developing critical thinking, collaboration, and a thorough preparation for college and the future," is working.
"The class achieved over 176 acceptances to over 90 different colleges or universities, including Dartmouth, Georgetown, Rollins, the University of Chicago, Wake Forest, Duke and Cornell," according to information provided by Saint Edward's.
Additionally, 70 percent of the class will attend school out-of-state, more than 35 percent of the class was awarded scholarship funds, and 95 percent of the class was accepted to their first or second choice of school.
"The Class of 2014 is a class of difference makers," said Bruce Wachter, associate head of school and head of upper school, in his Invocation.
Wachter spoke on behalf of faculty and staff, as well as family of the graduates, when he told the class that their presence at school and at home would surely be missed.
"But go they will, and go they should," Wachter said.
For the first time in the history of the school, students voted on a keynote speaker for their ceremony, and chose English Teacher Louise Kennedy.
Kennedy began her speech reminding the students of how much she loved them and will miss them but recognized that leaving high school to pursue higher education was a normal and expected part of the process.
"You are strong, accomplished young scholars, ready for a new challenge," she said. "Your generation comes from a culture that largely prevents you from taking risks and prevents failure," a notion that Kennedy said frightened her about young people entering the world today.
"Listen to your heart, and go after what you think you want," Kennedy said, "and remember to question the very notion of a mistake."
Kennedy, along with Wachter and other speakers including Board Chair Ronald Edwards and Head of School Michael Mersky, all echoed the message of going hard after challenges without fearing failure.
"I learned the most about myself and the world around me through mistakes," Kennedy said.
Jacquelyn Carroll and Gabriela Ordoñez, Valedictorian and Salutatorian respectively, each had the opportunity to address and encourage their class.
Ordoñez, who will attend Duke University in the fall, was a student of Saint Edward's since the first grade. She encouraged her class to "not be afraid to diverge from the plan. Embrace unpredictability, embrace curve balls."
Carroll reminded her classmates that even though this was the end of one chapter, a chapter they should never forget, it was the beginning of an exciting life full of things still unknown.
"We don't know what will happen next year, or even the next four years," Carroll said. She continued, telling her classmates that the only certainty is that the future is uncertain.
"But we can be sure that the Class of 2014 will go on to do great things," Carroll said. "But most importantly, we did it!"
Though the seniors seemed as eager as could be to claim their diploma, families sat slightly more reverently, watching the conclusion of approximately 18 years of a growing and maturing process.
As Kennedy put it plainly, "We, your families and teachers, stand prepared at the edge of the nest, ready to nudge you out."
Families of each student rose as their seniors proudly claimed their high school diploma, sealing the end of their education at Saint Edward's and marking the beginning of further education, and a promising future.