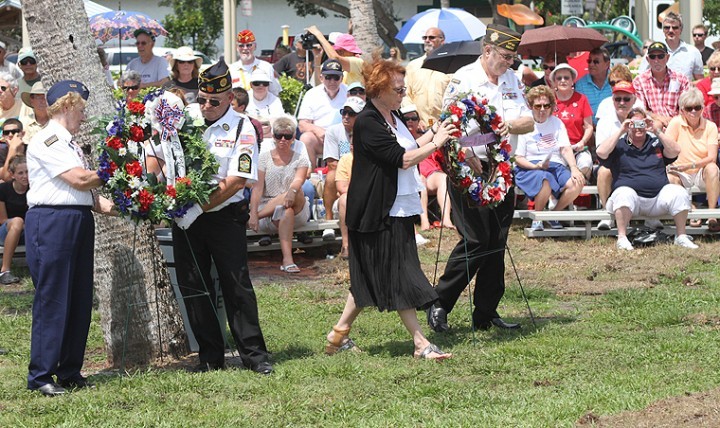 At Monday's Memorial Day Observance at Riverview Park in Sebastian a new monument will be unveiled to honor veterans of the Afghanistan and Iraq wars and the war on terrorism in general.
The engraved stone monument will join the others honoring veterans of WWI, WWII, Korea and Vietnam, placed side by side along the walkway in front of the American flagpole.
The Memorial Day ceremony, conducted by the Sebastian VFW and American Legion posts, will begin at 11 am. A contingent of local Boy Scouts will lead the Pledge of Allegiance. Patriotic music will be presented by the Sebastian River High School Band and vocalist Debbi Hanford. Guest speaker will be Korean War veteran Joe Crankshaw. Memorial wreaths will be presented to honor local veterans, and the ceremony will close with a rifle salute and taps by the Sebastian River Veterans Honor Guard.
Following the ceremony, refreshments will be served at the VFW and American Legion Post homes. For further information call Barney Giordan, 772-696-5182.
At the observance, Memorial Walkway bricks may be purchased under a plan conceived by Dave Wortmann, longtime Sebastian resident and American Legion member, and his wife, Fran. The walkway project is designed to provide a memorial for loved ones, and offer an educational opportunity for students. The walkway was dedicated in 2012.
Anyone who has lost a loved one may purchase a brick in their honor. The memorial bricks for Veterans will be located along the walkway between and around the two Memorials. Non-veteran memorial bricks will be placed along the walkway leading to the Memorials. For further information: www.veterans-memorial-bricks.org or Dave Wortmann, 954-818-7405.
Earl's Hideaway will hold its 7th Annual Earl's Fest Memorial Day celebration Saturday, May 24. According to event coordinator Franni Southern, the celebration will start with a Ride-In by bikers, including veterans, Patriot Guard Riders, American Legion riders and guests. Riders will gather at noon by the old Eckerd Drug property at the SE US 1, Roseland Road intersection. At 12:30 p.m. they'll head to Indian River Drive, and from there ride south to Earl's.
Councilwoman and veteran Andrea Coy will lead the ride-in, carrying the colors, and later will sit on the dais, in uniform and read her favorite poem, "What Is A Soldier?"
Col. Martin Zickert, USAF, Ret., will serve as Master of Ceremonies. The ceremony at Earl's will begin at 1 p.m. with an Honor Guard flag presentation. After a presentation by the Indian River Charter High School Choir, there will be an invocation, wreath presentation, special honors presentation to all WWII veterans, a rifle volley, the playing of taps, and a performance by the Highland Pipers. The ceremony will conclude with the Air Sports Parachute Team jumped onto the island just east of Earl's, carrying the American, POW and MIA flags. Commemorative Greatest Generation caps and medallions will be presented to the WWII veterans expected to attend. The Sebastian Lions Club will help with parking. The Treasure Coast Defenders will assist with the bike parade and motorcycle parking.
Earl's will present live music by numerous musicians and groups all day, Saturday and Sunday. Contact: earlshideaway.com for more information.