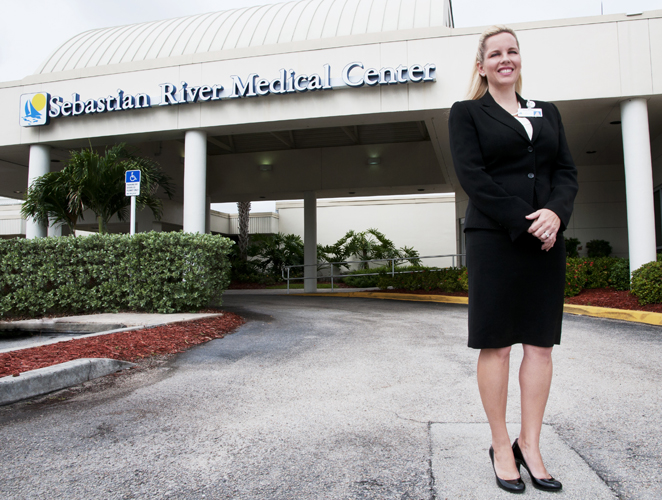 SEBASTIAN — Sebastian River Medical Center COO Kelly Enriquez stepped into the position last month in what might be glibly viewed as a quick round of medical musical chairs. The position was vacated by Steven Salyer, who shortly thereafter took over COO duties at Indian River Medical Center, filling the chair which had been vacant for about nine months.
Both facilities have praised their new execs as the right person at the right time.
"Sebastian River Medical Center is fortunate to have such a talented individual fare well within our own facility," said Chief of Staff Dr. Michael Venazio. "She will be a strong leader who supports our clinicians and all employees to provide patients with quality, compassionate care."
No surprise, the transition was smooth, as Enriquez has been with SRMC since 2008, serving initially as Director of Physician Outreach, during which time she was able to build relationships with physicians and other hospital staff.
Promoted to Assistant Administrator, she managed a small number of departments and, always a hands-on leader, Enriquez was well prepared to take on full operational responsibility when she was appointed COO. "I managed multiple hospital departments, opened the cardiac cath lab from the ground up, recruiting employees and even overseeing the actual construction.
Born and raised in Brevard County, Enriquez says she is "a product of NASA." She graduated from the University of Central Florida in 2000 with a BS in Health and Public Affairs, later continuing her academic career at Nova University where she earned a Master of Science degree. All in all she brings more than 10 years of healthcare and management experience to her new position.
She was introduced to SRMC at a wound care convention. Her company managed the Sebastian hospital's wound care facility and she was the assigned company representative.
"I got to know the community and the staff and wanted to call it home. Everyone here is like a family. I feel like I have found a home in Sebastian – it is very unique."
Enriquez, a slender, willowy blonde with a welcoming, approachable manner, is straight-forward and concise in conversation. Smiling, she says she is also, of necessity, "a multi-tasker. She's happily married to husband Mike, an engineer at Harris in Melbourne, and they have a son, Tristen, a sophomore at FSU, and a 21-month-old daughter, Madison. "All she does is go-go-go."
"My goal is to confidently navigate our hospital through the current challenges facing healthcare providers, but to consistently keep the focus on what is most important – our patients," she said in an interview.
One of those challenges involves the recent drop from A to B of the hospital's Leapfrog rating from 2013 to 2014.
While disappointed with the drop in grade level, Enriquez says, "We had the pleasure of receiving a Leapfrog grade level of A for the past two years, and we have certainly identified a couple of areas of opportunity , for which we have already put processes in place to ensure we recapture our A rating going forward. Two areas which were not reported include our organizational culture and computerized physician order entry. Both of these items will be included for future reporting."
Enriquez is now at the helm of a facility with 142 physicians on staff, serving a Combined Service Area total population of more than 63,000, with a median age of 49.7 years.
"One of the things I'm excited about," she says, "is that the Sebastian River Medical Center is in its 40th year of serving the community, and we continue to add services to meet the community's needs. As an example, two years ago cath lab patients were leaving the county for cardiac procedures. Now they are able to stay in Sebastian for those lifesaving procedures."
She is especially proud of the care and wait time offered by the ER, and its new and tenured "outstanding, highly qualified" staff of nine physicians and four mid-level practitioners. She calls the success of the ER a "bragging point. We pride ourselves on being the Front Door for the community and we enjoy hearing from community members about their experiences with our ER. We have a 91% score for patient satisfaction in our ER. When patients first arrive, we process them quickly and we are exceptionally proud of the fact that our average wait times are less than the state and national averages. We measure everything. We enjoy helping the ER patients get in, get treated, and get out, while also giving attention to the family members and maintaining quality of care."
As to meeting future needs, a five-year Projection and Growth Plan will include some type of building expansion. "We're in the very initial stages, with an architectural team assessing the plant – a company specializing in community health operations systems – who have been on site just this past week.
"We're bursting at the seams," says Enriquez. "We've had a huge growth phase over the last three years. We've done well in physician recruitment, and surgical volume has increased by 20 percent. We always want to make sure we understand the needs of the community and continue to bring highly trained and qualified people to provide the best patient care possible."
Recruiting top physicians has not been difficult. "Physicians come to us," Enriquez says. "They say they've heard we are a physician-friendly hospital with a physician-friendly administrative team. We're always available and accessible. We're really setting the bar."
As an example, she referred to Dr. Michael Greene, a thoracic surgeon who was based in the Brevard area for several years. "He heard about our reputation, clinical outcomes and exceptional patient care, purchased an office and moved his practice to Sebastian. His office just opened."
Key to Enrique's style in dealing with staff, employees and patients is accessibility. "Our administrative team is so visible throughout the hospital. We have daily meetings, we communicate, discuss goals and expectations."
"Everyone loves her. She is so authentic," says SRMC Community Relations Director Angela Dickens.
"They know I care, that anyone and everyone can tell me what's on their mind," says Enriquez.