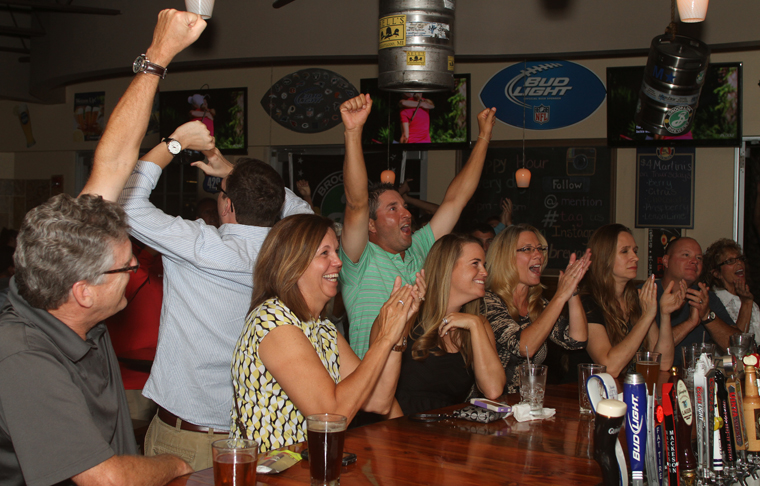 VERO BEACH — Jackie Stoelting clutched the title of "Big Break Champion" after beating out Fiamma Felitch during Monday night's finale episode of the Golf Channel's popular reality series.
After 10 episodes of consistently edging out her competitors in short golf challenges, Stoelting went head to head with Felitch in a traditional round of match play. Stoelting claimed her victory after only 15 holes when she lead Felitch by four holes with three holes remaining.
Stoelting's family and friends gathered at Brewgrr's restaurant in Vero Beach to watch the season finale together on Monday night. Nearly all of them were under the impression that Stoelting was in Orlando for other obligations.
Just minutes before the show began, Stoelting made a grand entrance, surprising her entire family and more than 50 other fans who were in attendance.
"This is awesome," Stoelting said after seeing the packed house. "It's cool I could pull off the surprise. Only my husband knew I was coming."
Her husband, Travis Stoelting, is also an avid golfer and has spent the last three years helping Jackie Stoelting improve her game. At times, he has acted as her caddy, her swing coach, and her golf partner.
"It's more of a golf-sleep-golf type of life," Travis Stoelting said. "I obviously have a lot of faith in her game. This is all a culmination of Jackie's desire to work hard and get better."
Throughout the final episode, Stoelting was shown practicing what she calls "positive self-talk" in order to keep herself calm and focused on the goal at hand.
"I was so proud," said Teri Barenborg, Stoelting's mother. "All of that positive self-talk, I taught her that."
Barenborg was also Stoelting's golf coach at Vero Beach High School approximately 10 years ago.
"I've been following her for a long time," Barenborg said. "If you would have told me when she was in high school that she would win something like this, I wouldn't have believed you. She's risen every step of the way. Now, I think she's going to win on the LPGA Tour someday."
With each drive, pitch and putt that Stoelting hit during her final match, her supporters at Brewgrr's clapped and cheered, sometimes reaching an outright roar for their hometown hero.
All the while, Stoelting kept calm and kept the secret, refusing to unveil the show's ending until she was seen on the big screen, holding the "Big Break" trophy over her head.
"I'd be proud of my daughter if she had been [eliminated] at the end of the first show," said Ed Barenborg, Stoelting's father. "I'm proud at how humble she is, how she treats people, that she went to college and got a degree."
"She worked her way up to play on the Symetra tour," Barenborg continued. "She's so grounded and I think that's the key to her success."
As a result of her "Big Break" triumph, Stoelting will travel to Waterloo, Ontario, to compete in the Manulife Financial LPGA Classic in June. Additionally, she was awarded a myriad of cash prizes and travel vouchers to help her continue pursuing golf as a career.
"This has changed my life," Stoelting said.
During her off-seasons, she said, she has always had to work in order to save money to propel her into the next round of tournaments. But now, she will be able to focus more on her game.
"This is a huge help to continue pursuing my dreams," Stoelting said.
"Through this whole thing, Jackie has shown that hard work and practice and surrounding yourself with good people is what really gets you far," Travis Stoelting said.
Now, Stoelting is determined to continue proving to her family, friends, fans, and anyone who ever has the chance to watch her play, that she has what it takes to become the best of the best.