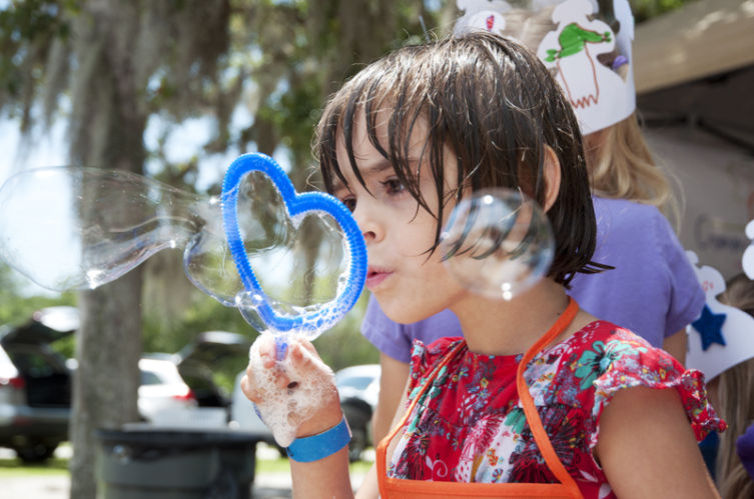 VERO BEACH — More than 1,500 children swarmed Riverside Park on Saturday for the Buggy Bunch's first ever "Kids Blast" event. In spite of the overwhelming numbers, spotting a child not actively engaged in a hands-on activity was an extreme rarity.
"It's so much different than going to the beach, different than everything we do with our kids," said Bill Grimmich. His sons, Patrick (3) and Jack (5) were hard at work building miniature tugboats with the help of their father and their older sister at the Home Depot vendor booth.
From 10 a.m. to 5 p.m., children such as Patrick and Jack darted from one activity to the next, wide-eyed and excited to soak it all in.
The park was divided into several "zones" that each provided multiple activities for curious kids ready to try their hands at something new. Little ones could gravitate toward obstacle courses, run through a bubble tunnel, play in pools full of goo, scale a climbing wall, build, plant, dance, tumble, paint, slide, and the list continued.
Ruby Hillard was elbows deep in a kiddy pool full of goo and slime as her mother, Rochelle Gale, watched in awe. At only 3, Ruby has a tendency to shy away from unfamiliar textures.
"This is big for her, to touch all of that, I haven't gotten her away from this all day," Gale said.
Three-year-old Isabella Bhagwandin sat still only long enough to have her face painted like a butterfly before setting off toward her next activity.
"She's loving it here," said Tim Bhagwandin, her father. "She's been wanting to do this since we mentioned it to her a few days ago. She's asked us every night if it's time to go to Kids Blast."
"I liked seeing the animals and the horses," Isabella said. "I'm ready to go see them again." She took her dad's hand, urging him to keep moving.
H.A.L.O. Animal Rescue of Sebastian was on the premises with kittens, rabbits, a pony, and even a pig, and was a big hit among the kid visitors.
"Getting to see all of the cute animals was my favorite part," said Hannah Nyman, a 7-year-old who spent some of her time at the event challenging her friend Emma Ramos at a Hula Hoop contest.
"And I really liked touching the goo," she added.
"I think it's really fun. They have a bunch of entertainment," said 8-year-old Ramos who was torn about where to go next in her day's adventures. "Petting the animals, and seeing the little kittens, that was one of the best parts." 
Several parents said they had been at the park for hours and their kids were just scratching the surface of the available activities. With the exception of a few food trucks, there was hardly a line in sight. Each booth could accommodate several children at a time, and if one was full, there were plenty of activities nearby that could keep the kids busy until a spot freed up.
Rebecca Schlitt, treasurer of the Buggy Bunch, manned the entrance booth and watched as family after family entered into the first "Kids Blast," which took longer than a year to plan and close to 150 volunteers to pull off.
"We will make the decision today if this is going to be an annual event," Schlitt said. She added the success of the day lead her to believe the organization would vote a resounding "yes."
In addition to providing a full day of kid-friendly fun, the Buggy Bunch gave away a Disney Prize Package that included a Park Hopper Pass for a family of four, a $100 Disney gift card, and a 1-night stay in a hotel.
Schlitt said the idea behind the Kids Blast in the first place was to engage kids ages 2 to 10 in outdoor, hands on activities, while showcasing local industries, all while modeling Christian behavior and delivering a positive message.
According to Schlitt, the Buggy Bunch was able to successfully meet all of their goals and set the precedent for what could be many Kids Blasts to come.