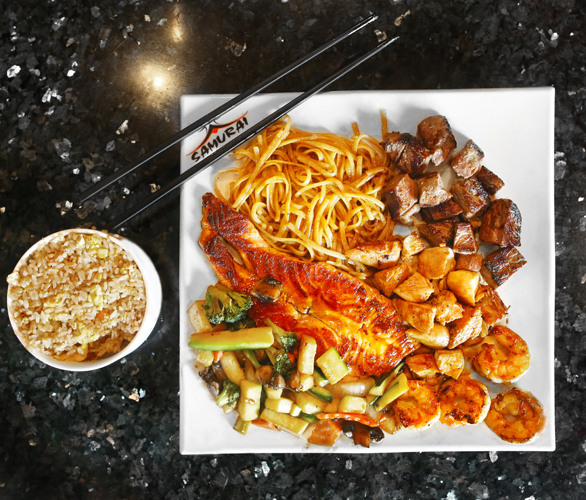 VERO BEACH — No Vero restaurant has spent more months with an "opening soon" sign out front than Samurai Steakhouse & Sushi, which originally had hoped to begin serving "Asian-fusion" cuisine last November after remodeling the building that formerly housed Crispers on US 1.
While progress at first seemed swift, month after month passed – in fact, the entire season slipped away – and still the word was "opening soon."
But a couple of weeks ago, Samurai quietly opened its doors. While its website still offers nothing more than an employment application and 4-1-1 directory assistance provides an old phone number long-since disconnected, when we visited last Saturday, Samurai was doing a surprisingly brisk business. Who knew?
Headline news: While Samurai offers a seemingly endless variety of sushi, sashimi, teriyaki and tempura choices, our guess is what will attract most diners are the eight hibachi tables. Vero has no shortage of Japanese and Thai restaurants offering sushi, but until now, the closest teppanyaki restaurant has been Fujiyama out across Route 60 from the Mall.
Look & Feel: As its name suggests, Samurai has a Japanese warrior feel. The main room is dominated by the large shiny exhaust fans arrayed over six hibachi stations, with two more hibachi stations in a private room at the rear. Off to the left is the attractively decorated dining area for those selecting from the sushi display.
Food: Like most hibachi restaurants, dinners start with soup or salad. For those who are not fans of the traditional Japanese miso soup (my husband is one of these), the news here is the soup is a light onion broth. The salad is about what you expect, topped by either a ginger or creamy dressing.
For entrées, my husband and I both ordered from the combo menu. He chose the filet mignon and lobster ($30) and I opted for the shrimp and scallop ($22).
Before actually preparing the entrées, the hibachi chef (in our case a young Chinese man named Benny) put on a good rendition of the standard flashing knives and cutlery show, squirting sake into the mouth of one willing diner and flipping a chopped veggie that was snagged out of the air by another.
In addition to preparing egg-fried rice for the table, Benny also served up a round of stir-fried noodles – something we have not previously encountered at teppanyaki restaurants – as well as an assortment of chopped vegetables perfectly cooked al dente.
As for the main courses, my shrimp and scallops were excellent, as were my husband's filet and lobster. All cooked perfectly.
The portions were very large (most everyone appeared to be ending the meal with a Styrofoam box to go), leaving no room to sample Samurai's desserts.
Drink: Samurai offers a full bar, with a decent selection of wines by the glass, as well as beer and mixed drinks.
Service: The restaurant was about three-quarters full during the entire time we were there. Our server was knowledgeable and attentive, and our chef – who said he had been brought down to Vero from another branch of the same restaurant in Daytona Beach — put on as good a performance as we have seen anywhere.
Prices: Prices for entrées seemed very reasonable, ranging from $16 for a chicken teppanyiki dinner to $31 if you order twin 5-ounce lobster tails.
Initial impressions: Competition sometimes brings out the best in everyone, and a sampling of diners on the night we were there suggests that Fujiyama will need to be at the top of its game now that there is a new Samurai in town. For most of our readers, Samurai is a lot closer.
I welcome your comments, and encourage you to send feedback to me at tina@verobeach32963.com.
The reviewer dines anonymously at restaurants at the expense of Vero Beach 32963.