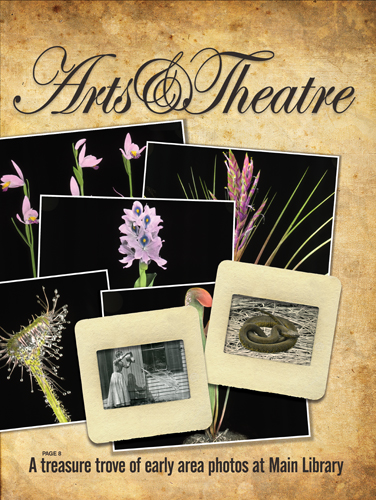 Few people are aware that among the books and electronic materials at the Indian River County Main Library is a 100-year-old photographic treasure: a collection of over 2,500 glass negatives and hand-tinted lantern slides, safeguarded in the library's second-floor Archive Center.
They represent the life's work of George Nelson, a naturalist from Maine who first came to Sebastian in 1901 and trained his camera lens on the county's flora and fauna in the early years of the 20th century.
Pam Cooper, who supervises the archive center, is the keeper of the trove. Under her watch, the fragile glass plates have been gently cleaned, catalogued, digitally scanned, sleeved in acid-free paper and stored in archival boxes in the center's glassed-in storage room, along with other material relating to local history.
Nelson's photographs focus on the rich plant and animal life of what is now Indian River County, but there are also images from the places that Nelson traveled, including the Dominican Republic, Cuba and the Swan Islands of Honduras.
In addition there are pictures of buildings and houses in Vero Beach and Sebastian. Cooper wishes there were more; she is fond of the county's early architecture.
"Only about 100 of them were local buildings," she says.
A small number of slides appear to have been created as a marketing tool for Indian River Farms Company, a real estate concern that got its start in 1909. Cooper thinks that Nelson may have photographed the pictures and title cards for what amounts to a Model T-era PowerPoint presentation.
"You have to imagine a salesman going around the country," she says. "Let's says he went to Iowa and said, 'I've got some land to sell you!' How's he going to show it to them? So he had glass slides."
One of the slides proclaims, "Indian River – Great agricultural district." Another asserts, "Florida ships 10,000 (railroad) cars of tomatoes!" Still other slides show Vero Beach's modern amenities, including the main canal and the then-new electric power plant.
The man behind the George Nelson Collection was born in 1876 to Scandinavian immigrants in Knox County, Maine. Little is known of Nelson's childhood and still less of his educational background. By avocation he was a zoologist, botanist and photographer whose skills in taxidermy and mounting specimens landed him a job as preparator at Harvard University's Museum of Comparative Zoology when he was in his mid-20. He retired from that position more than four decades later, with the honorific "professor" before his name.
Nelson's first visit here was to study the birds of Pelican Island and collect specimens of plants and animals for the Harvard collection.
"He was like a snowbird, coming to Florida in the winter months and returning to Massachusetts in the summer," says Cooper.
During his first few winters in Sebastian, Nelson lived with the Paul Kroegel family. Kroegel was hired in 1901 by the Florida Audubon Society to protect the birds of Pelican Island from human predation. He became the first warden of a national wildlife refuge two years later, when President Theodore Roosevelt declared Pelican Island a federally protected bird sanctuary.
Nelson and Kroegel became friends early on. The George Nelson Collection contains an album full of vintage prints of Pelican Island where, among dozens of pictures of frolicking birds, a photo of Paul Kroegel stands out. Next to the mustachioed warden a young pelican reaches up to grasp its protector's hand with its bill.
Thanks to the example and encouragement of Nelson, Kroegel and later his son Rodney, were inspired to take up photography.
In the early years of the 20th century, photography equipment was cumbersome. It included a wood- framed bellows camera and heavy wooden tripod. Sensitized glass plates passed for film in those days; the glass negatives in the George Nelson Collection measure four by five inches; the glass slides, which are positive images, measure 4 x 2 1/3 inches. The black-and-white images were exposed one at a time in the back of the camera and developed in a dark room in trays of smelly liquid chemicals.
The delicate beauty of Nelson's glass lantern slides is therefore all the more amazing, as lovely as an artist's rendering but more accurate. He photographed botanical specimens against a dark piece of cloth that make leaves and blossoms stand out in contrast. Many of the slides were later hand-tinted to approximate the specimens' natural colors.
Water hyacinth, swamp rose, water lilies, shell ginger, pitcher plants and bromeliad blooms are only a few of the colorful plants that must have made audiences in the 1920s and '30s gasp with pleasure when they were projected larger than life in a darkened classroom or community hall.
There were animals, too – birds, reptiles, amphibians and mammals.
"There are so many snakes!" says Cooper, with a grimace. Water moccasins, rattlers and coral snakes along with their less venomous relatives slither through the collection, their patterned scales tinted in shades of golden brown, red and yellow. Cooper does not like snakes, even pretty, hand-tinted pictures of them.
What she would have preferred to see was a photo of a Carolina parakeet. The now extinct bird was North America's only native parrot, the last living specimen of which died in captivity in 1918.
"When I got this collection I was hoping and praying to just find one. And there wasn't. He had not a single picture of a Carolina parakeet," Cooper says.
Nevertheless, the collection itself is a rara avis that comes along only once in an archivist's lifetime. And this particular collection is the one that almost got away, says Cooper. It was donated to the library in 1962 by Nelson's cousin, Helen Stewart, in the year following the photographer's death.
Cooper began working at the library in 1986, when it was located on 20th Place. The collection was stored in the building's attic then, Cooper says.
Five years later, when the library moved to its new building on 21st Street, the collection was missing.
"We had this wonderful new department and the glass collection apparently went away," she said.
It was later found in the custody of the Environmental Learning Center (ELC) in Wabasso.
Cooper says that a few years ago the Indian River Historical Society gave the library a collection of archival material that included about 100 of Nelson's glass slides.
"That's when I got interested," she says. "I thought, there's something that rings a bell here. I remembered another glass slide collection, and so I contacted ELC, and sure enough they had it in their closet. Many, many boxes."
The collection was transported to the library, where Cooper realized what a find they had. Digital archivist C J Madigan was contracted by the library to scan the plates to make the images accessible to those who wish to view them.
"All they have to do is come in and I will sit them down at a computer in our archive center," says Cooper. "The actual glass slides we have in preservation boxes and we don't allow the public to look at them."
The digital archives are also available for sale as a hardcover book. Published by C J Madigan's Shoebox Stories, the book can be ordered online at www.blurb.com.