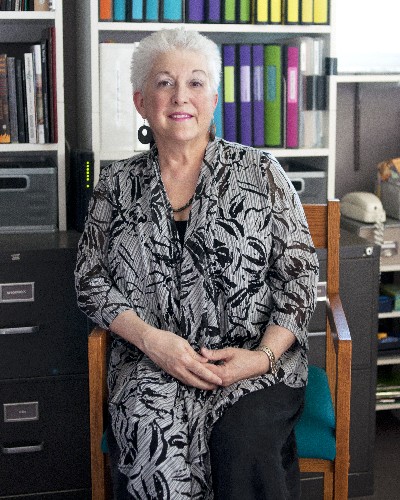 If you got dressed this morning, turned on a TV, drove a car or navigated the aisles of a grocery store you have experienced good – and maybe not so good – design. Every aspect of modern life that catches our eye, tickles our fancy, comforts, conveniences or entertains us, has been labored over by a professional designer.
If you've enjoyed a good book lately, you have a book designer like Vero resident C J Madigan to thank.
Madigan says that one thing separates her craft from other types of design.
"If I do a good job as a designer, nobody but another book designer is going to notice," she says. "What you're going to notice is if somebody does a poor job."
And while you may not be able to say exactly what the problem is, you will know that something is not right. Madigan cites the story of a colleague who redesigned a poorly laid-out book for a client who, delighted with the result, thought that designer had edited the text in addition to composing it on the page. She hadn't. Sensitive page design made the story read more smoothly.
In addition to arranging words on a page, Madigan's job entails selecting fonts and font sizes, determining margin widths, and composing page headers and footers. She must also make sure that the content, both in words and pictures, flows logically from one page to the next.
While Madigan does not draw illustrations or take photos for the book, she sizes the pictures with which she is provided and places them within the text to enhance, rather than distract from it.
Even physical details, such as the weight of the paper the book is printed on and how the pages are bound, can be up to her.
As a self-employed designer, Madigan gets credit for her work on the copyright page of the books she designs.
"That is in my contract," she says. In other words, working for yourself has its perks. Book designers who are employed by large publishing houses don't usually get their names published in the books they design.
Madigan's ultimate client is the private individual who has written a family history, a memoir, a tribute to a deceased relative – and wants to publish it as a real, turn-the-pages type of book. And while on-line book printing services abound (Madigan cites two of them: Blurb.com and CreateSpace.com) the average self-publisher does not have the design experience that Madigan brings to the table.
"I have Garageband (a program that allows users to create music) on my computer," she says. "But that doesn't make me a composer."
That's not to say that Madigan does not sometimes use those on-line publishers to create small- run books for her clients. It's just that her work gives a professional look to the end result.
She is excited about her current project, a book design for New York-based Nancy Gershman, an oral historian and "memory artist" whose commissioned art memorializes deceased loved ones. The artist uses her computer to collage photos of real people into fanciful, gently surreal environments that tell something about their subjects' life experiences. She calls her artworks "Dreamscapes." When Gershman decided to expand her offerings to books featuring text and art, she engaged Madigan to create a book design.
"This a marketing tool, to show potential clients what it will be like," says Madigan. The format of each book will remain the same; the text and the illustrations will change to reflect the book's subject.
"It will be 'Remember Me' with whatever the person's name is," Madigan says as she displays a spiral-bound proof of the book.
The body of the book has Gershman's text on the left-hand pages and her "Dreamscape" illustrations on the right. Titled "Remember Me, Vitaly," this prototype tells the story of Gershman's late father-in-law, Vitaly Gershman, a physicist who emigrated from Soviet Russia to the U.S. many years ago.
The end product will have a sewn binding and a wraparound cover illustration, Madigan says. Depending upon which online publisher is used to print the book, clients can have their book printed one at a time, as needed.
You couldn't do that before the advent of digital printing, Madigan says.
"If you wanted to publish a book, it had to go on an offset press," she says.
Invented in the 19th century, offset printing uses metal plates and oil-based inks. Today it is still used for high-volume, high-quality publications like magazines and best-selling novels. But for low edition, privately published books, the cost of preparing the prints would be prohibitively high, "probably tens of thousands of dollars to print a few thousand copies," says Madigan. She notes that in the pre-digital printing age, "it wasn't practical for many people to do that."
Although not all online printing companies are equal, the best ones will not only print it, but also handle sales and ship the book to those who order it.
In the past Madigan has also designed the kind of self-published book that has more than 200 offset-printed pages on heavy stock with clothbound and embossed covers. For those custom-made tomes she selects every aspect of the design, from the size and shape of the book to the typographical ornaments that begin and end chapters.
Although her work comes to her from all over the U.S. and Canada, Madigan's assignments come from personal historians, many of whom she has met through her membership in the Association of Personal Historians, an international trade organization.
"The other professional in this arrangement is my client," says Madigan. "They pay me. They roll my fee in. Sometimes I will interface with the (original) client, usually in a design review. But the personal historian is the one who puts a team together."
Madigan's role is on the continuum between manuscript and a custom made, uniquely designed book.
"I have that spot between the manuscript and basically handing it off to the printer, and knowing which printer to hand it off to," Madigan says.
The cost of a project like that is balanced between the client's desires and the client's budget.
An example of a big job would be the family history of an extensive clan of wealthy Texans that kept Madigan busy for nearly a year. That was just her part of the work; she estimates that from start to finish, the novel-length book required five years to complete.
"There was a researcher involved, all these family members to interview. The matriarch, who got the book project under way, died during the process. Then there was this family dynamic about where this thing was going."
For that job, having the personal historian stand between her work and the client's review was a very good thing. One situation had to do with the placement of two of the book's photos.
"I ended up having two people facing each other," says Madigan. She was informed by the personal historian that one of the two had a restraining order against the other.
The client-family never saw the faux pas. Fortunately, the personal historian knew enough not to present it to them, Madigan says.
"We had to jigger things around," she says.