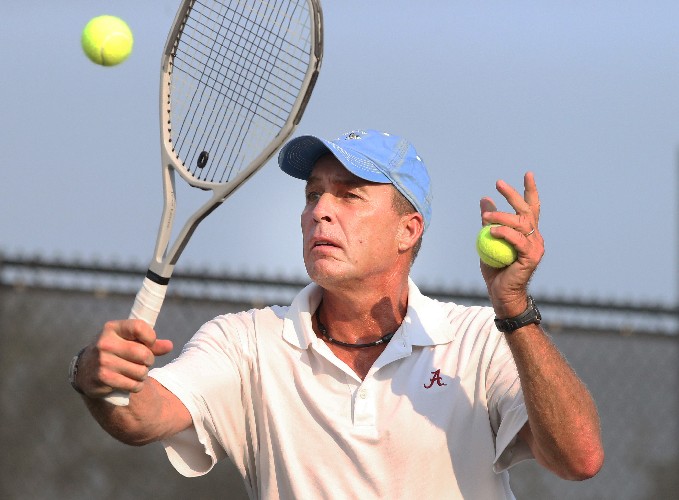 VERO BEACH — Even now, 24 years after his last Grand Slam triumph and two decades since a chronic back injury forced him to retire from a game that brought him worldwide fame and fortune, it's still a thrill for local tennis fans to watch Ivan Lendl hit a fuzzy, yellow ball.
The crispness of each shot, the pop of the ball as it jumps off the strings of his racket, the smooth and consistent strokes that produce such power and precision – all were on display one evening last week at The Boulevard Tennis Club, where the Hall of Fame player was practicing with Quail Valley assistant pro Kriegler Brink.
Lendl was helping Brink prepare for this week's $10,000 Sorensenrealestate.com Tennis Classic, the USTA Pro Circuit's annual stop in Vero Beach. Brink was helping Lendl get ready for his next PowerShares Series exhibition match in his recently renewed rivalry with John McEnroe.
"We're good friends," Lendl said of the 26-year-old southpaw from South Africa, "and with most of my exhibitions against McEnroe, it helps to see a lefthander at practice every day."
And now that Lendl is no longer coaching Andy Murray, who won an Olympic Gold Medal, a U.S. Open title and a historic Wimbledon championship during their two-year partnership, the longtime Windsor resident plans to play more tennis.
As much as he can, as long as he can.
"I play much more tennis now, usually four to five times per week," said Lendl, whose sore back kept him off the courts for 25 years before he returned and played an exhibition in Atlantic City, NJ, in 2010.
"With my hips and knees, I probably have a year left, maybe two, of playing exhibitions, so I want to play a little bit before I hang it up.
"Coaching Andy, I played maybe once a week, because there wasn't a lot time. And when there was time, it would be late in the day after sitting at the match for three hours. It wasn't a good practice. I'm looking forward to playing at a little higher level. I'm not saying I want to be at a competitive level, but just at a level where I'm prepared to play."
"To do that," he added, "I need to put a little more time into it."
At 54, having spent a quarter century on the ATP World Tour, Lendl said his hips and knees have taken a pounding – to a point where at least one knee and one hip will need to be replaced in the not-too-distant future. When that happens, his exhibition days will end.
In the meantime, he's doing what he can to stay on the court and raise his game to a level that allows him to play with other tennis stars of yesteryear.
"I stretch a lot and take care of my body as best as I can, but the knees and hips are never really great," Lendl said. "All the players, or at least most of us who played in the '80s and played most of the year on hard courts, are definitely in danger of having some hip or knee replacements. Some have already had it. Some are looking at the options."
"I'm definitely looking at one knee and one hip," he added. "But, as I've said, I enjoy playing again and I'd like to play a little bit before I do that – because once I do it, I can't play."
Although he plays more often, Lendl said he doesn't play as long.
"I'm able to condition my body to play more often, as long as I don't play for more than an hour," he added. "That's the key for me. If I play for an hour-and-a-half, then the next three days I don't feel like playing."
For those wondering: Lendl still gets to the golf course, too. An avid golfer whose Windsor home sits behind the No. 1 green and who often competes in amateur tournaments, Lendl was playing in an event in Kissimmee when Murray announced the dissolution of their tennis marriage in late March.
The eight-time Grand Slam tennis champion said he wants to play more golf this summer.
"I'm looking forward to spending a lot of time at home, spending more time with my family and playing some golf, as well," said Lendl, a scratch golfer who, in February and March, posted nearly 30 scores to the Golf Handicap and Information Network.
"I'm getting my amateur status back – I'll have it next month – and I'm looking forward to playing a lot of competitive golf over the summer."
It was Florida's climate and the quality of our local golf courses that originally lured Lendl to Vero Beach, where he spends about 7½ months each year. (He also owns a summer home in Goshen, Ct.) Three of his five daughters are zero- or low-handicap golfers, including 20-year-old Daniela, who plays at the University of Alabama.
"There's good golf here," Lendl said. "Also, I like the quiet life."
As for his parting with Murray, Lendl said he made the call because he couldn't commit to the 25 weeks of the tennis season the 26-year-old Scot required from a full-time coach.
"I just couldn't give him the time he needed," Lendl said. "Coaching was a different experience for me, but I enjoyed it. I like Andy. He's a fun guy, and he has a nice team around him. I'm proud of what we accomplished together. But Andy needs to have somebody with him full-time, somebody who could help him more than I could at the moment."
In addition to spending more time on the course, on the courts and with his family, Lendl will travel to Hilton Head Island, SC, home of the Ivan Lendl International Junior Tennis Academy.
"It's a tough location," he said, "but we're working on it."
Someday, after he's done playing tennis and can work it into his golf schedule, he might even consider coaching again.
"Probably not in the near future," Lendl said. "If it's the right fit, I'm not opposed to the idea. But it would have to be a good fit again."
As it was with Murray.
Their success has prompted some of Lendl's championship peers to try their hand at coaching some of today's top players: Boris Becker (Novak Djokovic), Stefan Edberg (Roger Federer), Sergi Bruguera (Richard Gasquet), Michael Chang (Kei Nishikori) and Goran Ivanisevic (Marin Cilic).
Word on the men's tour is that McEnroe is sniffing around for the right situation to join the coaching ranks.
"I believe former players who have had success have something to offer, not necessarily only in practices, but more importantly, in experience – understanding how guys feel on the day of a big match, how they feel if they're playing somebody they don't like playing, things like that."
Having enjoyed an up-close look the past two years, Lendl praised the level of play in men's tennis, particularly the athleticism of the players and increased physical nature of the game.
But he stopped short of comparing today's top players to those of his era.
"You can't," he said. "You can say Federer is the best because he has won the most majors, or you can say the opposition is not that good. You can't win that argument one way or the other."
One fact is indisputable, however: It was Lendl who, with his strict commitment to fitness and ability to control points from the baseline with powerful and penetrating groundstrokes, changed tennis forever.
He is the father of the modern game – a badge of honor he wears proudly.
"It's a compliment, right up there with any compliment you can get," he said. "Any time somebody says that you did something first and you were successful at it, I don't think you should think it's not a good thing."
Lendl smiled.
He does that a lot nowadays, much more than we saw during his championship reign, when he won 94 ATP Tour singles titles – including three French Opens (1984, 1986-87), three U.S. Opens (1985-87) and two Australian Opens (1989-90) – and held the No. 1 ranking for 270 weeks.
And he should. He's not only a former tennis champion who has enjoyed success in golf and business, but he's also smart and witty and genuinely likeable.
He's a credit to our community, a good neighbor who quietly makes himself available for local charitable events. He's a good friend, too.
"Ivan is a really good guy," Brink said. "He's not just helping me in tennis. He has helped me a lot with life. We've become good friends and he's been a mentor to me. We've had a lot of great experiences."
Hitting tennis balls with him is just one of them.