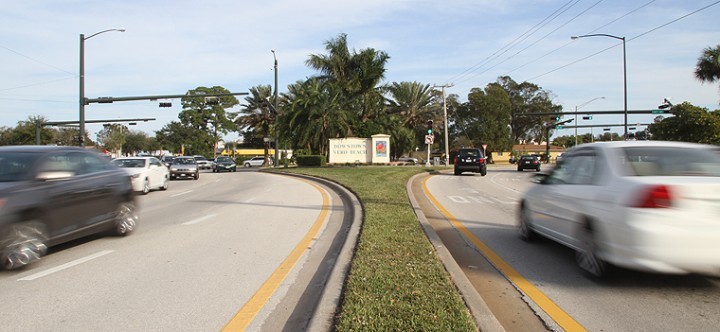 VERO BEACH — The Vero Beach City Council approved a study Tuesday night that said narrowing the Twin Pairs down to two lanes through the downtown area would not adversely impact traffic.
Mayor Craig Fletcher cast the lone dissenting vote, saying the study by a private group was fatally flawed although he did not elaborate.
Twenty members of the public weighed in on the matter, with 15 of them solidly behind the plan that if implemented would calm traffic down in the downtown area.
Downtown business owners have said for years they have suffered the consequences of the so-called Twin Pairs which were created to move traffic through the area to U.S. 1 more swiftly before the interstate was completed.
"It's a speedway," said interior designer Deb Daige.
Barry Shapiro, owner of Lighthouse Art and Framing, acknowledged that the plan, which could cost between $680,000 and $1.09 million if implemented before the state resurfaces the area in about seven years, may not bring the Vero Beach downtown are back to its glory days when it was the true shopping hub of the city, but he said it would make it better.
He said to not slow down the traffic would be "short-sighted and dumb."
Council members Tracy Carroll, Dick Winger and Jay Kramer appeared solidly behind the plan.
"I've got to support the local people in this," said Kramer.
The lengthy meeting had a few terse moments.
Some in opposition suggested that slowing down the traffic is akin to losing freedom.
"Let's fight this fight for freedom of choice together," islander Phyllis Frey said.
"Wow, some of these comments against it are so out of line," countered Terry Torres, also an islander and the president of the Main Street Association.