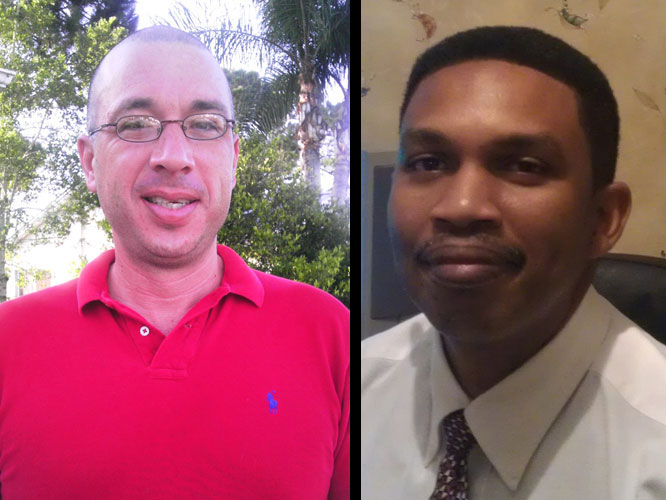 SEBASTIAN — Mayor Jim Hill will have some company on the campaign trail leading into the Nov. 6 General Election in Sebastian. Two more candidates have filed to run for the two seats up for grabs on the Sebastian City Council dais.
Sebastian residents Tim Slaven and Jerome Adams, both of whom have served on city committees, have decided to run for Sebastian City Council as a way to help their fellow residents.
Slaven served on this year's Budget Advisory Committee, which piqued his interest in serving in government. He said being a part of the committee opened his eyes to where the residents' tax dollars go.
Adams is a member of the Parks and Recreation Advisory Committee, where he has helped decide what improvements should be made to various parks and how best to allocate Recreation Impact Fee funds.
"I've always liked helping people," Adams said, adding that there would be no better way to help others than to serve on the council.
Slaven said if he were elected, he would work to increase community involvement and connectivity.
"People don't know their neighbors," Slaven said. He explained that he would support various community events and increase park usage.
He said he would also reach out to the business community, especially those not in the riverfront district. Slaven said those are businesses that are often overlooked.
Adams, too, wants to focus on businesses and work to attract higher-wage jobs. To that end, Adams said he would market the City of Sebastian to recruit companies that would bring in the higher paying positions.
Along with working to stimulate the economy by bringing in new jobs, Adams said he wants to bolster activities for tweens and teens in the city.
"There's not really anything out there for children that age," Adams said, noting that his own 10-year-old son is often bored, especially in the summer.
Adams said he could envision a game arcade or movie theatre moving into the city, which would bring jobs to the area, too.
Slaven works with the Department of Children and Families as a supervisor for Indian River County and Circuit 19 in the Child Abuse Unit.
City Councilman Bob McPartlan also works for DCF. According to Slaven, the two men do not work directly together.
Adams is a supervisor in the Information Technology Department within the St. Lucie County Board of Commissioners.
Slaven is married to Jill, who owns a consignment shop in Sebastian, and has two children, 14-year-old Alexa and 7-year-old Aidan, who both attend public schools in Sebastian.
Adams is married to Athena and has one son, 10-year-old Dominic, who attends a public elementary school in the city.
"I'll be a positive benefit" to the city and "do my best" to represent the interests of the residents, Slaven said.
"I'll try my best," Adams said.
The qualifying period for running for Sebastian City Council continues through Sept. 7. Anyone interested in becoming a candidate is encouraged to contact Sebastian City Clerk Sally Maio by calling (772) 388-8214 or email smaio@cityofsebastian.org.