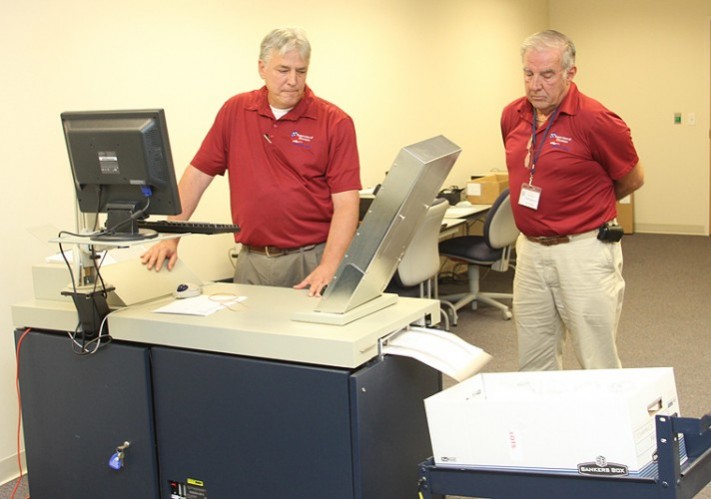 INDIAN RIVER COUNTY — About one out of every 50 absentee ballots being counted at the Supervisor of Elections Office Friday were torn, mostly likely by an electronic letter opener that opened large stacks of envelops at a rapid pace, according to elections officials.
The ballots with tears, though still intact, were not able to be processed accurately by the system's electronic vote reader.
Officials said those ballots were then duplicated by members of the canvassing board and then sent through the system so that they could be counted. The ripped ballots were then being set aside in the event they need to be reviewed at a later time, said Supervisor of Elections Leslie Swan.
By all accounts, Swan had to step aside from her duties Friday – the first day that the absentee ballots were being tabulated – because she is running for the office after being appointed to her job to replace Kay Clem.
Staff attorney Brian Connelly was on hand to oversee the process.
According to a worker at the election's office, 7,400 ballots were opened and counted Friday. The remaining ballots that arrive between now and 7 p.m. Tuesday will be counted Tuesday.
The worker said that as of 12:15 p.m. there were about 122 ballots that were ripped. At that point about 5,000 ballots had been processed.
Some of those that were torn are believed to have been damaged before they were placed in the machine that electronically unseals the envelope, though most were torn by the electronic opener, Swan said.
Swan said none of the tears appeared to be caused by any creases or because of the way the ballot was folded.
Recently, Swan's opponent Sandi Harpring took Swan to task suggesting that the way the ballots were folded could cause problems for the electronic voter scanner. Swan tested the ballots and said that was not the case.
Other than the tears in some ballots, more than two dozen workers and volunteers were on hand Friday for the first official day when the absentee votes start getting counted.
More than half of those who requested absentee ballots – about 12,000 people – returned their ballots.
About 500 unused ballots were returned to the election's office because of bad or old addresses given to the elections office.
Swan said the number of absentee ballots returned so far this year was greater than in 2008.
"We've had a tremendous turnout," Swan said.