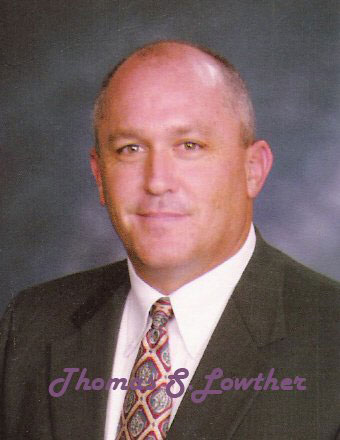 Name: Thomas S. Lowther
Age: 52
Party: Republican
Contact info: (772) 778-3233
How long in Indian River County: 4th generation IRC resident
Place of Birth: Daytona Beach, FL
Family: wife of 30 years, Beverly; daughter and son-in law, Kari and Josh Legg; son, Ryan Lowther; grandson, Gavin Legg.
---
Please list Civic and Volunteer Leadership Experience including title & position and Organization including dates and locations.
Past President, Tri-County Funeral Director's Association Indian River, St. Lucie, Martin and Okeechobee Counties 1988-89; Past President Rotary Club of Vero Sunrise 1994-1995; Board member of the Indian River County Economic Council as well as the Indian River County Beach and Shore Advisory Council; Elected to the Indian River County Board of County Commissioners 2002-2006; Chairman of the Board in 2005, Chairman of the Treasure Coast Regional Planning Council 2005; served on the Affordable Housing Advisory Committee, Court Administrator's Budget Committee, Emergency Services District Advisory Committee, Enterprise Zone Development Agency, Indian River County Canvassing Board, Marine Advisory Narrows Watershed Action Committee, Medical Examiner's Budget Committee, Metropolitan Planning Organization, Parks and Recreation Committee, Southern Region Recreation Advisory Council, Transportation Disadvantaged Local Coordinating Board, Transit Strategic Planning Advisory Committee, Treasure Coast Council of Local Governments, Treasure Coast Sports Commission, Value Adjustment Board and the Workforce Development Consortium of the Treasure Coast 2002-2006, Finance Committee of the Our Savior Lutheran Church, 3 years. Member of the Vero Masonic Lodge, Azan Shrine Club, the Hundred Club, North Indian River County Republican Club as well as the Evening Republican Club.
What issues motivated you to run for this office and what do you hope to accomplish during your term?
Being a 2nd generation Funeral Director and working in the Funeral Business for 34 years, the last 15 years as owner of the Thomas S. Lowther Funeral Home and Crematory and opening and operating the First Crematory in Indian River County the job of Tax Collector is all about Customer Service. I feel with my experience in county government the office of the Tax Collector can be streamlined at the top end of administration as well as making changes to the design of the office itself. What I would hope to accomplish in my first term would be the opportunity to combine some simple services with the other constitutionals such as an unified HR Department as well as the possibility of a central payroll department.
Why do you feel qualified for this position?
I believe having an opportunity to serve as a County Commissioner as well as Chairman of the Board in 2005 I gathered a great deal of insight for the office of the Tax Collector.
What, if any, changes would you make to how the Tax Collector's Office is run and operated?
As stated early I would change the structure of Upper Management as well as an open door policy with all the staff.