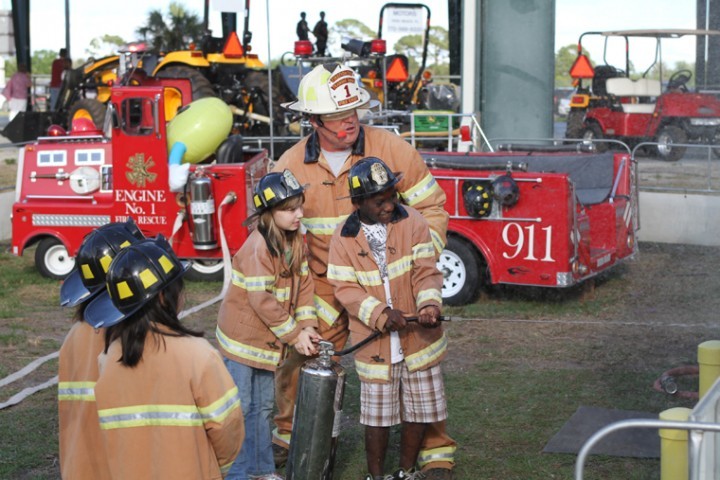 INDIAN RIVER COUNTY — The Indian River County Firefighters Fair wraps up today, providing residents one last chance to get their fill of rides, games, carnival fare, and other fun. The fair opens at 1 p.m. and will close until next year at 10 p.m.
Among the activities planned for the last day is the Firefighters Training Show, which has been held multiple times each day of the fair.
With "Hot, Hot, Hot" playing in the background, two teams of two young volunteer firefighters raced to put on the "flames" on the training house and to rescue someone trapped.
"Firefighters, good work!" shouted Neal Snyder, the lead firefighter trainer.
Snyder told the assembled audience of children and parents that the show is more than just entertainment, it serves as an educational tool – teaching children the basics of fire safety.
"In case of fire, don't hide – get outside" and "In case of fire, crawl low under the smoke," are the two key take-aways Snyder wants parents and children to learn.
"It was fun," said 9-year-old firefighter Kevin Thomas. "I worked really hard and tried to help."
He said he's now considering becoming a firefighter – "because it's fun and I can help people."
His older brother, Mike Thomas, brought him out to the fair – it was their first time ever at the annual fair.
"It's fun watching the kids have fun," he said.
Eight-year-old Abygayle Melton was Kevin's firefighting partner. She said she wanted to be a teacher when she grows up but now she can't decide – maybe she'll be a firefighter instead, she said.
As for participating in the training show, she said, "The only reason I wanted to do it is because I wanted to be a good volunteer and helper."
Her mom, Crystal Melton, said she and the family were having a blast at the Firefighters Fair – something they try to get out to at least once during the 10-day event.
"It's just a lot of fun," she said.
Snyder said the training show is meant to be fun – to draw the kids in – but also to help educate.
"They all know 'stop, drop, and roll' but not these," he said, motioning to the two signs about getting outside and staying low under the smoke.
He said fire safety is serious business, explaining that the biggest reason children die in fires is because they don't know what to do, so they do nothing. He encourages parents to visit their nearest fire station and pick up fliers and other information on how to create a fire safety and evacuation plan and work with their children to practice it.
Other activities continuing through the last day of the fair include the Maximum Velocity Stunt Show next to the Firefighters Training Show – under the open-air pavilion near the front of the fair. The stunt show will be held at 2, 4, 6, and 8 p.m.
The Marcus Magic Illusion and Comedy Show will also be held at the outdoor food court opposite the 4-H pavilion at 3, 6, and 8 p.m.
The Catch Band will perform at 7 p.m. and there will be an Old Florida Bonsai demonstration in the main exhibit hall from 2 – 5 p.m.
From 1 to 8 p.m. Sunday, all fair patrons who bring one article of clothing per person to donate to The Salvation Army's local outreach, can pay $20 and ride the rides until closing – a $2 savings.
The Indian River County Firefighters Fair is held at the county fairgrounds, located at 7955 58th Ave.