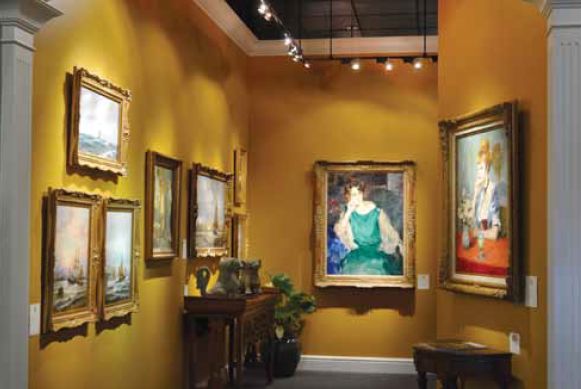 VERO BEACH — Even though he is a long-time art dealer, John Stringer says he's not in the business of selling paintings. Instead, he says, "I help people build art collections."
The distinction between pushing a particular piece of art because one of his two galleries happens to have it on hand and serving as a guide to people who want to acquire art that fits their aesthetic and lifestyle is key to his business model and personal style.
"A painting has to speak to a client, first and or most," Stringer says. "If the piece does call to them, I can provide the kind of information and context that helps them make an informed decision."
J. M. Stringer Gallery at 3465 Ocean Drive, across from Bobby's, reflects Stringer's interactive mentoring style and reveals his selective taste in fine art.
"We don't try to be everything to everyone," says Stringer, whose forte is 19th and early 20th century antique paintings from America and Europe with a special focus on Belgian painters of that time.
"I think they are undervalued," he says of the Belgians. "They studied in Amsterdam and Paris and combine the best of both those schools but collectors can still acquire fine pieces for reasonable prices."
Visitors to the spacious, welcoming gallery can sit on museum-style benches or comfortable armchairs to contemplate a selection of striking paintings from the period that calls to Stringer.
A turn of the head brings into view the other kind of art he specializes in, bright, beautiful painting of up-and-coming artists whose work is beginning to be acquired by important collectors.
Stringer has an evolving inventory of several thousand paintings at his two galleries and in storage.
Painting range in price from about $1,000 for some of the smaller, newer works to as much $50,000 for fine portraits and landscapes by noted American and European artists from a century back.
"Paintings of the past by noted artists give an art collection valuable depth and history," Stringer says. "But if it is only about the past you lose the vitality of being part of an artist's journey. For me one the greatest satisfactions is nurturing a career and being a witness to its growth.
"That is a point I try to get across to my clients. If they find a painting they love by a working artist and buy it, they are acquiring something beautiful for their home, certainly, but they are also becoming a patron of the arts, supporting the growth of a career."
Stringer is clearly in love with art and the art world, deeply immersed in the past and present lives of painters and the art collectors and dealers around them. His eyes light up as talks about guiding buyers and helping artists build successful careers.
He began his own career in New York working for an English auction house, transitioning to gallery work in in the 1980s.
"I was working my way up in the business," Stringer says, "learning from people who did things correctly and from people who did not."
By 1995, he was an independent art dealer in the Big Apple.
"I noticed many of my best clients were from the Somerset Hills horse country in New Jersey," he says. "So around 2000 I decided to open a gallery there. It was immediately much more successful than I ever imagined. By 2004 it had grown from 1,400 square feet to more than 6,400 square feet."
Like many of his New Jersey clients, Stringer wintered in Vero Beach and eventually decided to launch a gallery here, opening in his current 2,000-square-foot space in early 2011.
For artists, he performs the blended functions an agent and a publisher perform for a writer.
He selects work that moves him, promotes it and provides a place for it to be seen and purchased.
One example of how he helps shape artistic careers and guide them toward success occurred when he represented a landscape painter in New Jersey.
"He was very good and filled with promise," says Stringer. "Interior designers were snapping up his paintings for homes they were decorating because his work really was wonderful, but it was also somewhat limited.
"He was painting in the impressionist style and I thought he would be good for him to broaden his horizons and see more of the world."
Stringer and a group of friends and associates rented a villa in Provence in the South of France and invited the painter and his wife to cross the Atlantic and stay with them.
Thanks to that gesture, the painter was able to visit scenic regions of France and Italy and see with own eyes the landscapes and cities that inspired the great impressionists of the late 19th and early 20th centuries, basking in a light- and color-filled ambiance of artistic triumph.
"His work elevated to such another level," Stringer says. "He was totally inspired. It was unbelievable! That year he came back and had a sell-out exhibition of every painting."
As an example of how he helps buyers achieve their goals, even when those goals are still a little blurry, Stringer mentions a client who owns a pre-Revolutionary War home in New Jersey who wanted to enhance the interior with suitable fine art.
"He was thinking of traditional hunt and sporting pictures, something very manly," Stringer says – long-bodied horses jumping over fences and guys in red coats with fowling pieces and hounds.
Stringer visited the house, measured the spaces and prepared a selection of sporting art for the client's consideration. He also put together a second group of paintings.
"Baron Von Steuben had stayed in the house," Stringer says. "And I sensed that the client had perhaps a deeper interest in the history of the house than just in the rural setting and selected a group of paintings of Revolutionary War scenes for him to consider.
"When he saw those paintings, he was blown away. He loved the idea and the art and it raised the level of what he was doing with this house. It was such a hit with his interests the nature of the home. Now he something very special there."
Stringer says business has been somewhat up-and-down since he opened here, with strong periods and slack times, but that he is thrilled with his Vero Beach gallery and anticipates a good season.
He says he may open a third gallery in another location as the economy recovers.
"My focus is getting to know individuals and helping clients over the years develop their own art collection that is about them and what moves them. People know what they like. My job is to educate them and ensure they have quality things to choose from."