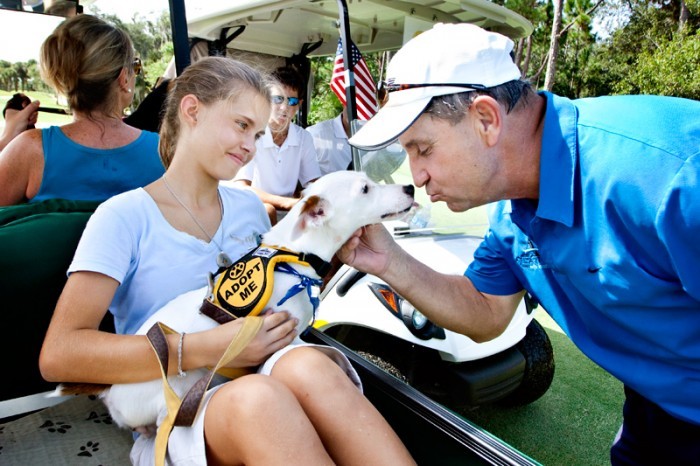 INDIAN RIVER COUNTY — Mother Nature cooperated as the sun broke through a light rain just in time for the In the Ruff cocktail party Friday evening at the Indian River Club. The event was a new addition to the annual In the Ruff Golf Tournament held the following day. Funds raised at the events benefit HALO Rescue, the county's only no-kill shelter, and Stray No More, Inc., which provides a low cost spay/neuter program.
Wearing whimsical dog-eared caps, the imaginative band The Dog Bones entertained with a collection of animal-themed music as approximately 80 guests mingled poolside and dined on a spread of hors d'oeuvres.
Then members of the Indian River County Sheriff's Canine (K-9) Unit, under the direction of Sgt. Pat White, wowed the crowd with demonstrations of the remarkable teamwork between the highly-trained dogs and their handlers.
"They're very friendly, but when it's time to work, they work," said White, commenting on the strong bond that develops between the two. "They are trained to protect us – to watch our backs just like a human partner would do."
The Sheriff's K-9 unit currently has six patrol dogs, trained to search for, track and help aprehend criminals and to detect drugs and bombs, as well as a search and rescue bloodhound trained to track missing children, Alzheimer patients and others. There are also four K-9s in the Sebastian Police Department and U. S. Fish and Wildlife has a dog trained to sniff out poached game.
Highly alert and virtually chomping at the bit, German Shepherds Kato and Kaden and Taz, a Belgian Malinois, were more than eager to display their extraordinary skills. As White explained, to the dogs it's a game. To the men, it's a dangerous job and they will do everything possible to protect their canine partners.
Spying Martin Lavender, owner of Blue Ribbon Boarding and Grooming in the crowd, White recognized his contributions to their safety. When he learned of the need, Lavender hosted a series of events and raised enough money to outfit all of the K-9 dogs with bullet-proof vests.
In the Ruff continued on Saturday with a sold-out tournament of 124 golfers competing on the picturesque and challenging Audubon Signature Sanctuary course. Once golfers took to the links, the morning was turned over to the animals, with adorable dogs wearing "Adopt Me" vests wagging their tales and greeting all who stopped by, hoping that someone special would offer them a loving home.
A lovable kitten and two gorgeous cats were chilling out, as only cats can do, in an air-conditioned tent, alongside veterinarians and technicians from the Florida Vet League who generously donated their time to provide a low-cost vaccination clinic to the public.
Sandy Hightower, founder of Stray No More, was also in the tent giving comfort to Joey, a poor little Yorkshire terrier mix missing most of his hair from mange, and all but three of his teeth. Joey was rescued, along with about 30 other dogs, from an abysmal puppy mill.
"I always go for the underdog," said Hightower as she cuddled the trembling dog. "I'd like to see all puppy mills be made illegal."
The goal of Stray No More is to eliminate the financial excuse given by some as a reason not to spay or neuter their pets. The vets they work with agree to reduce their regular fee by half, and Stray No More contributes another $20.
"We raised about $5,000 last year, and spent it all," said Hightower. "We want to spend every bit of money we raise."
Jacque Petrone, H.A.L.O.'s director, started the rescue to give animals a second chance at a loving home. H.A.L.O.'s other main fundraiser is a Dog Walk in early December, which features a poker tournament along the way.
"We're very pleased with the event this year," said Petrone of In the Ruff. She estimated that the shelter houses between 150 and 200 animals at any given time, and said they were able to find homes for close to 2,000 homeless animals this year.
As golfers returned, they gathered together with volunteers for a barbeque lunch, perused tables filled with a large selection of donated silent auction items up for grabs, and checked raffle tickets in hopes of winning one of the numerous prizes.
After tallying all the results, Joe Kern, head golf professional at Indian River Club, announced an impressive score of 54 for the winning team – top dogs were Pete Ernst, Philip Jones, Tim Kelley and Rick Smith.